Three Ways VoIP Help You To Be More Productive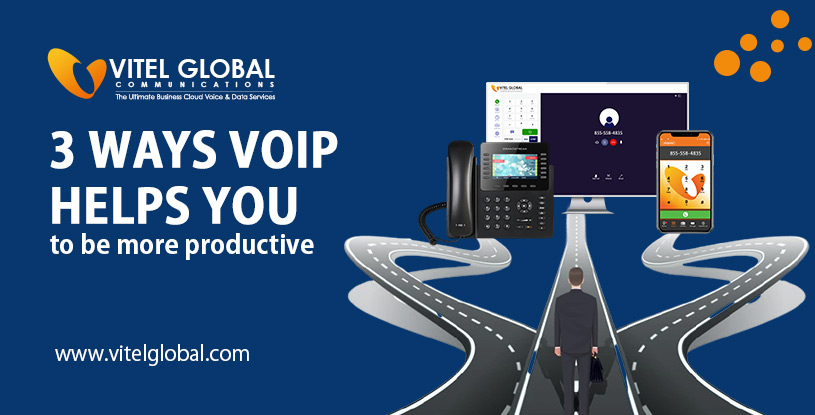 Reading Time:
2
minutes

Introduction
In this blog, you will learn how VoIP helps you be more productive.
It is important to have some medium or device or channel to communicate our message to others for personal and business purposes through phones. These telephones connect with PSTN. The traditional phone systems are used for communication locally, nationwide, and internationally at the customers' level, incurring different costs for the customers. The introduction of cell phones into the market brought tremendous change in the lifestyles of everyone. However, still, there are some organizations and residential areas where traditional phone systems are used for making calls.
Slowly, small to big organisations started implementing this latest technology, VoIP business phone systems, for three major reasons.
1. Cost Savings
The most important criterion that encouraged businesses to shift towards the latest and advanced communication phone system is that it saves huge setup costs; there is no need to pay extra call charges for outgoing calls as you need to pay only internet charges.
No additional hardware charges incur.
Call charges are lower than the traditional phone system when you have international and national clients.
Even local charges are less as you will be imposed the charges of the plan selected prior.
No hardware maintenance issues occur as the VoIP business phone system operations are on the cloud.
Reach the deadlines of your project, bringing the entire to work over a single platform.
2. Stay Connected
The best feature that makes businesses upgrade their traditional phone systems into VoIP business phones is you can stay connected with your clients from any place, anywhere and on any device. The best feature integrated with the VoIP business phone is video conferencing calls where your employees feel as if they are interacting live virtually.
Reduces effort for the person who wishes to work from home by connecting directly with the existing internet connection connected to your using systems.
One of the best features integrated with the Vitel Global VoIP business phone system is you can easily connect using video conferencing with whoever you desire with HD quality audio and video.
3. Flexible Features Integrated With Vitel Global
Small to big businesses are upgrading to new VoIP phone systems mainly because of the advanced features integrated with them, which are not available with traditional phone systems. The VoIP phone system with advanced features that are more than enough for making business calls.
Still, the major benefit of VoIP phones is that video conferencing connects multiple users simultaneously with HD quality.
The Best Features Integrated With The VoIP Business Phone System
Highly secured
Flexible
Easy texting
Conference calls
24/7 technical support
Affordable plans
Auto attendant
Mobile app integration
Centralized device control
Fast installation setup
Cloud control
Requires No Hardware
Efficient client interaction
Scalable
These benefits are achieved by installing an IP phone system for your business targets.
Vitel Global integrates 30+ features for incoming and outgoing calls, including additional features with flexible rates.
Published: October 29th, 2021
Subscribe to Our Latest Updates
Get monthly product and feature updates, the latest industry news, and more!
By submitting this form, you agree we may contact you in the manner described in our Privacy Policy.