How VoIP is Revolutionizing Small Business Communication?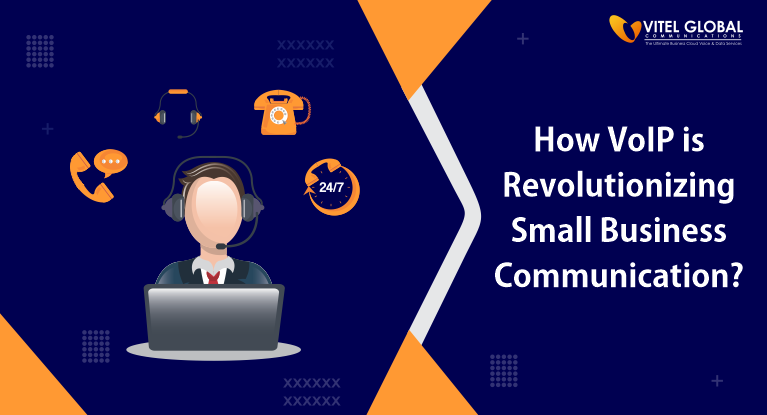 Reading Time: 4 minutes
Small business communication has changed the entire way how personnel at the workplace contact with each other. Let's say, "Thanks to technology!" As telecommunication users, everybody has seen the past couple of decades. Imagine yourself talking to someone on the other side of the Globe for free. Now, this is possible just because of the evolving technology. 
Small businesses have taken this advantage and started adapting for their betterment. Looking from another dimension, we live far more virtual than in real life. That's how the world is influenced by technology.
Let's look at VoIP and its extension to answer the question. Besides this, we will present a peep into the other VoIP solutions currently preferred by small-sized businesses.
What is VoIP: How Influence Small Business Communication?
VoIP is the most used term probably in the business sector. The growing population, industries, information technology and opportunities are the curtain raiser of this new handy service.
In simple terms, unlike traditional telephone lines, VoIP is fully flexible with magical features that could satisfy all business needs. It works with the help of the internet, and its functionality is entirely virtual. The Unique Selling Provision if VoIP is that you can avail all the advanced features free of cost after subscribing.
VoIP Benefits:
VoIP features are themselves its benefits as they are specially designed for their use. Earlier, VoIP was preferred by businesses, but in recent times, residential users are also switching because of the magical features.
Addressing the benefits, VoIP is;
Cost Effective:
Cost-effectiveness is the primary asset of VoIP. This feature optimized every need to the least possible expense satisfying all business sizes. However, VoIP does not need special hardware except an IP phone and internet connection. A VoIP softphone app will enable you to communicate outdoors without geographical limitations.
Also, there is no need for maintenance or service costs included, and upgrades are done online. VoIP does not require any additional hardware for installing a new feature.
Scalable: 
VoIP is pretty scalable if you want more lines. You should pay for more bandwidth, and the job is done.
In addition to the above, VoIP is flexible and reliable too!
How suitable is VoIP for VoIP Business Communication?
Business needs are different from that of the residential user. There is a need to handle multiple customers and clients. Maybe a business leader, an employee on the field or a remote worker receives VoIP help to interact with teammates or clients. 
If a business consists of customer care or a telemarketing team, there is frequent use of the phone, and it turns expensive in the case of traditional landlines. But cloud calling is the best option for the operation to be affordable. 
Features Offered:
Caller ID
Call Forwarding
Call Recording, Barging and Monitoring
Call Switching
Voicemail and its transcription to email
Audio and Video Call Conferencing
IVR etc. 
Look at the above features; they are free and bring a profound but successful change in your business operations.
Limitations of VoIP:
Every product or service has pros and cons, and so does Cloud telephony. It is a great asset that VoIP works with 99.99% uptime, but it is essential to remember 2 things before avoiding any glitches with the service.
Internet Connection
Bandwidth
As cloud calling relies only on the internet, ensure you have a high-speed internet connection. But, as the cost of the internet has drastically come down and is very affordable, it does not seem to be a problem anymore.
Remember! As a VoIP subscriber, you do not pay for the calls you have made or for the in-built services available. You subscribe to a plan which includes everything by paying for the bandwidth. Hence, check whether your usage is within the bandwidth purchased.
Here is the VoIP revolution over Small business communication;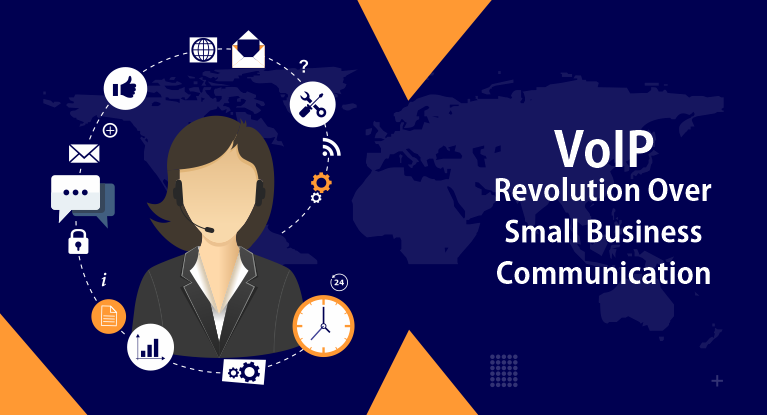 People are using VoIP without knowing its name! Isn't it humorous? Below, find the list of VoIP and internet calling/conferencing services that you frequently use;
WhatsApp:
It is well known worldwide for its messaging, audio / video calling and other features. You can also conduct call-conferencing through WhatsApp. Small businesses – almost everyone uses WhatsApp for internal communication in their respective groups for announcements and circulars.
Skype:
It is also noted that video conferencing is used for business and individual purposes. If you subscribe to the premium version, you can also call landlines. Yet, this widely used professional solution is most appreciated for its high quality of video and audio.
What About the Zoom App?
Zoom is a very recent product that started in 2020 but the users multiplied in days and weeks. Pandemic is undoubtedly a reason for this. Due to the lockdown scenario, people found this perfect tool for interacting online. It is still used for team conferencing with clients and customers and even interviewing new employees.
Summing Up The Above:
Sum up all the elements touched above along with service and its benefits. Please be informed that internet calling is not a mystery. To be straightforward, every internet user, directly or indirectly, is almost a VoIP user. 
The usage of VoIP has changed the face of small business communication ranging from internal interaction to online seminars, learning and massive outbound calling by telemarketing executives.
Published: August 24th, 2022
Subscribe to Our Latest Updates
Get monthly product and feature updates, the latest industry news, and more!
By submitting this form, you agree we may contact you in the manner described in our Privacy Policy.