Hosted VoIP: Exploring Options, Features, Pros, and Cons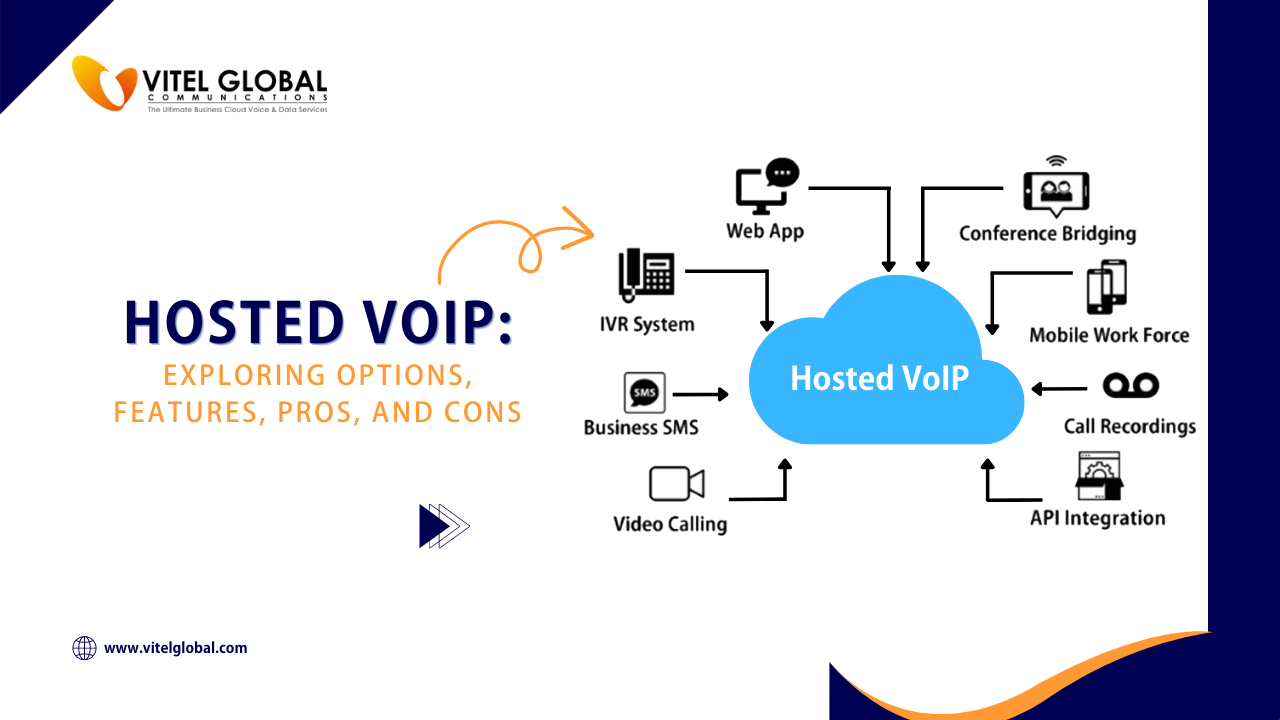 Voice over Internet Protocol uses broadband internet to transmit telephony service delivery by IP. It is preconfigured, hosted, and managed by a company that has designed a system to make phone calls like you would on your home phone connected to copper wiring.
In this post, we will explore what this means in terms of pricing, quality, and other factors that may affect your decision to move from traditional analog telephone lines to IP-based VoIP technology.
The systems offer service levels and features with the exception that they are priced lower because they don't require expensive hardware.
The most common type of hosted VoIP is a cloud PBX phone system. PBX phone systems are more involved than instrument systems. They require more hardware and software and a whole new infrastructure that must be built. Cloud PBX phone system is capable of producing good-quality sound.
The primary benefit of a PBX system is its ability to scale with your business. The system can easily be updated or upgraded as you grow by adding new handsets or devices when needed.
It's very important to consider the type of phone system you are looking for and your needs.
If you have a large business and need an extensive system, a Private branch exchange might be ideal. Also, if you are doing much international calling, purchasing equipment from a third-party supplier is the way to go. The supplier will allow you to integrate your equipment with your existing network with performance.
Hosted Voice over Internet Protocol is a way to make and receive phone calls without a physical landline. It is not just limiting to phone calls but includes conferencing and messaging tools, where customizations are available to meet your needs.
Business Phone Features: 
Voice over Internet protocol is the type of telephone service that exists solely in digital form. Let us learn about the most effective features. And what you can expect when signing up for it.
Conference Calling:

The primary benefit is allowing you to participate in conference calls without a landline. The advantage for the other people on a call is that they don't have to pay for a phone line or landline to participate. They can dial the conference number from their phones.

Contacts and Directory Assistance:

With host VoIP, you can easily save your telephone number and contact information in your computer's address book. You can also call your contacts at the touch of a button. In addition, you can even use your computer to access directory assistance.

Voicemail: 

If you sign up for hosted VoIP, you can expect to receive a voicemail greeting automatically when you log in to your account on any given day. There is no need for you to remember to set up a phone number or add it manually.

Call Forward: 

You can forward all calls to another number when there is an incoming call you cannot immediately take. It allows you to pick up a call while someone else is speaking.

Call Transfer:

If you have signed up and your colleague has answered their call and can't immediately take the call, you can transfer the call to another number. This way, you can attend the call simply because of a lack of time or a busy schedule.

Instant Messaging

: You can transfer a live audio message from your computer through instant messaging with your friends or relatives. The benefit is that they will receive a copy of what you are saying while they listen on their computer. In addition, they can ask questions in real-time and reply instantly.

Call Forward-On Hold:

When someone calls you on your phone and receives an incoming call on your VoIP account, you can stay on the line while they are informed that the call has been forwarded to a different number. They could not wait on hold for you if they called before you received the call. 

Mobile Integration:

Most mobile phones already use IP technology, meaning that it is easy to integrate a hosted call center with them through softphones. This way, your friends using their mobile phones can join a cloud video conferencing.  
There are network providers that can help you with the transition from your landline service. They offer the technical know-how to make all the necessary changes on the phone and provide all the necessary equipment.
Hosted VoIP Exploring Options:
Voice over Internet Protocol service is revolutionizing how we communicate worldwide. It provides a cost-effective and reliable solution for companies of all sizes to provide their employees with quality voice services, from the central office to remote sites and mobile workers. It is also ideal for other enterprise applications, including contact centers, video conferencing, and unified messaging.
Business phone service has been helping companies to optimize telephony and establish efficient unified communications solutions.
It allows hosted VoIP SIP trunking and ITSP solutions. It is an alternative to your long-distance carrier, servicing carriers with national and international long-distance and local services.
SIP allows customers to make calls via the internet using Session Initiation Protocol (SIP) over an IP connection instead of a traditional TDM circuit. SIP is a standard that is becoming very popular among both service provider carriers, like a need for alternative ways to utilize their existing network infrastructure.
Pros of Hosted VoIP:
It saves money – typically much less than a traditional phone line.
Mobile phones can be used as VoIP endpoints.
Work from home, on vacation, or on business trips without an additional cellphone line or device.
It Supports multitasking and is more flexible.
Cons of Hosted VoIP:
It is dependent on the internet connection to work well.
The service provider may experience periods of downtime due to technical difficulties.
Voice quality could have been better in our testing, and hearing people at the other end of the call was hard.
Conclusion:
VoIP API providers will also provide additional services, such as inbound calling to a single number and call-back services, which will monitor your activity and phone number. So there is no chance of facing any loose issues.
Please follow and like us: