Driving Efficiency in Recruitment: ATS Integration with Business Phone Services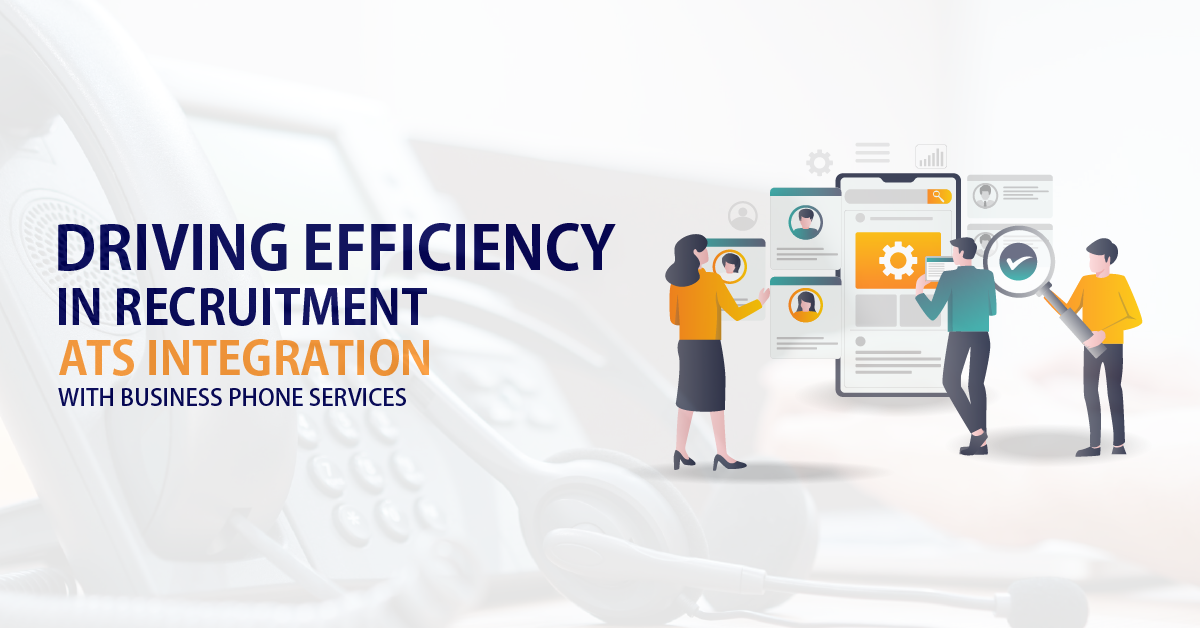 Reading Time:
6
minutes
Every company knows how important it is to have well-functioning systems and processes to maximize efficiency regularly. However, many companies need to know how technology can assist their recruitment efforts by making finding the ideal job candidates easier and vice versa.
This blog on ATS Integrations with Business Phone Services will provide simple tips on how technology can help you make your recruitment process more successful.
Read this blog and learn about some of the solutions that today's best recruiting software provider's offer for your business. You will also learn about some best practices for using these solutions effectively.
Internet can be utilized to improvise the recrutiment process by applying steps efficiently. I will also discuss how to use ATS integrations with phone services and what are some of the best practices for using such solutions.
What is ATS?
ATS is a computer program designed to automate the screening process and eliminate time-wasting phone calls by routing qualified candidates to the decision-makers. ATS integration with business phone services will soon become an essential part of a recruiter's toolbox, which can cut recruitment time.
Recruiters worldwide use Applicant Tracking Systems to screen job applicants and make life easier for potential employees and their managers. For automation of interviewing process by choosing the qualified candidates. 
Business phone systems can benefit from direct integration with Applicant tracking systems in several ways. This article discusses the advantages of integration and how it benefits the recruiter and a company's phone system.
A business's ideal recruitment strategy is to find the right candidate within a short time frame and interview them immediately to avoid losing good candidates because of long hiring processes. It is where an integrated ATS and provider phone system can connect recruiters with their job applicants.
HR seeking assistance in the recrutin process, just an example.  In that case, they will first search through their ATS to find candidates that match essential qualifications for that job opening, such as education level or work experience. Once they have identified these potential candidates, the recruiter can call those candidates directly to discuss the job opening or even schedule interviews with them right away.
It can also give the recruiter a list of the top matches it has discovered from its search, which can be an invaluable tool for future recruiting. It will show you which are most highly qualified; therefore, you can pass along their information to your hiring managers so they can choose from these top choices. Recruiters using this automated approach typically save their recruitment time by eliminating some phone calls to fill open jobs.
ATS Integration with Business Phone Services:
It has specialized solutions that allow you to communicate with job applicants. This eliminates the need of a real human. 
While this may sound quite simple, it means that you will be able to speak directly to your job applicants and family members of the candidates. It leads to a much faster and more efficient recruitment process.
Applicant Tracking Systems are crucial for recruitment and hiring professionals due to the number of applicants they receive. But what if you could streamline your process and increase the efficiency of your workload?
ATS integration is going to transform how the businesses operate through various features available in the market.
If you want to step up your recruitment game efficiently, integrate an Applicant Tracking System with a business phone number!
In Recruitment:
Applicant Tracking System is crucial to the recruitment process if you're looking to revolutionize your approach to recruitment.
The first step to using a business phone service and an Applicant Tracking System is understanding the benefits each of these has for your business. This article will give you an 
Outline of what each product has to offer.
The next step is choosing which product to integrate with the business phone service. The guidance will summarize the best system for businesses with multiple locations or those needing a pay-per-use alternative for phone-based employment ads.
Why you should integrate it With Your Business Phone Services?
ATS integrations and phone systems can also function as your recruitment department's portal for candidates. By having an ATS build candidate profiles for each applicant, a recruiter can easily search those candidates' resumes through their phone system. It makes contacting the right people for interviews easier and allows new applicants to see complete resumes quickly. Integrating your business phone system with an ATS Integration lets you see a candidate's full resume on your job board or in one central place, making it easier to contact them and schedule interviews in less time.
Additionally, as applicants move to the interview stage in the recruiting process, the ATS can send them a custom-made phone call via your business phone system. It lets you connect with them and set up an interview date immediately.
Business phone lines integrated with ATS can provide recruiters with a wealth of resources for recruiting. These systems allow recruiters to find job candidates faster and more efficiently than they could before and reduce their workload. ATS Integrations into your phone system will allow you to search resumes and contact candidates more efficiently.
How ATS Improves Your External Recruiting Process?
Most people know that an Applicant Tracking System is a powerful tool for recruiting. However, many companies need help to justify the high upfront implementation costs. The cost would mean they couldn't afford to interview candidates physically for some. For others, it would mean they had to fire recruiters before their new system was even up and running.
Recruiting is all about matching candidates to a job. There are good candidates out there, and good jobs out there too. Most of the candidates are said to be filtering out in the initial process itself. So how do you identify these candidates? You do this by looking at what they've done with their lives, their knowledge, and their skill sets.
Most recruitment processes are focused on finding people who meet these criteria and then narrowing down the pool of applicants through a series of screening calls. For example, you might have a mix of telephone interviews with finalists, recruiters, and senior managers. Then there are more detailed steps in some recruitment processes, including personality tests and lifestyle and well-being assessments. You must be careful when looking for candidates who will fit into your company. The type of person who will perform well in your role: it's a tricky balance between hiring the right person for the job and hiring someone at all.
ATS Integration  has been shown to improve many aspects of recruitment process For example, research has shown that it can improve your hiring process by reducing communication costs, increasing the quality of hires, and increasing time efficiency (you need less time to find suitable candidates).
Business Phone Systems and Recruitment:
To improve efficiency, below are the few ways which enlightens on the integration with the business phone services.
To keep the candidates on track, call reminders are useful. One thing that external recruiters sometimes need help with is remembering to follow up with their candidates. With a call reminder system, you can ensure that the candidate knows what they need to do next and when they need to do it. It will help you increase the number of times your candidate applies or gets to the interview stage. That in turn means you get more job applicants. It also means that candidates will prompt to follow up with you more often.

Communication is made quick for building a consistency in the audience through various processes. It is essential to keep the pipeline clear to get as many applications as possible. But, this can take much work. When a candidate applies using your ATS Integration, you can be sure they are being sent through multiple channels and passed onto the people who need to see them.

Call management will ensure that you take advantage of essential calls from your candidates. One of the most important parts of recruitment is keeping in touch with your candidates. It is a good idea to check in with them at least once every two weeks. It is also a good idea to follow up if they still need to get back to you. It can make it easy for you to keep track of how many candidates you are speaking to.

With a business phone service, you can ensure that all of your employees know where the contact details for each candidate are kept so that they can easily communicate with them.
Call recording will ensure that you can keep track of every conversation with a candidate. It is an excellent way to keep track of what your candidate is looking for. The details of their job search. You can then use this information to improve your website and how you work. It is also a good way for you to gather important information about candidates. Which means that when one does get through to an interview stage, they will be familiar with your company and ready to do well.
Conclusion: 
This technology is becoming very popular with companies seeking to reduce time. To fill by quickly finding top talent and closing more deals.
It can also improve how companies communicate with candidates by enhancing the overall candidate experience through personal, seamless communication.
Published: July 24th, 2023
Subscribe to Our Latest Updates
Get monthly product and feature updates, the latest industry news, and more!
By submitting this form, you agree we may contact you in the manner described in our Privacy Policy.