How can VoIP help Small Businesses with Cost Savings?
Reading Time: 3 minutes
It is a most anticipated question to answer, and everybody, when they come across VoIP business solutions, would wonder about this. How can a VoIP solution for Business reduce your business investment, and how can it lead to cost savings?
Let us start with the basic activities of a small business. Suppose! A small business might be a freelancer, or it can potentially be a group of people working on a single goal.
The motive of any Business Leader:
A business leader would focus on the financial flow of investments and productivity while extracting profit from the firm.
To explain better, let us consider two types of small businesses;
A freelancer and a small production unit
A small firm such as a telemarketing service (or customer care)
A freelancer and a small production unit:
We consider these two types of firms because they both act almost the same. A freelancer and a small firm have to plan their product, gather raw materials or resources, plan for clients or customers beforehand, produce, market and extract profit by sales.
Observing every above movement needs communication, and meeting everyone is impossible. Therefore, a business leader prefers communication media to reach customers and clients and vice versa.
When there is a flow of raw materials and finished goods, it is required to deploy a dedicated resource to handle communications. It is where VoIP comes into play.
Telemarketing or a Customer Care Service:
It is a straight business connected with Unified Communication Service (UCaaS). The agents either perform constant calling or have to handle a call flow.
The traditional landline systems are not suggested in this case. The Business requires something as advanced as possible. And a VoIP solution for Businesses can handle this scenario.
Consider customer care service where the requirements might call for a video call, mail, message or a file transfer to serve the customer.
Business VoIP service providers are readily available with affordable VoIP solutions for small businesses to fulfil this need.
The Role of Interactive Voice Response (IVR):
Interactive Voice Response is a revolution in customer care services. It is a pre-programmed software to control the call flow by solving minor concerns of the customers. Also, IVR can route the complex ones to the correct agent for a solution with no delay.
By integrating your company's IVR with CRM, all the agents can access the information to help the customer better by analyzing the issue and customer information.
IVR can remarkably reduce your investment by handling as many issues as possible that replace human resources.
Customer satisfaction:
Because customers rate your company only by its customer support, customer satisfaction will lead your Business towards improved productivity and profits. The percentage of satisfied customers can dictate the standard productivity of an organization.
Business Operations and Productivity:
Of course! Every two elements of a business are interconnected, but operations and productivity are parallel. Because your business productivity is entirely based on operations.
A business team can ace its operations with API integrations allowing one to interact with the information, application packages and devices. For this reason, many teams prefer API VoIP phones.
The operational abilities can decide productivity. A VoIP solution for Business is the best option to achieve quality and cost savings.
The video conferencing feature of VoIP can involve engaging with the clients or customers, team meetings and meetings. This gesture can save valuable time and money spent on travelling.
Benefits of VoIP:
Local presence: This feature allocates your local Business to several different phone numbers by using virtual numbers local to the area. It reassures people calling you if you operate your Business from numerous locations.
Powerful features: It helps to increase the productivity of any business in a short period. Multiple features of VoIP Business Phone can allow an individual to perform multitasking actions
Provides privacy: As the original number is not used for making and receiving calls, it renders the highest level of security.
Reduces costs: When making long-distance calls, using virtual numbers local to the area helps save money. 
Assists in fostering professionalism: Any firm can create many phone lines for their organization using virtual numbers for various purposes, including customer service, communications, technical support, Etc.,
They offer versatility: They are accessible anywhere, allowing you to use an app on your mobile device to place calls.
Several telephone numbers: A single user may use their virtual phone number while travelling using powerful features like "find me or follow me."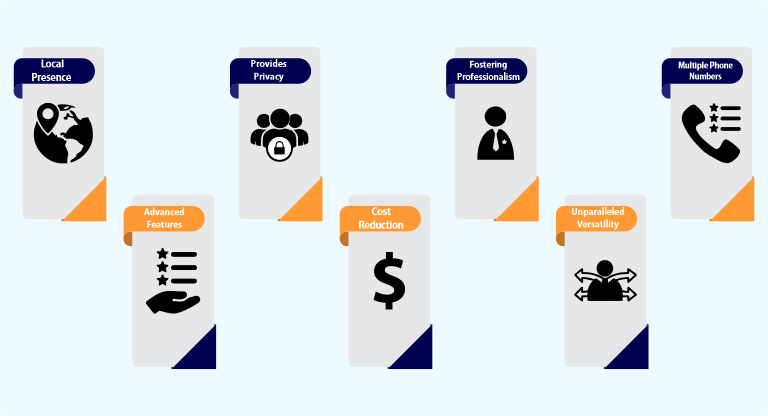 Conclusion:
To summarize the above blog, VoIP solutions for businesses can empower your business operations and communication. 
It can lead to cost savings by reducing the expenses of additional hardware, installation and maintenance charges. Besides, it can save travelling expenses by encouraging hybrid work culture. For more about the VoIP features and affordable business solutions we offer as a leading business VoIP service provider.
Published: September 28th, 2022