Next-Level Communication: SIP Trunking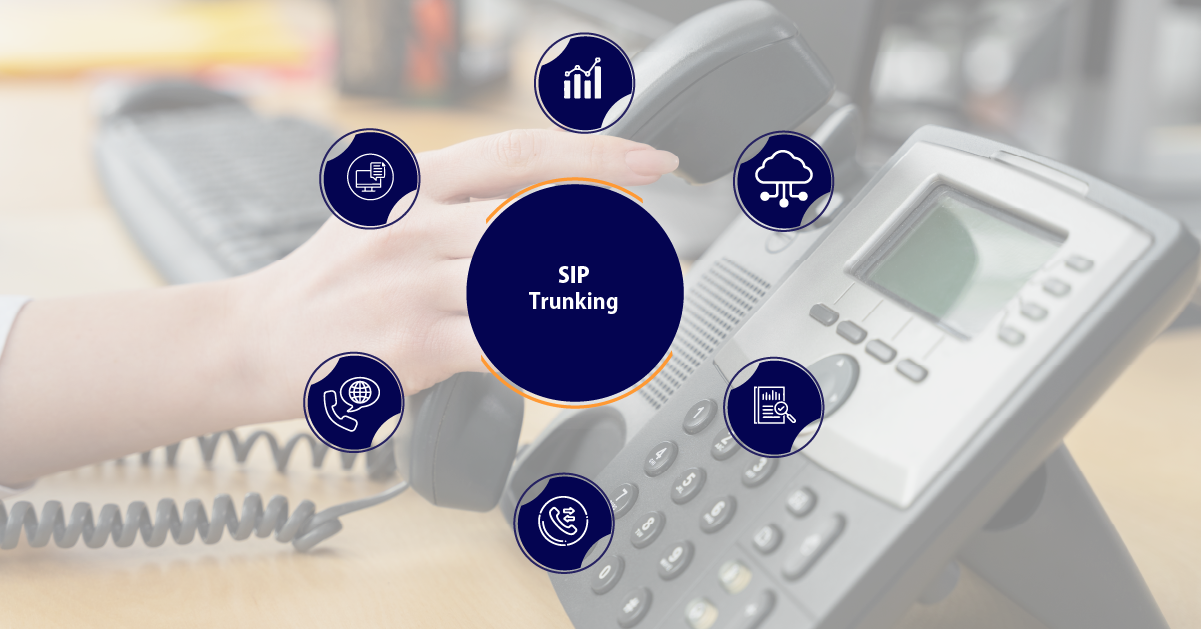 Reading Time:
5
minutes
Imagine the time and effort you could save if someone else cared for your phone needs. With a SIP trunking system, that's what would happen. Read this blog to learn more about SIP trunking providers and how they can make your business more efficient.
If you've ever tried to speak with someone on a cellphone, you probably know how much of a struggle it can be — navigating menus, finding the right buttons, struggling to hear over all the background noise. But what happens when your business relies on voice communication? Wouldn't it be easier if those busy signal sounds went away altogether? That's where SIP trunking comes in: transporting voice over the Internet will make your life much easier. If you're looking for an effective and streamlined solution to your communications challenges today, keep reading for all the details.
Introduction:
SIP stands for Session Initiated Protocol and describes a VoIP service protocol that uses UDP and TCP/TLS to send RTP. It's an efficient way of securely transmitting VoIP signals over the Internet or other IP networks.
Trunking refers to connecting different VoIP networks. This technology allows you to connect two or more different phone lines for one unified phone number without increasing charges or fees. It means that you can place other numbers on separate lines so that it's easier to track calls between lines.
How to Get SIP Trunking Services?
Businesses can get their SIP trunking services through an Internet or VoIP provider. It is more common for companies with multiple locations that want to use one VoIP system for incoming and outgoing calls. For example, a company could have a main office and a few remote sites connecting to the same system. It offers business owners an easy way to secure all these offices using one system rather than dealing with several different methods.
It is available to large and small businesses, though the types of trunks and plans may differ. 
When you sign up with a hosted PBX, they'll provide all the tools you need to manage your SIP protocol. You'll be able to record and transfer calls, send and receive faxes, manage conference lines for your staff, and change your phone number if needed. The best part? A third-party company operates your hosted PBX system entirely, so you don't have to spend money on hardware or maintenance.
Answering the Call:
SIP trunks equipment with a telephone on a server that handles all your calls. The call originates from the SIP server, and the call will be received by the phone. Answering a ring depends on your IT department or a third-party company that manages the SIP trunk's server and telephone. If you own your own business, you should also decide how to answer incoming calls. Some companies use an answering machine with voice mail to manage their calls.
The line between your business and your phone is invisible. It's just like the landline you use to make calls, except you no longer have to pay the phone company. But SIP trunks aren't just for personal use: but are great for businesses. So if you've been looking for a way to save money and get more out of your communication platform, it's time to take advantage of these trunks.
Benefits:
While SIP trunks don't necessarily improve your overall business, they offer a few benefits that make your phone system easier to run. For example, any incoming traffic is routed to the appropriate destination. Also, you can connect multiple lines into one system to have one number for all your numbers. Customers can call the main number for their service or product and contact the right person or department directly. In addition, some systems even provide complete call forwarding capabilities in which any incoming number could be placed on a separate line so customers can reach another worker. In contrast, the primary worker remains available at other times.
1) Cost Savings and Efficiency:
One of the leading drivers for businesses switching to SIP is cost savings. Because SIP trunks are flexible, any unused trunk capacity can be sold to customers, generating further revenue and reducing costs. Also, a fixed monthly fee covers all services and software with a SIP account. It includes business phone features ring groups, calls logs and statistics, conference calling, mobile applications, call recording and much more.
2) Reduced Hardware Requirements:
SIP trunks typically don't require large amounts of hardware to operate. The leading software running the system is the SIP PBX software that runs in the company's network, which requires access to a router.
Traditional PBX systems, in contrast, require a hardware router in each location. It can often add significant costs to a company when hiring a new employee who will be assigned to SIP operation and usually requires upgraded hardware after the first year.
3) Simple, Efficient & Flexible:
SIP trunks are simple to set up and operate. There needs to be more training required for employees on what SIP means, how to set up an account and how to use them.
In addition, because SIP trunks run in the company's Local Area Network (LAN), users can make calls from any workstation or IP-enabled device, such as smartphones or tablets.
Optimize Your Business Communications with a SIP Trunking Provider
4) Private and Secure:
SIP trunks are private and secure. All calls between users and the PBX and SIP Trunking Server network connections are encrypted.
SIP calls can originate from virtually any device or operating system. It is much more flexible than earlier communication systems, specific platforms such as IP Phones or IP Terminals. On top of that, a SIP trunk is highly scalable, making it suitable for VoIP telephony over the Internet.
5) Enhanced Security:
It is the modern solution to phone systems vulnerable to telecommunications hacks and natural disasters. As a packet-based system, it's more secure than traditional methods.
With Business Phone Services, you can ensure your calls are safe from on-site and remote threats like physical theft or cyber security breaches. You won't have to deal with unauthorized access or misuse of data. If you're worried about compliance issues, this feature also holds much value. With it, your data will be safer from threats and in compliance with regulatory standards.
In addition, you won't have to worry about the future of your business communications as long as it uses SIP trunking technology.
6) Virtual Presence:
All your employees have a virtual presence once you have a SIP trunk provider. They can join meetings from the office or remote locations. In turn, increases productivity as workers can access data anywhere and anytime.
Its services have advanced features like call recording and web-based meeting controls. You can make conference calls by using a single number for multiple participants.
For employees who are out of the office, SIP services can support home phones, smartphones, and mobile devices equipped with software clients.
7) Interoperability and Mobility:
It offers interoperability between clients from various vendors without costly software updates or conversion costs. It supports traditional phones and IP-PBXs through its flexibility. You can also set up mobile devices like smartphones to work with the services.
Conclusion: 
The benefits of session initiation protocol trunking are significant. The flexibility and security it offers are valuable for different types of businesses. In the next section, we'll peek at the top providers you can choose to get this service.
Published: August 8th, 2023
Subscribe to Our Latest Updates
Get monthly product and feature updates, the latest industry news, and more!
By submitting this form, you agree we may contact you in the manner described in our Privacy Policy.