VoIP Call Queuing Feature – Important Benefits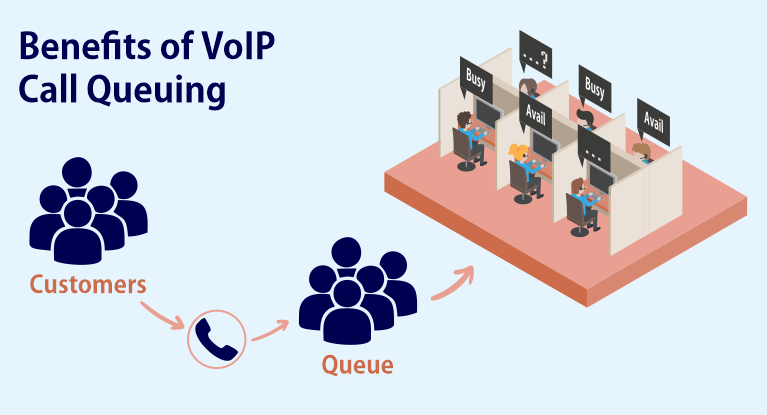 Reading Time: 3 minutes
This blog's purpose is to inform our enthusiastic readers about the solution that minimizes call waiting issues using the modernized technology called Call Queuing.
What is it Call Queuing?
Call queueing is a system that reduces call waiting time by placing incoming callers in virtual queues that enhance the customer experience. It assists you in directing client inquiries to the appropriate agent at an appropriate time. Thus, it helps businesses to boost customer loyalty and sales to increase brand recognition in the market.
How does it function?
It is a technological element that controls incoming calls and routes them according to predetermined standards into a virtual queue. It enables the agents or contact centers to manage calls orderly.
If your call agent is unavailable or busy when a customer calls, we will place the call on hold. When the caller is on wait, the call must be picked up or answered instead of continuously hearing "busy" messages while they are placed in a queue.
Call Queuing Benefits:
Customers demand quick and dependable service methods, as everyone hates waiting in lines. It is one of the most annoying things. So, VoIP phones use the latest technology and are part of a modernized cloud phone system. Cloud telephony can help in many ways, such as: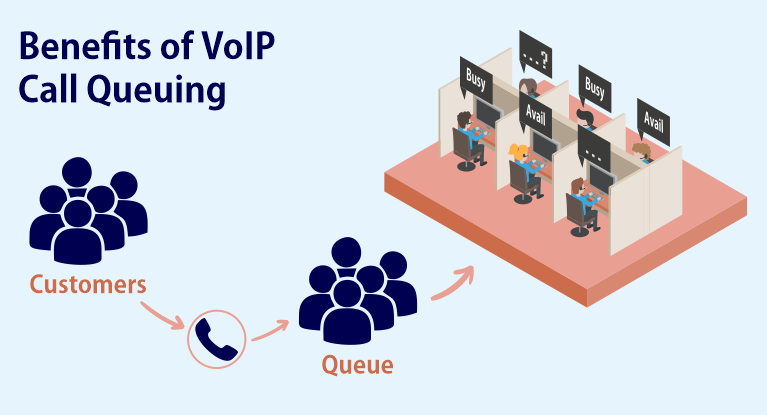 Call Waiting Times Should Be Reduced:
They avoid losing potential clients by handling each call delicately and methodically through the call queuing system. It increases the call volume without adding overhead or internal line capacity.
Indeed, long call wait times are a problem for most call centres. And one efficient solution is to use a call queuing system that improves the client experience by motivating the callers. Once the caller is motivated, he will be ready to stay in the queue, lowering the call abandonment rate.
Easy Updates:
It also helps keep clients interested by giving them instant updates on the status of their calls.
Boost Customer Support:
Businesses find it difficult to reply quickly due to high phone volume. If you get many calls at once, you can use queueing technology to give your callers a personalized message.
You can draw attention to their call, but no staff member will be present to answer it. Later, it will inform the business. One more way is, if they are informed of their position in the line, they can feel more at ease waiting.
Scalable:
The introduction of a VoIP-enabled phone system offers enormous efficiencies. Fortunately, there is no need for additional hardware connections.
Virtual lines and numbers are added as needed. This feature has a significant positive impact on scalability.
Easy to Set Up:
The call handling management solution is set up, maintained, and serviced without the help of an IT or maintenance professional. So, any business can make money from multi-line, multi-queue, and long-distance calls with low-cost broadband calls instead of paying high call rates.
Allows Integration:
It enables you to easily integrate call queuing into the firm's call flow management applications. Thus, you can retrieve the callers' details while waiting in the queue.
It Reduces The Typical Call Handling Time:
Business agents should be provided enough time to answer incoming calls. So, one must maintain the average call handling time very low.
It Helps in Answering Calls Quickly:
It helps the agents answer the questions quickly as the calls are routed to the concerned person or department. The call queuing feature saves time for businesses and clients as well.
No Additional Charges are Incurred:
Vitel Global Communications does not charge extra for this unique and advantageous feature, and you can avail of this as an in-built feature.
Attain Fame Quickly:
The chances of becoming a royalty brand rise as you can connect clients with highly qualified agents and gather necessary data.
Enhance Productivity:
Agent productivity is one of the most crucial elements of call queue management. It is achieved by the team's workload being more varied, which reduces stress, and keeps agents engaged. It increases their confidence so that no agent is overworked with automatic call distribution.
Training:
Call analytics can be aided by training, and it teaches employees how to interact with clients and offer insightful feedback. By the way, it helps the agents to handle the bulk of calls received at a time.
Summary:
We hope this information will help better understand VoIP's 'Call Queuing Feature'. We will come back with more information that helps our readers better understand the benefits of cloud telephones in collaboration with Vitel Global. Contact us to get free live demo.
Published: September 9th, 2022