SMS Marketing: What Is It? Seven Use Cases for Your Business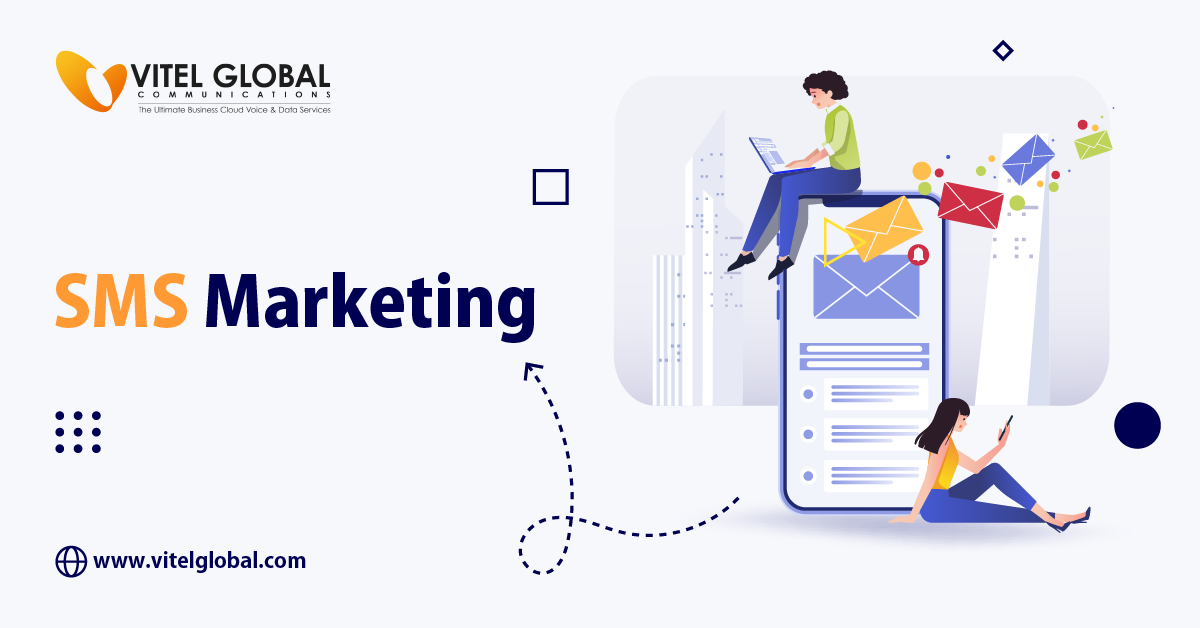 Reading Time:
4
minutes
SMS marketing has become a potent tool for companies to instantly and effectively connect with their customers in the age of digital communication. Short Message Service (SMS) lets companies send personalized and targeted messages to customers' mobile devices.
In this blog post, we will look at what SMS marketing is, why it is useful, and how it works to engage customers and expand businesses.
Embrace continual relationships with customers, You can migrate your business to our Business Phones Services with the best CRM integration services and better results.
What Are the Benefits of SMS Marketing?
To begin with, why on earth should your company even consider text message marketing? Among the many other marketing channels and text messaging services available to small businesses are social media, email, phone calls, and direct mail.
Small Businesses:
There are many benefits to SMS marketing for businesses in various industries. Let us examine three that could significantly affect any small business:
Results Are Produced by SMS:
The Text Message API is effective. It is equally effective for large corporations, small businesses, and nonprofits.
SMS API Is Cheap:
Using advertising agencies, sending direct mail, or even making phone calls costs money. Due to this, it is challenging for small businesses to use these methods to reach a sufficient number of customers without going over their marketing budget. Bulk texting services, on the other hand, offer affordable flat rates that let you send many texts on a limited budget.
It Improves Customer Service:
For small businesses, people demand excellent customer service. Additionally, they are eager to spend more money with companies that offer superior customer service. Small businesses with fewer employees and resources can now provide customers with a wonderful experience thanks to SMS marketing tools.
Running promotional campaigns is one of the main applications of SMS marketing:
Businesses can use SMS to send customers' phones limited-time offers, discounts, and promotions. Business SMS promotions can boost sales and customer engagement immediately by fostering a sense of urgency and offering a convenient way to access the offer. Some businesses prefer voice and SMS for promotional purposes, but compared to the response rate, SMS is higher than the voice approach.
Surveys and User Feedback:
SMS is a useful tool for gathering customer feedback and conducting customer surveys. Sending short surveys via SMS allows businesses to gather valuable insights quickly and easily. Customers' flexibility in responding to surveys boosts response rates and gives companies immediate feedback to enhance their goods, services, and clientele.
Sending appointment reminders and confirmations via SMS:
It is a reliable method. Businesses in various sectors, including healthcare, salons, and service providers, can send automated SMS reminders to customers to lower no-show rates and raise appointment attendance rates. Customers value convenience and prompt reminders, which improve customer satisfaction and operational effectiveness.
Order Status Updates and Delivery Alerts:
SMS is a great way to inform customers of updates to their orders' statuses and deliveries. Businesses can give customers real-time updates, tracking details, and estimated delivery times by sending SMS notifications at crucial points of the order fulfillment process. With the help of team messaging businesses can improves the customer experience overall, increases transparency, and fosters trust.
Invitations and RSVPs for Events:
For companies hosting events or webinars, SMS marketing can be a key component in increasing attendance and managing RSVPs. Personalized SMS event invitations can attract customers' attention and elicit quick responses. Additionally, organizations can use SMS to communicate last-minute changes, updates, and event reminders, ensuring attendees have a positive event experience.
Loyalty Programs and Exclusive Offers:
SMS marketing can increase customer engagement and loyalty. Businesses can send special offers, rewards, and discounts to customers who sign up for SMS-based loyalty programs. SMS enables direct and personalized communication, which makes customers feel valued and encourages recurring purchases and long-term loyalty.
Customer Support and Contact:
SMS can be used as a useful channel for customer support and contact. Customers can ask questions, sort out problems, and get assistance quickly and effectively by using SMS-based support, which businesses can provide. SMS-based communication can improve client satisfaction, add a personal touch, and eliminate the need for long phone calls or emails.
Businesses can improve brand loyalty, increase customer engagement, and promote business growth in a mobile-centric environment by utilizing SMS marketing in these various use cases.
Sharing of content:
Although texting content is familiar, most marketers know the importance of content marketing. However, this SMS marketing use case fosters relationships and maintains customer engagement, much like email content marketing. An effective way to reach customers and keep your brand in their minds is to text them with entertaining or valuable content (always highly targeted).
Automated Responses to FAQs:
In our 2022 Texting and SMS Marketing survey, 41% of consumers said they would rather contact a company with questions than use email or phone calls. Quick answers to their queries can help nurture leads and reduce customer annoyance.
SMS Alerts:
You can simultaneously send urgent and non-urgent messages to small or large groups of people by setting up a text alert system for your company.
For instance, businesses could use the API Integration for Text Messaging Alerts to:
Inform customers of any changes to the operating hours
Inform customers of order status
Notifying salespeople of new leads will increase conversions.
Provide account access details.
A Two-Way Conversation:
One of the defining features of text message marketing is two-way communication. What makes texting so revolutionary is the straightforward notion that your marketing team can have real-time conversations with customers one-on-one. Customers today want to be able to contact you if they have questions, and they want to know that real people, not computerized systems, run your business. When communicating via text, the experience feels more personal and engaging than it can through other channels, whether for customer service or buying advice. As an internal tool, businesses can also use Team messaging, which enhances productivity.
Conclusion:
In summary, SMS marketing gives companies a flexible and effective way to engage with customers, increase engagement, and accomplish business goals. SMS enables personalized, direct customer communication for everything from marketing campaigns to customer service. Businesses can strengthen their marketing initiatives, enhance customer relationships, and accelerate their growth in the digital era by utilizing the power of SMS marketing and putting these seven use cases into practice.
Request for a Live demo no need to look any further if you have been searching for a new phone system.
Published: July 3rd, 2023
Subscribe to Our Latest Updates
Get monthly product and feature updates, the latest industry news, and more!
By submitting this form, you agree we may contact you in the manner described in our Privacy Policy.