7 Strategies to Drive B2B Sales: Digital Transformation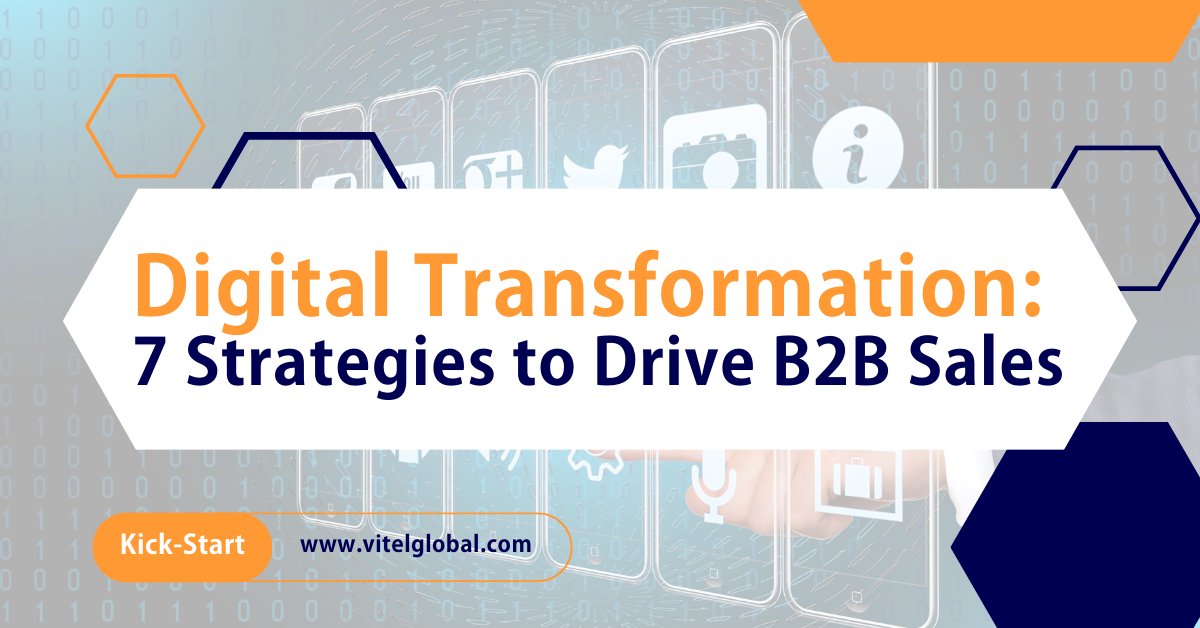 Reading Time: 4 minutes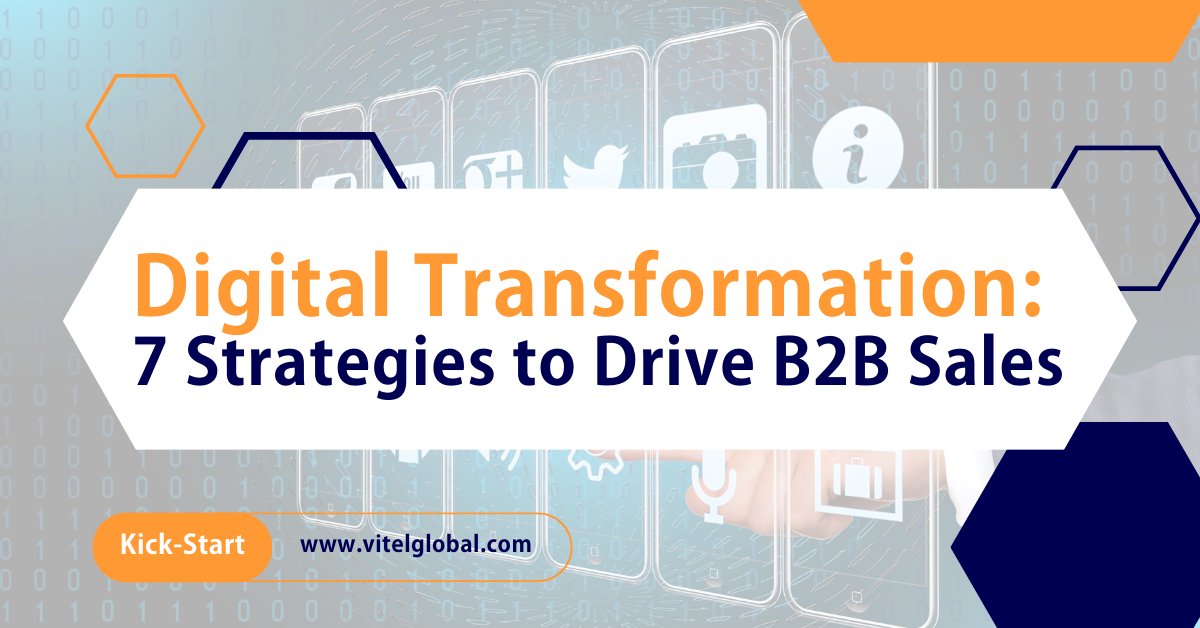 Digital transformation is a business practice that seeks to transform an entity into a digitally driven company. It turns a non-digital company into one with a robust digital presence, often through adopting digital technologies and innovation in information architecture.
It has become vital to achieving growth, efficiency, and cost reduction in many sectors of the economy. The most established domains where digital transformations have had significant impacts are eCommerce, media (business), financial services, insurance, and logistics.
It can be difficult to initiate and even more challenging to complete due to the large number of stakeholders involved, varying expectations and implementation resources. It can vary from business process improvements to the complete digitalization of an organization.
An earlier study of 4,000 companies looked at efforts to become digital-first organizations. The study found successful digital transformations resulted in higher profits and revenue growth, greater productivity, customer focus, and aggressive risk-taking.
Stage Of Transformation:
Companies may decide to undergo a digital transformation for various reasons. Sometimes, the decision is made in response to changes in the surrounding environment or business environment that make traditional processes obsolete or ineffective (e.g. globalization, expansion of IT infrastructure). In other cases, companies make a transformation to improve environments managed manually or with low precision.
Some Of the Main Reasons Organizations Undertake Digital Transformation Projects Are:
These reasons may be equally applicable within different sectors of an industry, and as such, any organization within those sectors could be a potential target for new entrants or a competitor. Within these three categories, the need for digital transformation can arise from the company or its environment.
With the rise of digital services and technological advancements, it is becoming increasingly crucial for businesses to get ahead of the curve. One way that businesses can do this is by adopting digital transformation strategies. These strategies will help ensure they are kept up as technology progresses. A digital transformation strategy focuses on strategies, tactics, tools and techniques that businesses can use to achieve digital excellence.
The following seven digital transformation strategies are designed to help you choose the right strategy. These strategies will help you understand what you need and how to approach this concept. We have provided a few valuable points for each strategy to help you navigate your journey towards achieving digital excellence.
Strategy 1: Lead with Data and Technology:
A digital transformation strategy focusing on implementing digital technologies, bringing in new jobs and exploring the benefits of data analysis and big data are all essential parts of a modern digital transformation strategy. When organizations become more efficient in using technology, they will see revenue increase, access to clients will improve, and they can easily communicate with clients through social media.
Numerous benefits come with implementing a digital transformation strategy, ranging from reducing costs to improving employee productivity. Applying a digital transformation strategy for one of these reasons should help boost your global presence and services.
Strategy 2: Think Outside the Box:
A digital transformation strategy has a lot of different components that need to be considered. These components can include working with software developers or specialists in this field, seeking out new technology and then converting old technology into the new world. It is essential to think outside of the box regarding digital transformation strategy. There are many ways to implement better technology that will help make your business more efficient.
Strategy 3: Create Simplicity:
Digital transformation strategies often involve enhancing workflows, finding new ways to streamline processes, and facilitating teamwork within an organization. Businesses often need more help with their business process, and to do this, they will need to incorporate simplicity within their digital transformation strategy.
Strategy 4: Segment the Market:
When a business decides to implement a digital transformation strategy, one of its goals is to look at whom they are working with and how it can efficiently accomplish all of its tasks. Once you have segmented your market, you should then be able to work out new innovative ways to help you succeed.
Strategy 5: Focus on Competitive Advantage:
A business should be able to focus on its competitive advantage, either to stay ahead of the curve or to differentiate itself. Many companies need to remember how significant a competitive advantage is and are instead focusing on cost and efficiency.
Strategy 6: Keep Customers at The Forefront:
Customers are more critical than ever when it comes to digital transformation strategies. To achieve success, you will need to have a customer-centric approach, which means ensuring they are always satisfied with the services you offer.
Strategy 7: New Skills:
Lastly, companies must acquire new skills and adopt a new culture to thrive in today's digital marketplace.
Companies must seek digital customers and prospective employees with new capabilities and skills. In other words, they will need to seek out people who have an aptitude for the following:
Awareness of equipment, technologies and processes that influence how customers interact with their products and services.

The ability to deliver information in a way that engages customers.

Understanding of how customers engage with brands and products.

Knowledge of how customers behave, think, and feel.
As you can see, digital transformation isn't just about getting a website up and running anymore. It is about changing the underlying methods on which businesses operate. Organizations will need to use new strategies to compete against one another and disruptors in the industry at large.
Conclusion:
The digital transformation had a significant impact on B2B sales. It is no secret that it will continue to disrupt how we conduct business moving forward. Organizations across the globe are looking to utilize this disruption as a means of improving their revenue and profitability.
A digital transformation strategy takes time to happen. Being patient is essential for any business. Transforming something into a new system will take a long time, but the result will be worth it.
Published: March 1st, 2023