Maximizing Efficiency: How API Connectors Enhance Business Communications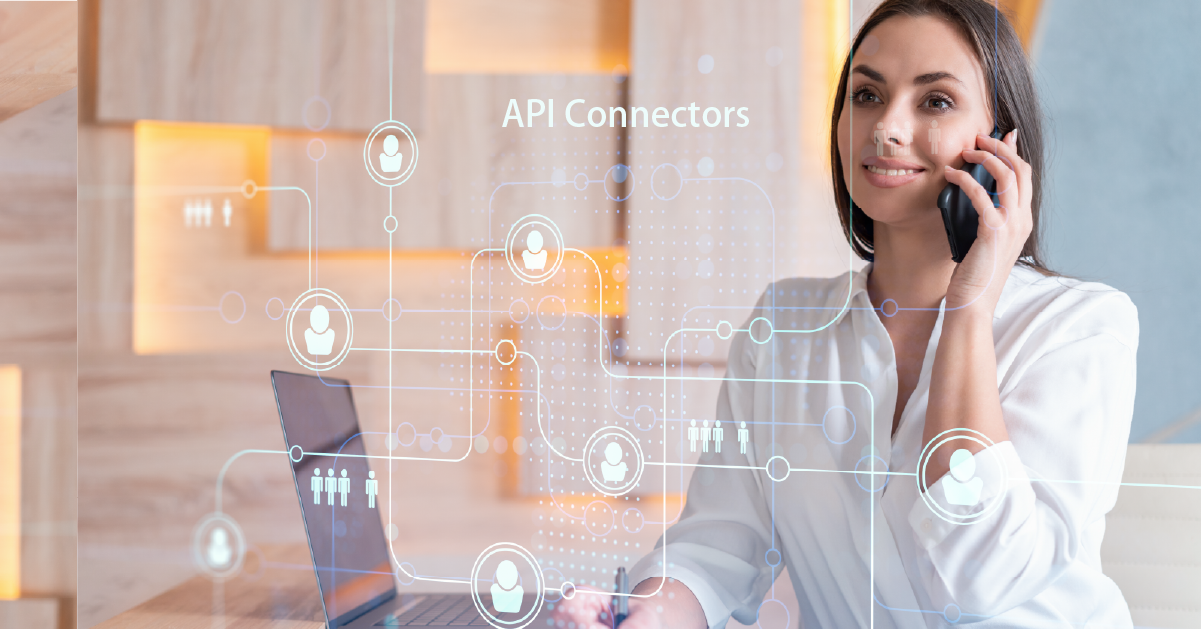 Reading Time:
5
minutes
API Connectors are one of the most efficient ways to enhance your business phone service and, therefore, your business. With an API connector, a company can ensure its number is reachable 24/7. Voice Over IP, Private Branch Exchange (PBX) and VoLTE. It helps keep the phone system running while giving callers quick access to customer support employees without that long wait they might have experienced if calling from a regular phone line.
There are many tools to help your business make an efficient, worthwhile connection. With API connectivity, you can access various apps that seamlessly integrate with your phone service and the software you already use.
This post will introduce you to API connectors and how they can help make your business more efficient. You'll also learn about the benefits of API connectors for businesses.
Suppose you're in charge of managing a small business phone service utilizers. In that case, it's imperative that you know about this technology as it will positively impact your company's performance on so many levels.
In a traditional telephone system, calls are placed over the phone line by taking a digital signal from the PSTN. This information is filtered through several stages as it's received by an operator who provides it to a switch. This process is very time-consuming and expensive. It also allows no control over the phone line or how customers connect. 
Think About it like This:
When a customer picks up the phone, they should have immediate access to support from an agent, using a phone with multiple ways of connecting, not only VoIP technology. It is how a customer service agent can reach you even if your IT department is experiencing technical difficulties. That's why the direction that large companies are moving with API and VoIP connectors is changing. Although it's still relatively new, you can now connect via (or incorporate) API technology in your company phone system.
Now, more companies are choosing to work with API Connectors that allow for three ways to connect- Voice Over IP (VoIP), Private Branch Exchange (PBX), and VoLTE.
What Is an API?
API is a security protocol that helps to secure a company's data. It also allows the user to control and connect various devices with different programming languages. API can be simplified by understanding it as an interface between two or more devices.
Business API Integration Examples:
A company that embraces API integration takes advantage of the power of a large staff. VoIP API integrations help them streamline workflow, increase efficiency, and cut costs. Prima facie, they save money. But the additional benefits are more profound:
Improved Customer Service 
Increased responsiveness to customer requests:

Enhanced earnings potential for IT personnel as well. The power of API integration is increasing exponentially as time goes on, and it's changing business practices worldwide.

Increased Efficiency and Increased Revenue:

A large-scale API integration program's two biggest benefits are increased efficiency and revenue. Let's take a look at how each of these two things occurs.
Benefits:
API integrations help companies to work more efficiently through the use of workflow automation. Workflow automation is how business applications connect and link to an operating system that allows them to communicate in sequence. It enables data to be manipulated and passed from one application to another without human intervention. Adding APIs enables the operating system to connect applications aside from those in the immediate workplace. It is done through an API gateway, allowing the operating system to make several connections and selectively providing access to a third party. The ease at which this can be achieved has amazed many business IT professionals. Once they realize how easy it is to integrate their systems with external ones by affecting one or two simple operations, they immediately take advantage of these opportunities.
API integrations do more than automate workflows; they enable a company's software applications to function on other platforms. By integrating with another platform with a similar utility, companies can access multiple applications' functionality simultaneously.
Most business software companies have at least one web service API that they can use to increase revenues, lower costs, improve customer satisfaction, and improve employee efficiency. Everyone wins when this occurs. API integration programs benefit all parties involved by making every part of the company more efficient and profitable.
API Connectors Enhance Business Phone Service:
However, notwithstanding varieties in correspondence, one thing has stayed steady—the worth of telephone administration as a method for business development. Organizations need to put resources into different choices for their laborers to keep on giving productivity and growth inside their organization. It incorporates Programming interface connectors that empower organizations to utilize applications on top of telephone administration and customary landlines. With innovation improving accommodation and adaptability every step of the way, these incorporations are reliable ways for organizations to develop without forfeiting quality or productivity.
Organizations with incorporated Programming interface connectors can zero in on their center assets and avoid the interruptions of disconnected telephone frameworks or issues that can prompt preparation troubles. These mixes likewise furnish organizations with added fulfillment as they understand the worth of this choice to develop effectiveness further. Organizations can develop without forfeiting quality or productivity with proficient and powerful administrations for workers.
Learn More about the Benefits of API Integrations in VoIP Communications
Organizations should consider creating Programming interface connectors that coordinate customary telephone administration with applications. As the presentation specifies, these mixes permit organizations to accomplish solace inside their laborers, converting into a more useful climate for all included. Utilizing these choices prompts more prominent efficiency since discussions happen all the more proficiently from an individual and company viewpoint.
Ways:
There are two different ways for organizations to incorporate Programming interface connectors and customary telephone administration: with a 'fitting and play' arrangement or by making a custom combination. The two choices are powerful, yet picking the right one for your business is significant.
A fitting and-play account is great for organizations that esteem comfort and commonality. With this choice, you can get to a progression of combinations that you can use without making an incorporation without any preparation.
Then again, organizations that need greater adaptability or customization should consider fostering a custom variety. Contingent upon your inclinations, utilize these arrangements without extra equipment on top of conventional telephone administration.
CRM mixes offer adaptability and simplicity in custom call settings, including call sending. These highlights are valuable for organizations with representatives in different locales or moving around the country. VoIP CRM integration guarantees that calls will be sent to the ideal locations at the perfect time. It can mitigate correspondence issues among representatives and clients.
Assume you choose to go with a custom reconciliation. It is critical to consider your choices during the underlying advancement stage. For instance, consider both programming-based APIs and equipment-based Programming interface arrangements like IP telephones or softphones.
Conclusion
:
Programming interface Connectors are one of the most amazing advantages of VoIP administration. To best utilize Programming interface connectors, you want to comprehend what they are and how they work.
A dependable VoIP telephone specialist organization is fundamental for some small to medium-sized organizations. Numerous suppliers center around conveying financially savvy bundles, yet getting a VoIP with the right highlights, speed, and unwavering quality is significant. Business phone service providers expect to offer magnificent assistance at sensible costs with outstanding help.
Published: September 1st, 2023
Subscribe to Our Latest Updates
Get monthly product and feature updates, the latest industry news, and more!
By submitting this form, you agree we may contact you in the manner described in our Privacy Policy.