VoIP Services are the Present Trend – Find out How?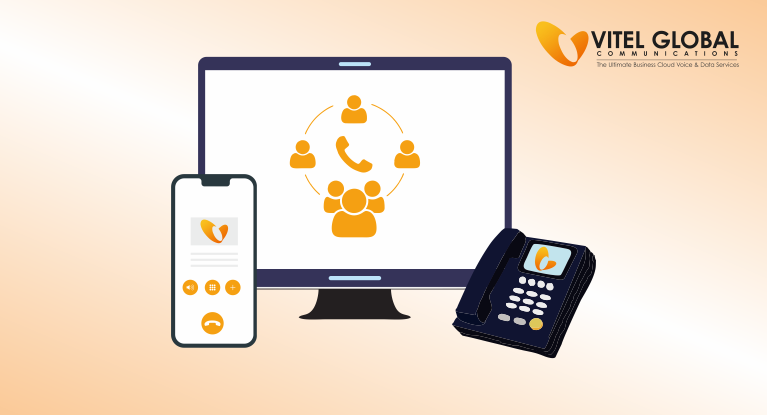 Reading Time:
4
minutes
VoIP Services:
Is the quest for VoIP services tiring you? Then read the best VoIP services providers, and VoIP API concepts.
Start with the basics:
Voice over internet protocol is the technology that allows users to make and receive calls over the internet. Generally, traditional systems follow the circuit packet switching technology connected to the PSTN or public switched telephone network. But the VoIP technology follows the digital packet switching method where the voice gets transmitted compressed into digital packets and transmitted over different routes with less traffic to reach the destination. It will not flatten the voice on the reciever's end.
Due to their flexible and mobile nature, the analog phones have replaced modern phones. That means businesses can handle calls from any device accessed through the internet or anywhere. It's not that you need to sit at your desk and handle the calls; it's those complexities faced by the users in their office areas.
If your business is maintaining analog phones, connect them with the analog telephone adapter used to transmit analog voice signals over the internet. Service providers usually deliver Internet phones with high-quality features following the SIP protocols, so plug and play them over your desk.
Softphones or Desktops: If you have a desktop or personal computer, download the app to make and receive internet calls.
Smartphones: To make and receive internet calls, download unified mobile apps from the Google Play store and signed in to your account.
Why is VoIP successful?
There are many reasons to explain why businesses must upgrade their communications systems. Business phone solutions are designed to avoid complex configurations and complexities like running cables or wires across the office floors, as the setup takes less time to install over the office location. The entire team manages and configures the centralized setup of VoIP simultaneously from their desks
To save your budgets, especially for small and mid-sized businesses with communications handled across the globe, that means making unlimited long-distance calls through VoIP Services without taking the talking time duration as in the case of analog phones.
Affordable Plans: Get affordable call tariffs induced into cost-saving plans that incur pre-defined call rates that can be studied before implementing into your infrastructure.
Design your system: design the system's features based on your business needs, as modern telephony allows for simple customizations such as warm greetings, advanced call forward messages, and other features.
No worries: It's easy for the team members or individuals to attend calls or perform other office tasks even when you are out of the office or working from home.
Manage on the cloud: Service providers effectively manage all the data and backups.
Cost-saving: with cloud PBX systems, businesses don't have to maintain the hardware and servers that are highly expensive for small businesses and startups. By managing cloud PBX, you can save considerable money by investing in equipment and its upgrades and maintenance.
High-Level Security: high-level encryption is done at every point of access, and also, accessed users need to authenticate into their accounts for security purposes, thus avoiding hacking issues for the higher levels of business communication solutions.
No loss of data: maintaining data in multiple data centers helps to retrieve it whenever required or when data loss occurs unexpectedly.
One platform, multiple solutions: provides multiple features integrated with the virtual system used by your teams for voice solutions to perform multitasking and handle multiple team members on a single platform.
Business Phone Service Features: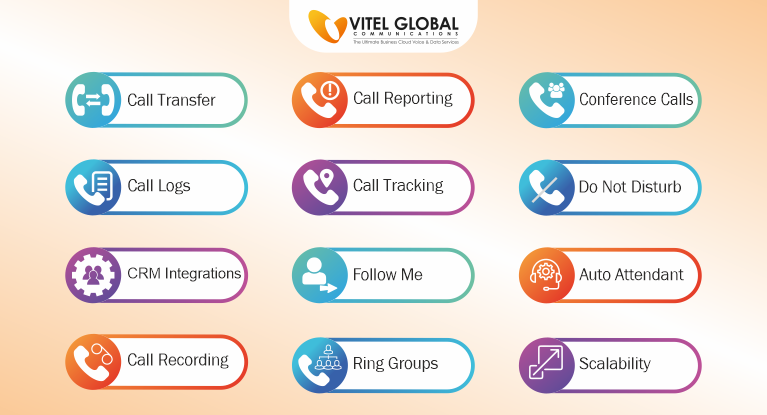 One of the biggest flexibilities achieved through the VoIP systems is API integration, which means application programming interface integration.
What do API integrations mean?
The developer's team designs VoIP integrations or API Integrations to integrate the users' applications with any device, network, or place in the world. It allows all the functionalities of VoIP to be integrated with the existing files in the system. Technically, it is an interface between two or more organization applications that allows systems to exchange data. 
Example: 
The implementation of API is seen in sending data to a server when one connects your mobile application to the internet. The server accepts the request from the receiving side and sends the solution to the receiving side.
The key benefits of API integration are:
API distributes personal data, information or services.
It can be unified with any application.
Execution time.
Productive.
Easy upgradations.
It customizes content and services easily. 
It allows sharing and distribution.
Extremely efficient.
Extreme automation.
Very adaptable in technology and data migration.
Saving time.
Effective cost.
Technology and platform-independent.
Extremely safe.
Access to applications is simple.
Applied in travel and hotel bookings, PayPal, and other applications.
These are the key benefits of implementing API integration in any organization.
Voice API:
This platform supports voice calling with applications to make receive and manage calls with high quality.
It allows seamless calling.
Connect with mobile apps or browsers.
Contact any phone number.
Voice Api has multiple features united. 
Connects with the support team or sales team easily.
Click to call gives a real-time experience.
It easily connects with the regular phone number by customizing the mobile dialer feature.
Arrange conference calls.
High-definition call quality.
Conclusion:
Our best service provider provides the best VoIP services, Vitel Global Communications manifesting excellent products with 60+ features focusing on every customer or client with outstanding services. More details regarding our products are available at our website.
Published: June 15th, 2022
Subscribe to Our Latest Updates
Get monthly product and feature updates, the latest industry news, and more!
By submitting this form, you agree we may contact you in the manner described in our Privacy Policy.