Importance of Appointment Reminders in Healthcare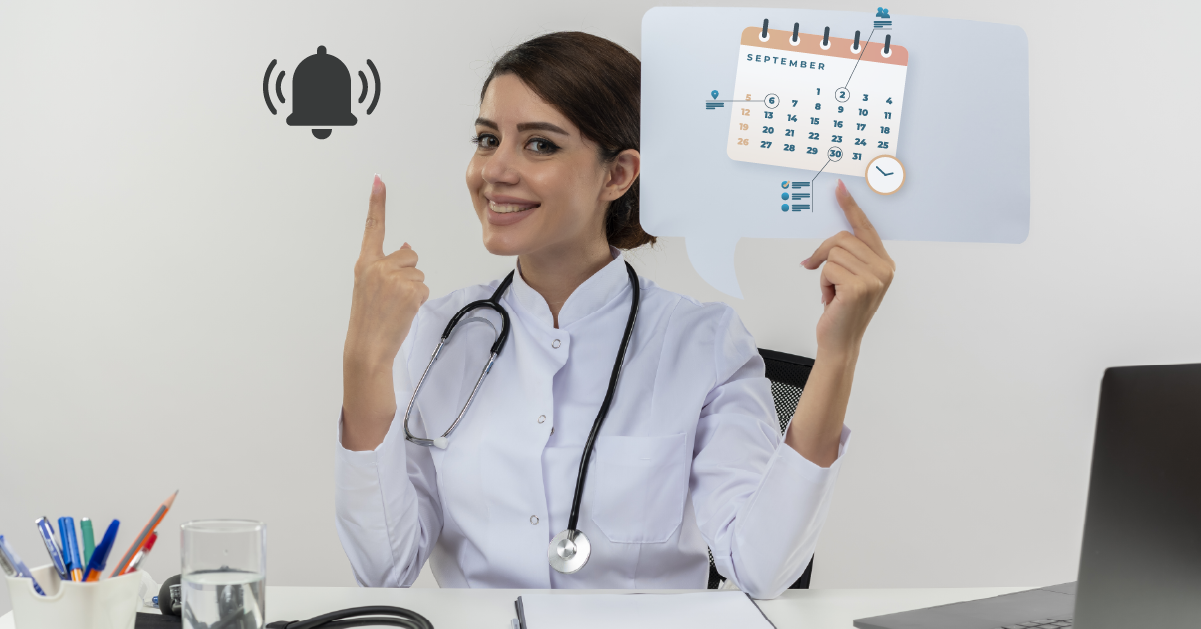 Reading Time:
4
minutes
Most practices struggle with cancellations of appointments, and no-shows are a source of constant frustration for all practitioners. Could you reduce both at once? Hence, we came up with the idea of introducing patient reminders in healthcare.
These prerecorded texts, emails, and phone calls serve as automated reminders for your patients about appointments; otherwise, they might forget, promoting attendance or, if necessary, postponements.
In the healthcare sector, effective communication with patients and employees is crucial. Do not let an outdated phone system prevent you from giving your customers a wonderful experience.
The business phone service should be upgraded for offices that deal with healthcare. They also do not burden the front-office staff, who must work quickly. Find out everything about their use and benefits below.
What Does A Patient Reminder Entail?
An automated text, email, or phone message reminding patients of upcoming appointments is a patient reminder. Reminders to patients may also request that they confirm previously scheduled meetings. As appointment times get closer, sending out these reminders is becoming a more popular alternative to having your front-office staff call patients to confirm their attendance.
How are Automatic Reminders Sent to Patients?
The process begins when your front-office staff adds a patient to your patient management system (PMS) calendar. The PMS takes care of everything else, so the process ends there for your employees. A patient reminder is automatically sent out a predetermined number of days before an appointment when new work is added to your PMS.
Patient Reminders: Advantages
The following are just a few of the many factors that practices of all sizes and specialties have adopted in patient reminders:
They ease the workload of front-desk employees:
Creating a positive patient experience at your practice is one of the main objectives of your front-office staff. When your receptionists spend hours each day calling patients to confirm their appointments, accomplishing this goal is much more difficult.
This responsibility is taken over by automated patient reminders, freeing up your front-office staff to engage with customers already there.
They release assets:
Your phone lines are available for incoming patient calls when your front-office staff is not contacting clients to confirm appointments. It is significant because 88% of doctor's appointments in the healthcare industry are over the phone. Additionally, it eliminates the need for your front-office staff to wait for colleagues to finish making reminder calls to patients before placing their calls.
Learn more about the Future of Healthcare Through Business Phone Solutions.
They boost patient loyalty and satisfaction:
Reminder calls over the phone may annoy patients and staff. Imagine that you were working on a task that required immediate attention when your phone rang. Patients can avoid this issue by receiving text reminders. Patients can use a texting app to reply whenever it is most convenient while continuing their daily activities undisturbed. Longer patient retention is the result of happier patients.
They reduce the number of no-shows:
Being in the medical field, you know how hectic life can be. Your patients may be just as busy as you are, making it more likely that they will forget their appointments by accident. Reminders for your patients can refresh their memories at the ideal time, increasing the likelihood that they will arrive.
They help clear your waitlist:
What does an appointment cancellation mean for the patients who are supposed to be there? You give someone on your waitlist a chance to get scheduled when you identify appointments that will not occur. Additionally, you significantly improve the satisfaction of another patient with your practice while maintaining your financial viability.
What are the Best Methods for Reminding Patients Via Text?
There are a few ways you might unintentionally reduce the effectiveness of patient text reminders, but their power is evident. To ensure the effectiveness of your text reminders, abide by the following guidelines:
Make it brief:
Sharing specifics about the appointment or private medical data is unnecessary. A tweet should be used only as the patient's reminder text. Give the patient's name, the name of the doctor they are seeing, the appointment date and time, and information on how to cancel or reschedule. Make sure that this information is unambiguous.
Include a call for action:
It is one thing to inform someone they have an appointment at a particular time and date. To ask the patient to confirm, reschedule, or cancel their meeting with a one-word response is one thing; to do so is quite another. This method makes rescheduling simple, engages the patient, and promotes postponements rather than cancellations or no-shows.
Customize your communications:
Text messages that include both the recipient's and doctor's names are more effective when intended for patients. Unlike the latter, which is unlikely to pique interest or prompt action, the former text demonstrates why the patient should care immediately and makes them feel catered to.
Determine how many messages to send:
Do not bombard your patients with messages; doing so will likely make them want to cancel. Simple reminders between 24 and 72 hours before the appointment should be sufficient, along with a confirmation request one week prior. It is a good idea to send a third message, but two is adequate, and four is way too many.
Understand when to remind your patients:
Experts claim that 4 p.m. is the ideal time to send patient reminders. They rank among our best picks for medical software and billing. According to their studies, this is when response rates are at their highest. Furthermore, 9 a.m., 3 p.m., and 5 p.m. have the highest response rates. The least number of people responded to lunch break reminders.
How Can Appointment Reminders Be Useful?
It has been demonstrated that prompt delivery of appointment reminders can reduce the incidence of missed appointments.
Such a sharp increase in patients who show up for appointments on time and schedule can significantly impact how much money a practice makes. With those numbers, a well-designed appointment reminder program could quickly pay for itself.
The concept is quite simple. When an appointment is made, the system can be set up to call or email the patient to remind them of the meeting. These messages can be sent out at various intervals: one week, three days, or even one day before the appointment. The system should allow the practice to customize the number and length of contacts to meet their needs.
Following the establishment of the parameters, the EMR appointment reminder program will handle every aspect. Once the required time has passed, the software will send patients reminders about their appointments. There is no need for further suggestions or input from the medical staff or doctors.
Conclusion:
An appointment reminder app in the healthcare industry is ultimately about more than just enhancing your patient's appointment experience. It is about providing excellent care and a safe environment for those in need. Appointment reminders are made more efficient and accessible by incorporating technology and automation with the help of a virtual business phone number, such as text messages, emails, or mobile apps. Additionally, appointment reminders help create a more effective, patient-centered healthcare system focusing on engagement, communication, and the best possible medical results.
Published: August 23rd, 2023
Subscribe to Our Latest Updates
Get monthly product and feature updates, the latest industry news, and more!
By submitting this form, you agree we may contact you in the manner described in our Privacy Policy.