VoIP in Healthcare: What You Need to Know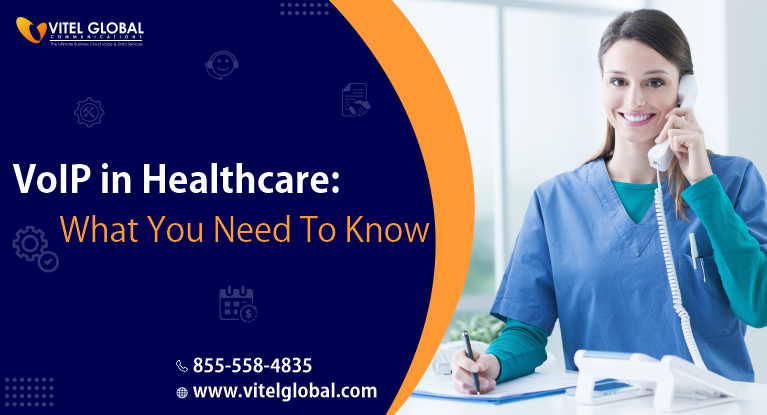 Reading Time:
3
minutes
Healthcare is one of the fast-growing industries in the present day. Remembering that health care is an emergency service is not required, apart from supposing it as a business, health providers usually service patients for their emergencies.
Yet, today, every business has its competitive arena to face challenges. Hence, there is a need to install a highly flexible and efficient technology to serve their purpose. We are here to discuss the role of Voice over Internet Protocol (VoIP) in the case of the Healthcare sector and why health providers rely on VoIP with intent.
Healthcare Telecommunications:
We know that in the olden days, there were wired telephones, and hospitals readily came forward to install them. Simultaneously, there were glitches regarding those services because there was no second option available.
Why is Healthcare Telephony Crucial?
These phone lines generally include physicians, surgeons, patients, pharmacists, etc. We must understand that the data is so sensitive that we cannot share it with others. Hence these telecom systems in hospitals are regulated under particular disciplines by respective professionals.
What are The Benefits of VoIP Services in Healthcare?
Let's go through some of the uses of VoIP that help healthcare organizations to satisfy their patient's needs and to acknowledge them as soon as possible. Every different field has its own set of rules while operating its system.
But when it comes to the case of the healthcare sector, it is sensitive because there is no time to wait. Hence, a healthcare VoIP service has all the inbuilt features available and an option to customize the features according to the needs.
These features help the organization streamline operations communicate with patients, and pharmacists, and other medical departments.
Some of the essential benefits of VoIP in Healthcare Telephony are;
Cost Effective: Everything is about money cost-saving forms of any service can attract people. So does VoIP Cloud calling is very affordable as it entirely works with the help of the internet with no additional hardware. With the use of VoIP in a healthcare organization, there is no need for installation charges, service, and maintenance charges.
With such affordability, it provides you with advanced calling and data storage features, which are cost-effective.
Telehealth: Telehealth in general can be defined as the user's interaction with the medical team such as consulting a physician or an employee of the same for an advice/ suggestion. You can integrate your CRM with VoIP, where your staff would be able to access patients' data when needed. For such activity, you would generally wish for robust technology. With features like file sharing, video calling, and screen sharing, you can subtly include telemedicine into your operations.
Client Communication: Whether it is a patient or your client, VoIP allows you to customize the calls according to the urgency and prioritize them as needed. You can also prepare your staff to answer the calls promptly. This flexible feature in VoIP can remarkably minimize the delay in your response to earn better patient retention and acquisition.
Team Collaboration: Suppose if some of your staff is at a remote location, they can still get in touch with the entire team at once using the cloud-based VoIP technology. VoIP offers audio/video calling features with premium voice quality for the best user experience.
Healthcare is a service, and you can serve better by coordinating with physicians, specialists, and any related people worldwide in a matter of seconds with no interruption in the network.
Automated Scheduling: It enables your team to schedule your system to capture new and returning patients without being present at your office. Subscribers of any service want to contact their provider anytime they want. This automated scheduling allows your team to be available to your patients, thus building goodwill in the organization.
Conclusion:
Indeed, the healthcare industry is the most discreet service, and there should be no errors in its operations. It might cause a problem.
Take advantage of the advanced technology of VoIP, which is cost-effective and can offer features you do not expect. These features enable your team to communicate with patients, physicians, and clients or for suggestions in seconds.
Healthy communication in healthcare will generate healthy people and a healthy reputation for the organization. With no delay in response to the patients, you earn customer satisfaction that leads to the extension of your services. Get Live Demo Here!
Published: August 22nd, 2022
Subscribe to Our Latest Updates
Get monthly product and feature updates, the latest industry news, and more!
By submitting this form, you agree we may contact you in the manner described in our Privacy Policy.