6 Tips to Follow Before you Invest in VoIP Phones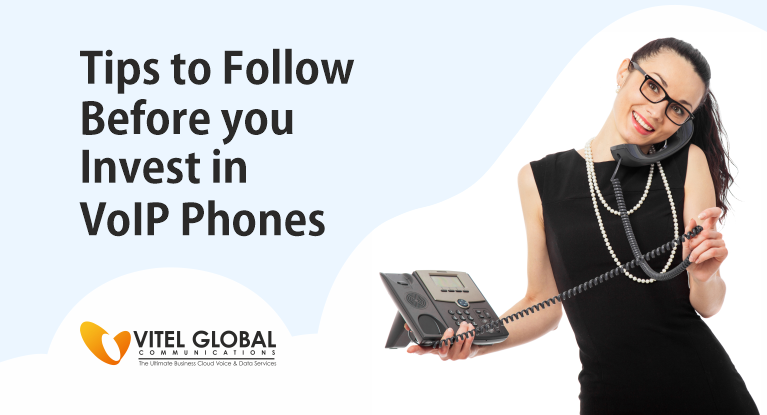 Reading Time: 4 minutes

What is a VoIP Phone System?
A VoIP phone system is a hardware-or software-based phone that uses voice-over-Internet Protocol (VoIP) technology to transmit and receive phone calls over an IP network. The phone changes the audio from analogue phone calls into a digital format that can be sent online. It also changes digital phone signals from the internet into regular phone sounds.
VoIP phones, often called IP phones, offer features and capabilities not present in analogue phones. Because phone calls are placed through the internet rather than the traditional public switched telephone network, they are also subject to additional performance specifications (PSTN).
A VoIP call is an internet call or any communication transmitted via the internet, such as text, email, or chat. Voice over Internet Protocol (VoIP) calls can have the same features as office private branch exchange (PBX) systems with multiple phone lines, such as voicemail, call forwarding, call waiting, caller ID, etc.
One of the best things about VoIP phone systems is that the phone software works well with software for other business applications, like customer relationship management (CRM) systems, to provide a single source of client data.
Utilizing VoIP call technology does not necessitate sacrificing call quality.
 Call quality refers to calls that are clear and uninterrupted. Along with a strong and stable internet connection, computers, routers, SIP phones, VoIP servers, and VoIP Service Providers affect the quality of VoIP calls.
How do VoIP Phones Operate?
VoIP phones transform voice calls into digital signals transmitted across IP networks, including the internet. VoIP phones may operate as VoIP-enabled real or virtual phones through software installed on a computer or mobile device.
Multiple networking components are necessary for VoIP phones to function. The Dynamic Host Configuration Protocol automatically configures the network and VoIP parameters and assigns IP addresses to phones. A domain name system keeps track of IP addresses to make it possible for devices, like IP phones, to talk to each other.
Voice over Internet Protocol (VoIP) phones requires multiple protocols to support the delivery of voice communications over the internet. Scroll down to learn the functions of the various VoIP protocols.
More about VoIP:
Traditional home phone or office line systems (POTS, or PSTN) use hardware that operates the ISDN network's primary rate interface (PRI), unified communications rendering chat, voice calls, and video calls or fax more at a time.
A PBX system employs standard phone wires together with an office-based PBX server. With a Cloud PBX system, you can have more phones than phone lines, and calls between users are free.
VoIP phones are a form of technology that enables voice call transmission over the internet. The three types of VoIP phones are IP PBX, completely virtual VoIP, and hybrid VoIP phone solutions.
In an IP PBX configuration, calls are routed via VoIP networks, the PSTN, and vice versa. Local IP PBX servers may be hosted locally via a telecom operator or an internet service provider.
There is no requirement for desk phones, cables, or other infrastructure. Softphone setup is another name for a virtual VoIP telephone system. People use a special app on a web browser on a computer, smartphone, or tablet to make and receive calls.
In addition, a hybrid phone solution combines a PRI phone system with IP phones.
Benefits of a VoIP system:
Reduced overall expenditures to virtually just subscription fees.
Maintain the same phone number regardless of location or device changes.
Basic functionality and compatibility with your CRM and other software connections.
It can utilize many channels simultaneously, including phone, chat, text, and document transmission.
Allowing the use of remote teams at no additional cost.
There are no long-distance charges.
Able to add and remove lines easily and quickly.
Negative aspects of a VoIP system:
Maintain a reliable internet connection to avoid delays and jitter.
We need appropriate bandwidth for quality calls.
There is a minor possibility of voice and call quality degradation.
Devices require a constant power source, such as rechargeable batteries or an outlet plug.
VoIP infrastructure:
A router, a VoIP adaptor, phone equipment, and headsets are examples of hardware.
A dependable Internet connection, preferably using fibre-optic lines,
Test your system's bandwidth to guarantee it can accommodate your call load.
Allows integrations of the existing system files
Each of your devices should have a minimum upload speed of 100 kbps. Persistence and jitter should be less than 70 milliseconds; this will prevent latency and stability issues.
6 Tips to follow before you invest in VoIP Phones:
Check the current configuration: Are you a startup that has not decided on a phone system yet? Have you decided to switch your current phone system, which is a Cloud PBX system, to a more modern one? Are you able to make a seamless transition to a virtual setup?
Call volume: If your inbound and outbound call volume is low and you already have a PBX system that functions well, it may not be worthwhile to move if you already have a system that meets your needs. It is time to switch to VoIP if you have a high call volume and either already have or want to establish a call centre.
Scalability is a feature that will benefit seasonal enterprises using a VoIP phone system since it will allow them to increase lines during busy seasons without incurring additional time or financial burden.
Budget: PBX systems have substantial initial expenses and recurring fees for repairs and IT maintenance costs. Cloud Pbx Services can cost just as much as traditional PBX systems. Virtual solutions are generally less expensive than their physical counterparts.
The ability of employees to adapt: We are all creatures of habit. If your staff is unwilling to learn how to use all of the capabilities and tools that a VoIP system may provide, you won't be able to reap the full benefits of those features and tools. A Voice over Internet Protocol (VoIP) system is your best bet if you've been considering letting your workers work from home sometimes when necessary and they're prepared to get on board with virtual calling.
Features: You have almost infinite capabilities when you use a VoIP system. In addition, a VoIP system can accommodate any new developments that may arise in the future. Additionally, a VoIP system is compatible with the majority of company applications. A PBX system comes with a fairly restricted set of features.
Avail of the best services and solutions from one of the leading and successful VoIP service provider's vitel global communications, Signup with your details and get started.
Published: June 30th, 2022