How Do VoIP Virtual Numbers Help your Business Grow?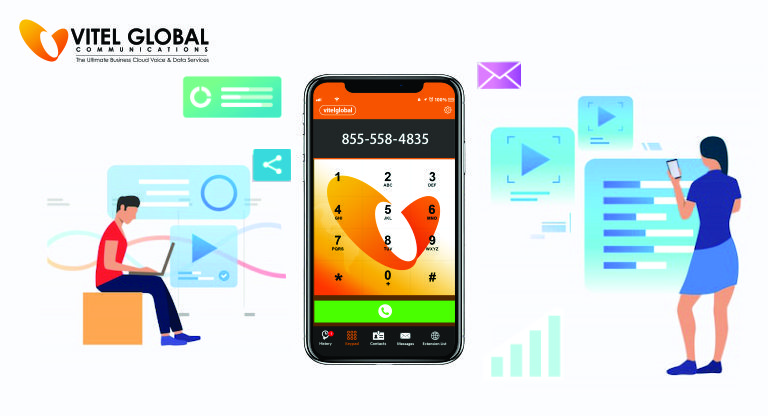 Reading Time:
3
minutes
Each product or service has the desired function to handle. This blog will give you transparent and honest information on every essential feature of virtual numbers in Business VoIP calling systems and how to utilize them.
What does this blog aim to achieve?
Our objective is to explain to readers how virtual numbers work and their benefits. Therefore let's start with the fundamental ideas. How can you benefit from this virtual number feature for your convenience? Let's get started with the definition.
A virtual number: what is it?
It is a phone number used to route calls to the user's actual number but is not connected to any phone line or other service.
People can access their VoIP phones with these business cloud phone services without using a conventional phone system. More flexibility is achieved while conversing using virtual numbers because it is used to place or receive calls through the internet from any location.
Benefits of using virtual numbers:
By using virtual numbers, you may make online calls without paying the exorbitant calling rates associated with conventional landlines.
Virtual numbers assist local firms that employ several phone numbers and residential VoIP phone users working as remote employees. You can operate your conversation using a virtual VoIP number from multiple locations across the globe. Because VoIP is entirely internet-based and does not use a copper-wired telecom network.
Using a virtual number, you can access long-distance calls at low costs, as well as all the advanced calling features. Just install a softphone app on your mobile device like a smartphone, tablet or laptop to make calls when you are outside your office.
With what Features do VoIP Virtual Numbers Work for your Business?
Affordability: 
When buying a good or a service, cost-effectiveness is always crucial. You won't need to pay extra for a virtual VoIP number because you'll get them just by installing a VoIP app from your service provider. Contacting the service provider for any upgrade is unnecessary because it is done in the cloud. There are no additional maintenance fees or equipment requirements. Install the app from your service provider on your device, then start making calls.
They can assist you with call reception from anywhere:
One of the main advantages of having a virtual number is the flexibility to direct calls. Whichever device you wish to receive them on, whether a desk phone or a mobile device like a smartphone or tablet. The ability to make calls from anywhere in the world is a massive benefit for remote employees who use this business cloud phone service asset.
Simple to handle with the help of the nearby service providers:
Most business cloud phone service users prefer using local service providers since they give your business a more individualized local presence. Because customers are more likely to answer calls from local numbers than from numbers, they are not familiar with.
Using cutting-edge VoIP features:
Some service providers include additional benefits in the VoIP plan you choose. Numerous intriguing calling capabilities, including call waiting, call forwarding, call recording, video conferencing, call transfer, call blocking, parallel ringing etc., are available with business cloud phone service solutions. These features are particularly beneficial for enhancing your business relationships by increasing communication effectiveness with your employees and clients.
Many configurations are possible:
The virtual phone number options, including local and vanity, will also be appreciated by VoIP users (which some providers offer). Here, a software application package is used, and it is simple to configure any upgraded technology.
Separates your number from the Business one:
You may separate your calls and data with a virtual phone number. It also serves the vital purpose of enabling you to purchase a phone number while protecting the confidentiality of your number.
Data Security:
When it comes to business data security, it is of top priority. VoIP service providers generally maintain all your business information in the cloud in the data centers. Leading VoIP service providers would maintain a backup for their data centers too.
Such safety measures can make disaster recovery.
Summary:
Of course! Many other features in cloud phone service are essential for a business, but some are in-built, and others are add-on features. But always remember that you have to run along with the present day's needs, which is how you can face your competitors.
Requirements such as free calling, video conferencing, and online file transfer can help the hybrid working culture to a greater extent to improve your staff productivity. We, Vitel Global, have tailored the most affordable business VoIP plans, making us stand among the most preferred cloud calling service providers. Contact us to know more about the best suitable plan that can fulfil your business needs by being cost-effective.
Published: September 26th, 2022
Subscribe to Our Latest Updates
Get monthly product and feature updates, the latest industry news, and more!
By submitting this form, you agree we may contact you in the manner described in our Privacy Policy.