Cloud PBX API: How Does it Work?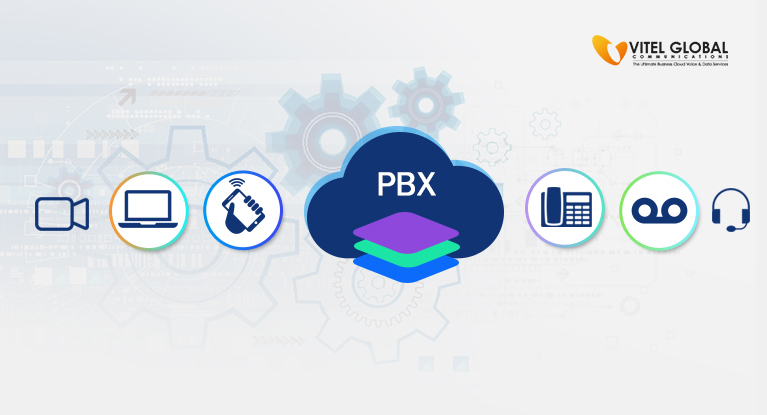 Reading Time:
4
minutes
Business communications play a vital role in creating a benchmark for your brand in the market. The increase in demand for voice solutions has increased the demand for sophisticated features integrated with VoIP systems. Our blog target is to explain the best Cloud PBX solution for small businesses that can be easily integrated with the existing applications using APIs.
It's not easy to storm a famous victory overnight. One must strive hard to reach the utmost expectations of the client. Many such service providers are providing excellent services in the market. But the decision-making about with whom they need to get associated is in the hands of the business.
Before deciding to associate with the best providers let us learn the following concepts:
What is a Cloud PBX?
These systems are designed and innovated for serving office communications doing multiple functionalities like calling, messaging, and many others through the integrated powerful features of cloud PBX setup.
PBX stands for private branch exchange and is used by businesses for transferring calls within and outside the office premises. It has been showing tremendous successful results in the small businesses that are available in different forms integrated with different features.
Types of PBX:
Traditional PBX: It is the setup connected with the coppered wires within the office premises.
Hybrid IP PBX: It is an on-site IP PBX system associated with the cloud too.
On-premise IP PBX: This IP PBX setup is used for residential and business communications allowing to make modifications depending upon the business requirements.
Hosted IP PBX: It is also referred to as Cloud PBX or Virtual PBX Phone System that hosts and manages using the internet on the cloud.
VoIP setup converts the sound into digital packets that travel over the internet to the Cloud PBX provider. Who routes the data packets to the defined destinations converting the digital packets into the voice.
Businesses to be more precise small businesses couldn't afford the PBX machine setup on-premises which is expensive so this is the best solution that is hosted and managed by the hosted PBX service providers.
The implementation of the above service is easy and fast.
Benefits of Cloud PBX:
Improve your business standards: Businesses should not only concentrate on the profit lines but need to focus on the performance of their team members. The more efficient the team members are the more productive the business standards get improvised.
The latest technology helps the employees to work more smoothly compared to the communications done over the traditional PBX systems, for example, dealing with clients of your business, scheduling meetings and many other tasks that need to perform through the communication tools is easy peasy.
Affordability means a lot to small businesses: Costs incurred over the infrastructure are less compared to the traditional wiring tools used in the past decade thus helping to save your business budget more and more.
Powerful features help in powerful communication: Powerful features are integrated with the Cloud PBX Systems that help to manage internal and external tasks easily by doing parallel activities at a time.
Easy to join, meet and chat: yes, conduct conferences or meetings with your clients and employees securely.
The Advantages Of This Service In The Small Businesses Are As Below:
Stay connected to your clients in an easier way: connect your clients from any place and any device that is accessible over the internet.
Flexible: Cloud PBX is flexible thus allowing you to work from out of the desk. When you are on vacation easily as the internet is available across the globe so just in any emergency one can attend the calls flexibly.
Integrations: Businesses maintain customer and client applications that need to be integrated using cloud PBX APIs.
Good quality: Get HD quality audio avoiding call drops as in the case of traditional calls.
Tough times handled easily: Very useful mainly on the pandemic days for managing the business tasks from home.
Unified communications: Get solutions for multiple issues raised during business challenges by bringing multiple products on a single platform like instant messaging, audio conferencing, video conferencing, and many more increasing the productivity of your business.
What is SIP Trunking?
SIP sessions internet protocol trunking means routing. The VoIP calls to the defined destinations or receiver over the internet through the SIP Trunk. This process of routing calls reduces the infrastructure implementation issues as your company can install multiple channels to the existing PBX system using the internet by the SIP Trunk provider.
It is successful as it provides multiple benefits to the company, have a glance over it:
Say Seven No.'s While Using SIP Trunking:
No barriers: Expand your company communication structure across the globe as the SIP trunking process cost-effectively defines zero boundaries.
No risks: Planning to add more users or clients then now don't worry about modifying the additions, just add any number of users with zero additional cost.
No burden: Don't hassle your networks by subscribing to different providers for voice and data services as no overlapping of networks can be seen in this.
No recurring costs: save money by paying fewer tariffs to make local to global calls.
No office desks working: start receiving calls through the SIP (Session Initiation Protocol) trunking process. Even when you are out of the office with the same local number.
No more performance complaints: good training over the infrastructure helps your employees to perform expertly! And it is very easy to understand and manage thus increasing the productivity of your business.
No separate communication channel: unified communications integrated with the SIP helps your business to perform multiple tasks like using voice, text, and fax at a time.
SIP in VoIP:
SIP Trunking is the standard process of enabling VoIP calls over the internet using the sessions internet protocol. VoIP integrated with SIP is the best solution for small businesses as it is entirely managed on the cloud.
What is Cloud PBX API?
It interfaces integrate third-party applications and servers whereas PBX generates reports that are sent to the third parties automatically.
Quick Conclusion:
Replacing old legacy phone systems needs to contribute more than necessitated for the businesses helping in successful collaboration with your customers in a flexible and cost-saving path.
Vitel Global communications is one of the leading and successful organizations delivering high-quality, reliable, and advantageous communication solutions. These are mainly integrated with powerful features yet available in thriving plans.
Before you upgrade your communications system. Read more the best features integrated with the Vitel Global Communications products listed below:
Features:
Auto-receptionist
Call Queues
Unlimited Calling
Internet Fax
Toll-Free Numbers
Remote Voicemail Access
Follow Me
Call Forwarding
and many more features, fetch more details on our website.
what else we can render?
Email support: support@vitelglobal.com
Phone support: call us at (732) 444-3132, Ext 2.
Remote assistance: we answer on our website instantly.
We serve diversified solutions and products emphasizing small businesses to accomplish their projects.
Get access from Anywhere, Anytime with Vitel Global Cloud PBX Phone System with an internet connection & be up to date with unified business communications.
Published: May 18th, 2022
Subscribe to Our Latest Updates
Get monthly product and feature updates, the latest industry news, and more!
By submitting this form, you agree we may contact you in the manner described in our Privacy Policy.