Track and Manage your AGENT'S Calls Effectively
Reading Time: 2 minutes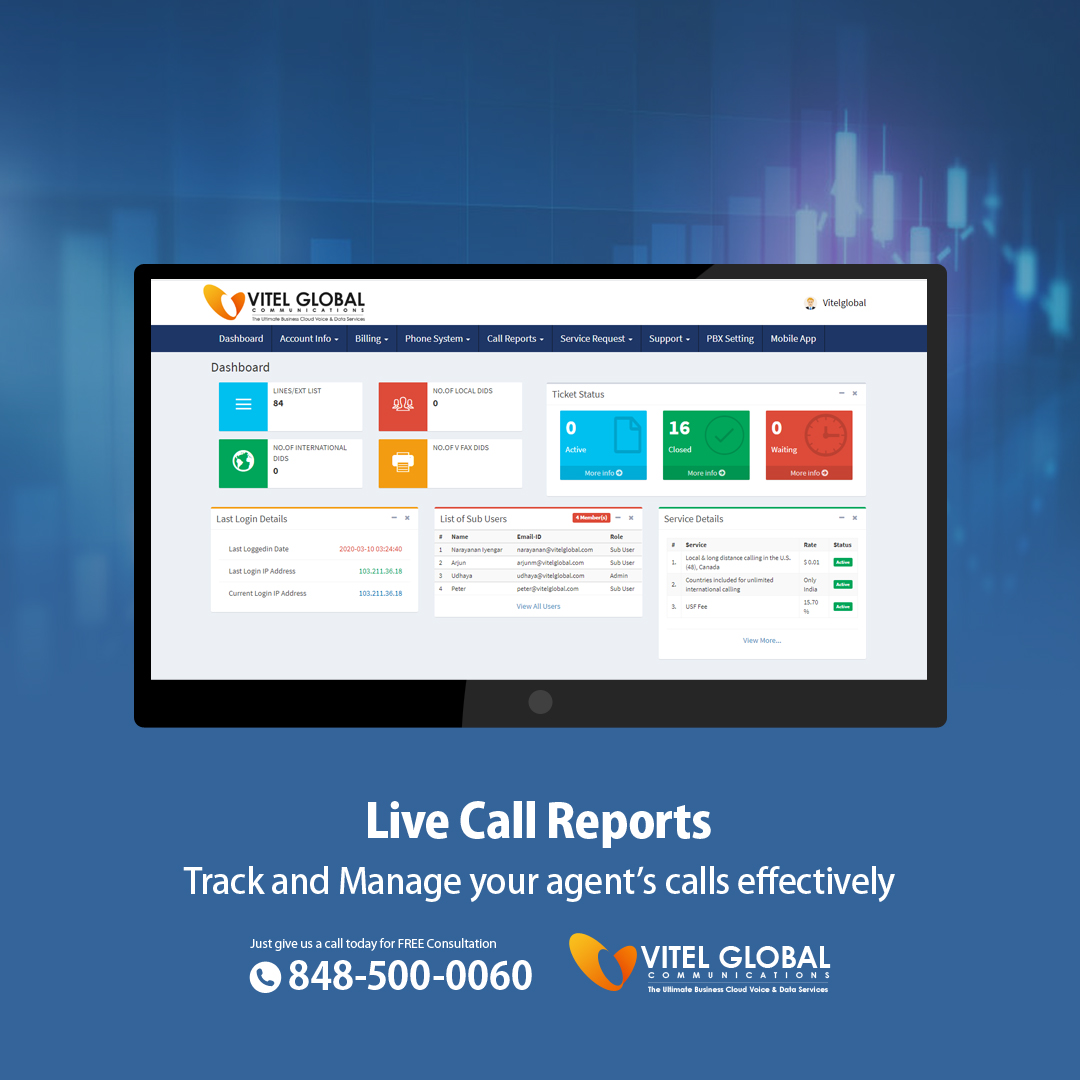 Vitel Global Communications services provide enhanced insights to customers of all around the world. The reports that lead to improved customer satisfaction reduced operational expenses and enhanced agent satisfaction as well. Vitel Global, as a service provider, believes that every small improvement in management can upgrade the business effectively. Vitel Global provides world-class call center monitoring and reporting system that focus on data protection along with data integrity. Scalability can never be an issue. You can even start with a few numbers of agents leading toward thousand more live agent calls monitoring. Our live call monitoring system tracks the live status of queues and campaigns.
Along with tracking calls, you can perform certain functions such as starting chats, viewing the number of calls connected, you can listen to the ongoing calls, and also see the calls waiting to connect. There must be specific considerations you want to be included in the services of VoIP and DID providers. Hence, we can standardize those considerations very well.
There are various DID features available with us, i.e., caller id (Inbound & Outbound), FAX, SMS, and local as well as international DIDS. And control is the most basic requirement for management. In our interface, there is a dashboard available when we log in, and detailed data is visible that describes the types of usage, how many DIDs are there, incurring tickets, and how many ports are in process. With such a broad and single view, it is easier to organize every unique detail of clients and groups accurately. There are numerous options available for billing also. You can opt for whichever seems convenient for your business and sales.
Published: April 14th, 2020
Tags:
Subscribe to Our Latest Updates
Get monthly product and feature updates, the latest industry news, and more!
By submitting this form, you agree we may contact you in the manner described in our Privacy Policy.