How AI Change VoIP Forever?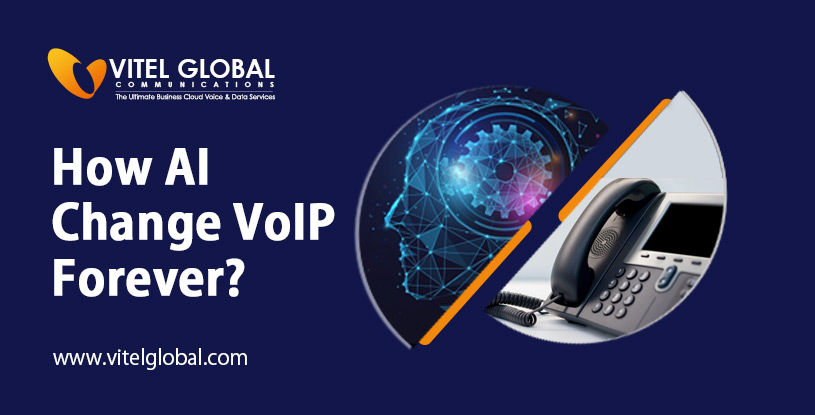 Reading Time: 2 minutes
Artificial Intelligence and VoIP
AI and VoIP are significantly had great impact on technology, to be precise in the telecommunications world where artificial intelligence is used for shipping VoIP delivering more benefits, increased efficiency for businesses small to large when compared today benefits achieved only through VoIP technology.
Artificial intelligence is successfully implemented showing tremendous results in various fields apart from telecommunications world and now it has been started implementing and integrating with the VoIP technology where it is used to automate processes in the voice communication operations.
Before learning the impact of artificial intelligence over boy let us know the definitions of both the technologies.
What is Artificial Intelligence?
AI is the technology used for processing the machines simulating the human intelligence especially computer systems. Artificial intelligence includes expert systems, speech recognition, natural language processing, and machine vision applications for the processing of systems.
Artificial intelligence integrated with the VoIP is mainly operated for the automation of processes is mostly successful in the area call centers.
Call Center Systems
AI integrated with the VOIP changed the operation structure of call centers making many improvements like
Routing of calls
Ability to detect the mood of caller
Alerting the agent directly in the customer call itself depending upon the complaint
Faster retrieval of the customer information call
Lowering call cost
Highly flexible
Receives large volume of calls
Saves agent's time
Directs calls automatically and quickly
Integrates with AVR, Automated Voice Response
Retrieves customer information quickly like past and recent transactions, complaints and many other details
Chatbot Systems
AI is integrated with the chatbot systems that performs actions like
Performs actions like receiving instructions through text or voice
Easily integrated with the human interaction
Performs pre screening
Routes the calls
Book appointments
Set up meetings easily
No manual directions are required
Analyses data in a quicker way
Lowers call traffic by machine learned techniques
Decodes complex interpretations of the customers thus saving time of both business and customers
So, implementing and integrating VOIP with the AI technology helps any business to be more productive when compared to the application of VOIP technology in your business as advanced technologies make your business more productive and more efficient.
Published: November 16th, 2021
Subscribe to Our Latest Updates
Get monthly product and feature updates, the latest industry news, and more!
By submitting this form, you agree we may contact you in the manner described in our Privacy Policy.