7 Tips that Small businesses Look in Business VoIP Phones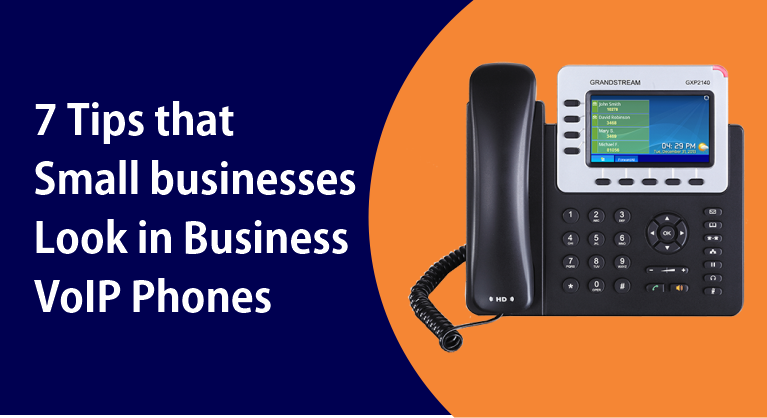 Reading Time: 4 minutes
Small businesses should consider the use of Business VoIP phones in order to save money and increase communication efficiency. Small firms and start-ups frequently use business-grade voice-over-IP (VoIP) service providers, particularly now that the global epidemic has shed a shift in culture toward hybrid work. After this period of time, VoIP excels by enhancing the capabilities of a large enterprise phone system PBX for a considerably low cost. 
Introduce Business VoIP Phones to Your Team:
However, it's a wise choice for remote employees who want the same communications tools as they had in the office.
So, since your phone calls are digitalized, you have access to a whole new world of flexibility. VoIP becomes even more crucial for businesses as the staff can perform file-sharing, chat, and even video-conferencing.
Any new software can be integrated easily with VoIP services.
VoIP: A Flexible Technology:
Due to its adaptability, VoIP solutions can be combined with other systems, such as your help desk or customer relationship management (CRM) system. These connections assist you in searching your call records for fresh information about your client requirements and the demographics of your target market. 
VoIP services are quite flexible and provide a great chain of capabilities for business customers to take into account. 
But what ratio of features and cost should you be looking for?
There are many incredible corporate VoIP systems available. But, picking one can be a challenge as they all have distinct features and price models. Certain service providers may actually concentrate on various characteristics. They look for adaptability and deployment possibilities or Contact Center which specializes in call center features. Below are some inputs to assist you in selecting the correct business VoIP provider.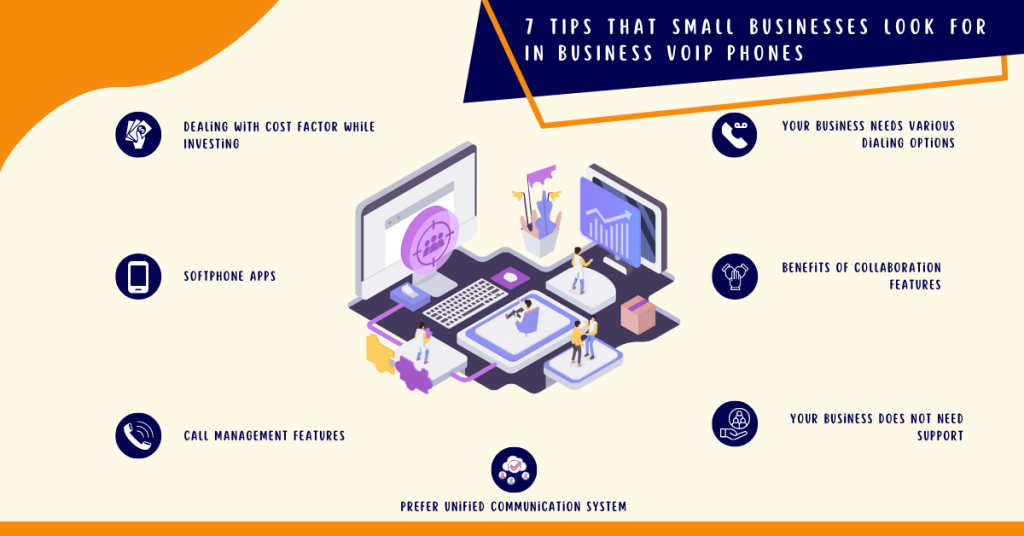 Dealing with Cost Factor while Investing:
This is where factors other than price enter the picture. Businesses while in the growth stage plan ahead for the features they will require. They must be imaginative enough to see what they require in the future. Verify whether your VoIP supplier can scale as needed and take future price implications into account. 
Your Business needs various Dialing Options:
One of the best things about VoIP systems is the variety of call-making options they provide. Their most fundamental purpose is to simulate a conventional PBX, where employees make and receive calls using the most basic handsets and headsets.
While some VoIP systems allow you to connect your current phones, others sell elegant VoIP phones with additional functionality.
Softphone Apps:
Another dialing choice that is specific to VoIP systems is softphones. A softphone is exactly what it sounds like software that runs on your computer. It imitates phone functionality using the headset, microphone, and speakers that are attached to it.
The integration of calendars, team messaging, and collaboration, and the capability to send and receive files during a call are crucial. They are just a few of the many features that can be found in these VoIP apps that you won't find in a standard phone system.
This is taken one step further with mobile softphones. For mobile devices to function properly, field workers frequently require the entire communications functionality suite.
Unlike this, not all VoIP providers offer mobile softphone apps with the same value and services as desktop apps. The majority of the systems offer varied versions of mobile apps, but their quality and feature sets vary.
Benefits of Collaboration Features:
Your employees can meet, interact, and collaborate online with a variety of collaboration tools provided by VoIP services in addition to their voice capabilities.
Here, SMS texting, online meeting collaboration, and video conferencing are all basic options. However, the capability to share the screen to give a presentation or demonstrate software are the abilities that are prospective.
For instance, versatile calling and file-handling options are typically included in online video conferencing. New interpretations might allow the sharing of documents and keeping track of participants and versions.
Call Management Features:
This function sets of VoIP platforms tend to turn out for unique audiences. Meaning, that one might not necessarily find equal abilities even in merchandise that compete at once with one another. 
To present an example; assume there is a large quantity of calls that come right into a set of smartphone numbers or that hit the system at a particular time.
If so, there is a need for call queuing, where the VoIP service can intelligently distribute calls across extensions based on availability and other criteria.
Another instance is extension control, wherein the system assigns extensions to personal customers and manages a call directory that integrates with the IT department's network listing.
Your Business does not need Support:
Watch out, when adding features to your phone system, especially when it comes to custom integrations. Despite their advanced features, one should anticipate the price rise.
Also, the third parties who integrate the VoIP may not provide the required customer support. Even if it happens, it is probably unbelievable to find proper support for an integration mechanism developed by a customer.
Prefer Unified Communication System:
An established VoIP service provider such as Vitel Global can also serve your business as a one-stop shop for all of your communications needs.
The majority of providers have implemented this feature under the term "unified communications as a service" (UCaaS). Meaning, your chat, conference calls, emails, phone calls, video calls, and voicemail can all be integrated into one single app.
This service is offered by many providers, but not all VoIP providers handle it the same way.
Conclusion:
Vitel Global offers the best meeting spaces and other add-on features along with extensive unified communications capabilities. Certain providers might offer softphones that are extremely advanced and highly unified. However, integrations could become a challenge in most of the cases. 
The VoIP business plan preferred might vary with both internal and external usage depending on the business's requirements.
There is no need to panic if you want to use the VoIP system mostly for voice calls. With a unified system, businesses can use the various channels they use to communicate more effectively. If you want to know more about the VoIP facilities, our plans, and the assistance we extend, we are just a call away. Request for a live demo.
Published: October 17th, 2022