8 Reasons To Choose Vitel Global Communications Cloud Business Phone System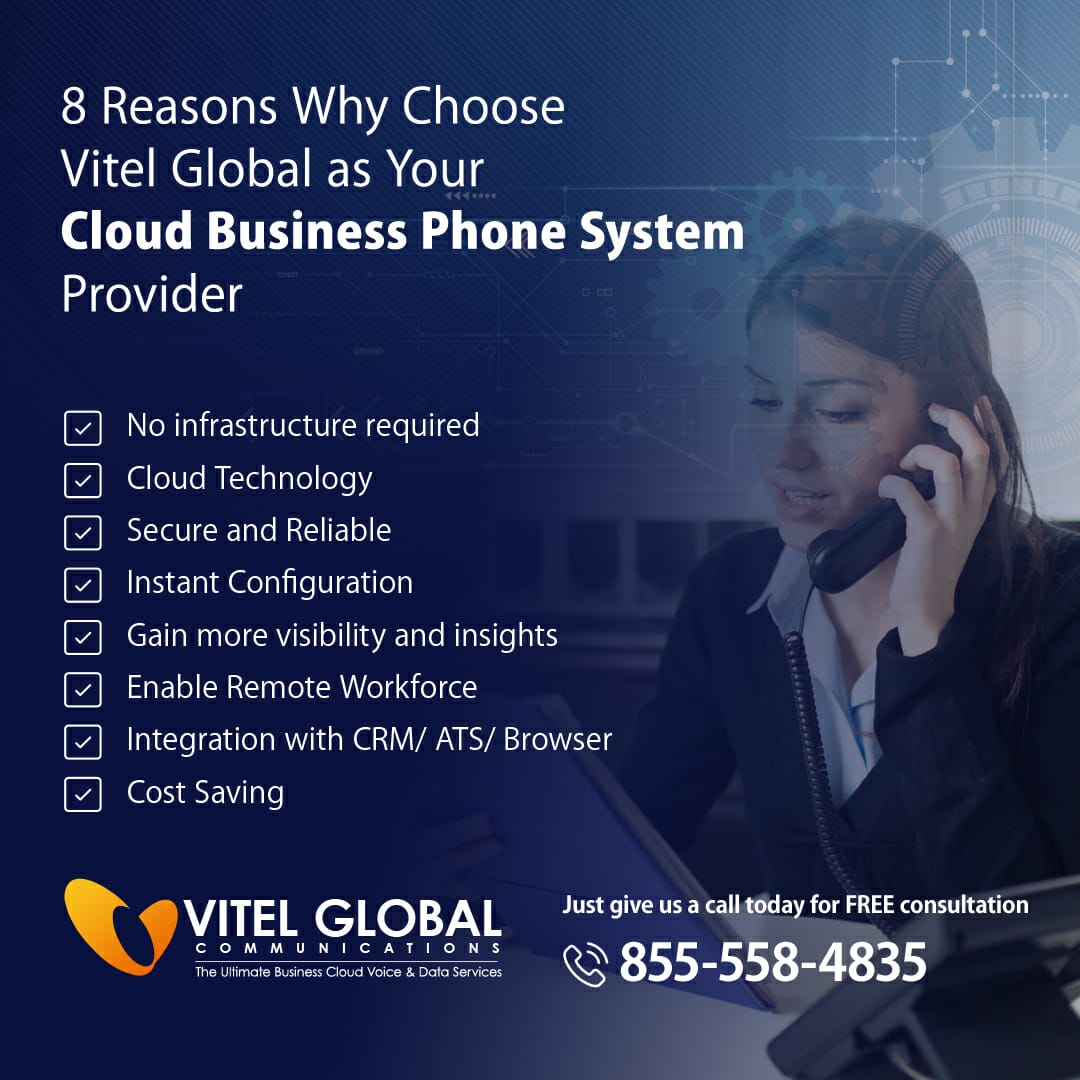 Vitel Global Communications keeps the competence to empower a business communication with the cutting edge technology so that any business can face difficult circumstances with grace and come out through any tough situation by making good progress continuously. In this consequence, Vitel Global Communications is empowering businesses with its robust Cloud Business Phone System that inholds the basic to advanced business communication tools and allows you to use them in the palm of your hand on the go.
Here are the reason why you should look forward choosing Vitel Global's Cloud Business Phone System:
It requires no physical infrastructure to deploy this robust business communication system in your hub and engage your employees to their tasks. You can have these communication tools on your devices anywhere.
As it can be understood by the name itself that our Cloud Business Phone System is completely based on the cloud technology that means your business communication is perfectly wireless so now you do not have to stick to a place, you can walk around in your area and keep working.
Being based on cloud technology, in this business communication system you will not have to face any network issues as it makes a secure and reliable network for your business communication.
All your employee's devices can be configured instantly with the Vitel Global network all thanks to the cloud technology. So now you can increase your telephone lines any time as per the requirement without even thinking for a single time.
Keeping the record of your employees becomes so easier with cloud communication. Your employee's activity is always visible to you on your device, so now you can have insight on your employees performance from your place.
The most important highlight of our Cloud Business Phone System is that it breaks the geographical boundation for your business. You can have unlimited remote staff seated in different places all around the world and you can always collaborate with them.
For improving your employee's performance and customers' experiences, our Cloud Business Phone System is empowered with the integration tools including CRM, ATS and browser which doubles the efficiency of your business communication.
Well there is another highlight which every business organization or enterprise might look for while investing their money in any services that is the cost of it. Our Cloud Business Phone System is a ROI based business communication system which gives you the freedom to customize your business communication as per your requirements at a very effective price point which every business can afford.
Please follow and like us: