What Is a Remote Phone System, and How Does It Benefit Your Business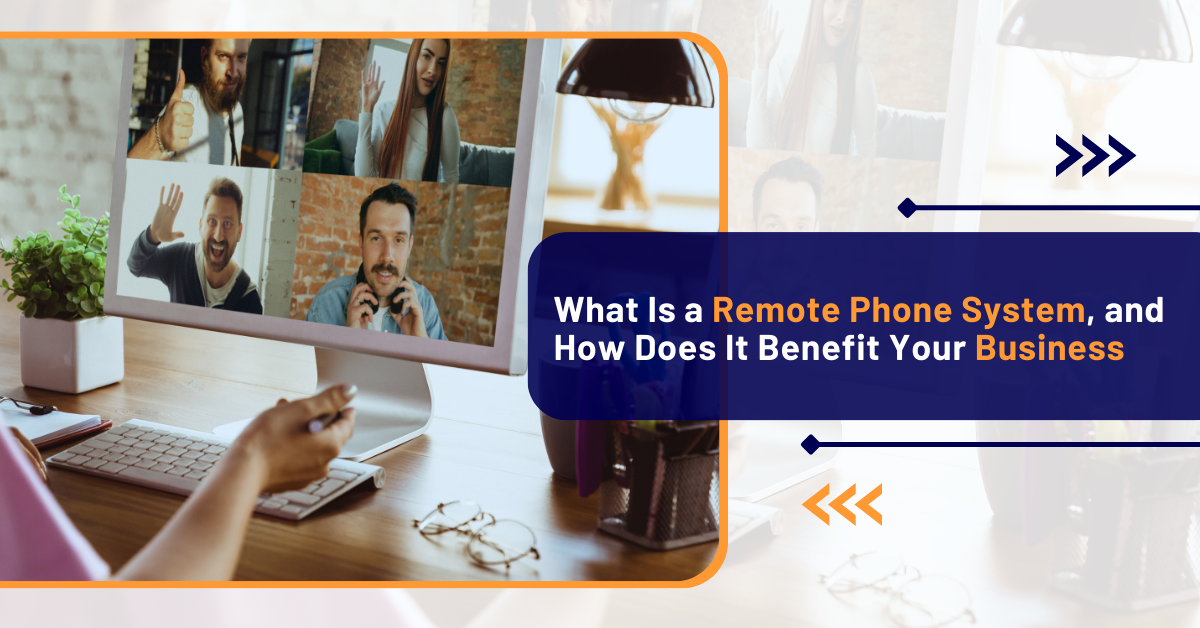 Reading Time: 4 minutes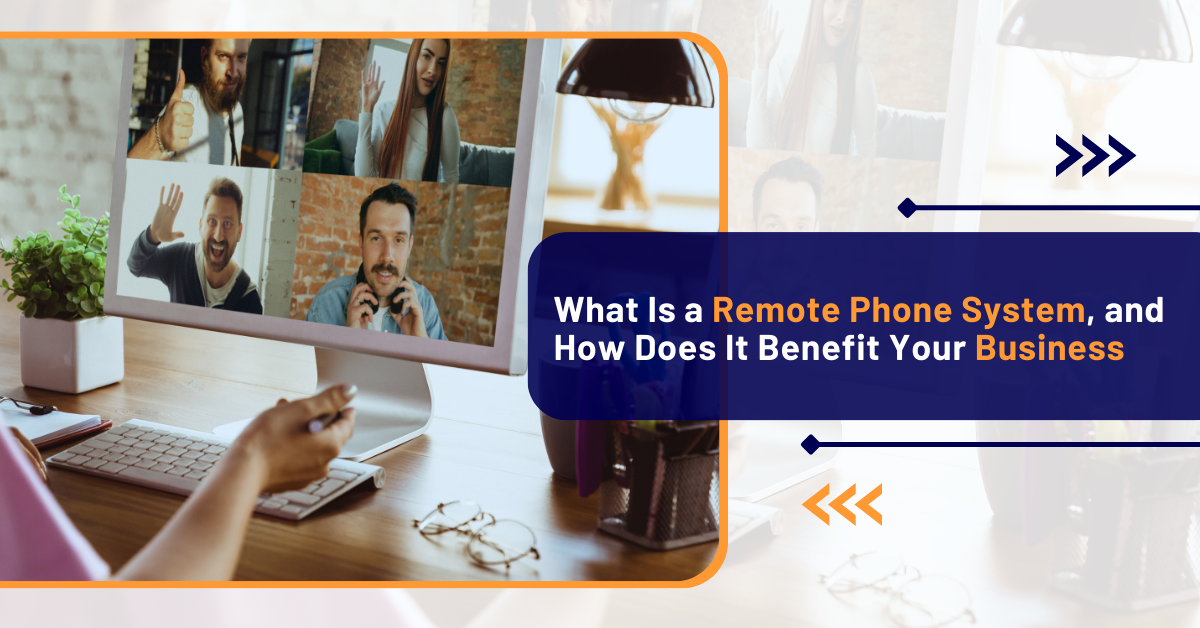 Remote phone system nowadays acts as the backbone of business communication. It's a cloud-based virtual phone system that enables the business to make incoming and outgoing calls using a broadband internet connection rather than a traditional analog phone line.
What Is A Remote Phone System?
By now, you're aware that technology is changing every day. Every month features new and innovative products that cause you to contemplate many things simultaneously. If you own a business, technology takes on an even bigger role in your everyday operations.
For instance, a remote phone system is a telecommunications application that allows your business to use the power of the Internet to deliver its customers exceptional service. This technology provides your business with a modern and cutting-edge communication tool by allowing it to connect with its customers worldwide through any mobile device. Moreover, you'll be able to send work-related calls through the Internet and make customer calls directly from an online communications platform.
How Remote Office Phone Systems Support Your Team

 And How It Benefits Your System?
All the receiving calls from anywhere can be connected without missing any call with the help of an internet connection. Go through the following advantages of remote phone systems for the organization.
Flexibility: You can set up any phone number with any area code. Can go with toll-free or international.
Easy Setup: Placing landlines or desk phones is unnecessary; employees can easily access your communication through the mobile application, web browser, or business communications desktop app.
Integrations: Mostly, cloud phone systems were arranged to be used as a part of pre-existing setups. Can integrate it into your existing ecosystem and work with your CRM.
Security: Securing their data is more important for any small or big business; data is more crucial. IP phone systems are more secure, having the data stored in the cloud; in case of any issue, we can have additional backup and access for the data whenever you want. Multiple layers of security are provided for the cloud phone systems. As it is a sensitive cloud-based internet voice service will keep the data professional and secure and protect it out of reach of others.
Analytics: You can analyze how much time your operators spend on calls and how successfully your team generates a lead.
Team Participation in An Effective Way: work from home phone solutions will have excellent team participation with the support of cloud video conferencing platforms. It allows more efficient and productive participation, and multiple users can edit and organize shared documents.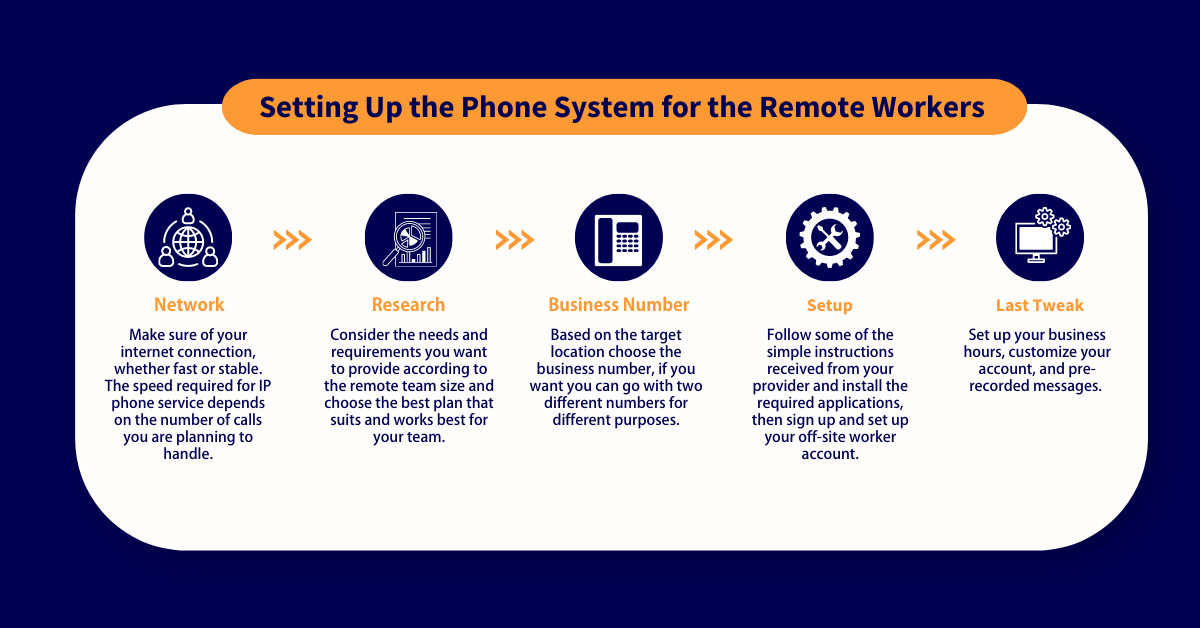 How Does It Work?
A remote phone system is called a telephony application or simply an extension. It is a technology that allows businesses to send callers through the Internet instead of their telephone lines. It allows users to make and receive calls from any device, providing better service for your customers while saving you money on the costs associated with traditional office phones. A remote phone system also allows companies to send more than one person on a call, providing more flexibility in conference calls and allowing any voicemail-ready employee to handle work-related calls.
In other words, this technology makes your business more convenient for customers while providing increased efficiency.
A remote phone system allows your company to earn the advantages of the Internet while maintaining the traditional phone service your customers have come to expect. By adopting a remote phone system, you are able to provide exceptional customer service and respond faster than ever before. You can also improve efficiency by making all calls through a single platform.
It Works On The Following Steps

:
Quick Setup and cost-effective
Usage of advanced features that improve business communication.
Improving with the support team.
Incredibly flexible and scalable.
Gives high security for your conversations.
Is A Remote Phone System Right For Your Business?
Of course, everyone has their reason for choosing this type of technology for their small or large business.
For example, a remote phone system can help streamline your user experience by sending your calls through the Internet. It will let you and your employees answer a call from anywhere at any time. On the other hand, you will also be able to implement a cloud-based platform that is simple to use and easily accessible from any web-enabled device.
According to cloud-based unified communications experts, this technology comes with many advantages for business owners. For example, it allows you to access new customers through its cloud-based system, which reduces licensing costs in the long run. Plus, this technology gives business owners access to real-time communication any time of day or night without purchasing expensive infrastructure for their business users.
Conclusion: 
As your business grows, your communications needs are constantly evolving. A modern business phone solution provides you with the best features, flexibility, and security essential for your business's development.
Enhance productivity and improve customer satisfaction by implementing a remote phone system for your business – Request a FREE LIVE DEMO.
Published: February 20th, 2023