Video Conferencing Solutions Key Benefits and Features: Remote Communication Tools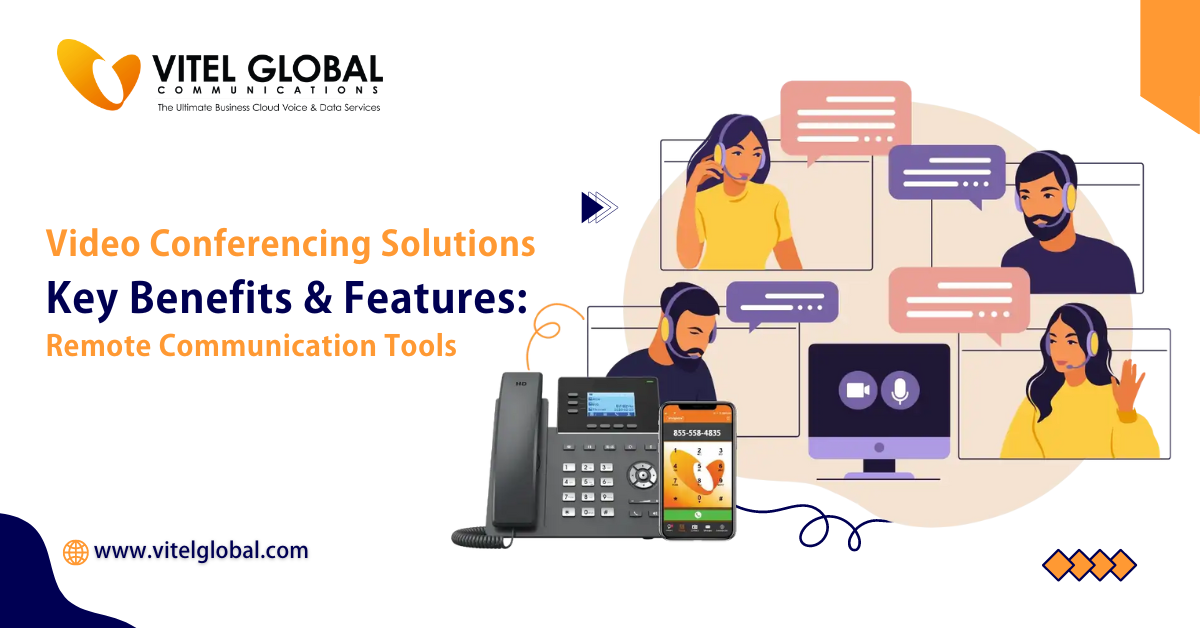 Reading Time: 5 minutes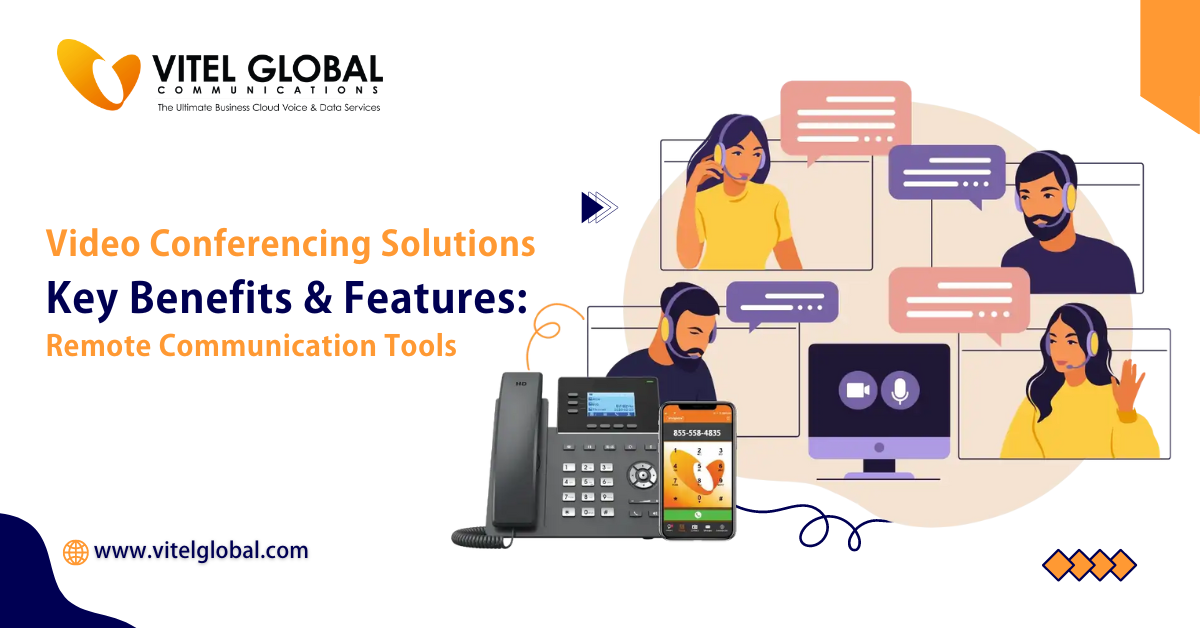 Video conferencing Solutions are a valuable communication tool that is accessible from anywhere. You'll often use these solutions to share experiences and converse with people away from you. It includes collaborating with colleagues or clients in another location, responding to support tickets, performing presentations for customers or potential customers, and connecting with friends and family members.
Moreover, this tool offers many benefits over conventional remote communication tools like email or instant messaging. You're able to show your full body for face-to-face interactions.
Benefits:
You benefit from increased attention spans, resulting in better presentation times from both parties involved in the conversation.
Experience is more natural, as you can see each other's faces and body language.
You can schedule the meeting at any time of the day; this flexibility makes it a great tool for meetings or even just informal chats.
If a presentation is what you're using video conferencing for, it's easy to share your desktop or webcam feed with your co-workers. Modeling yours allows them to see what you see and improve their presentations.
It creates an almost real-time experience compared to traditional communication tools based on text alone. It can be a huge benefit if you need to make a quick decision based on input from someone else.
An effective communication tool that is easy to use and can provide many benefits in the right situations. As mentioned above, this solution is ideal for collaborating with people remotely or improving your presentation skills.
To get the most out of conferencing experience, install a reliable software program and ensure that the people you're attempting to communicate with are also using one. That way, everyone can see everyone else in a real-time experience.
Also, take the time to learn all of the features of your video conferencing solution so that you can get the most out of it. You might also want to use an accompanying headset or microphone for speech purposes. It can greatly affect how professional your sessions appear and sound.
The best part is that your computer or laptop requires only a one-time investment.
It makes it a perfect choice for anyone with a limited budget and time constraints.
You must ensure you have the right settings to get the most out of it. You should also ensure that your ears are well-covered during a call or meeting and that you have enough storage space on your device when recording conversations.
If you're looking for one, view our Video Meetings solution and find something that works best for you.
Our Cloud video conferencing solutions aim to provide an online format of audio/visual communication between remote locations.
It is not just limited to small groups that may be present at a company's head office, either – it includes large conferences where multiple parties are involved. It may even include teams from across the globe linked together via our solutions.
The team needs control over the conference room to choose the participants and set up the conference rooms for continuous live video meeting calls.
Conferences are usually time-consuming and inconvenient, as several stages must be meticulously planned.
Steps include:
Wifi is another thing that you should consider. Because of this, you must configure your PC or laptop with a strong internet connection – this avoids issues with buffering and lag. You can also use encrypted channels such as RTP TNC (Real Time Protocol Transport Control). It is a secure encryption protocol that generally does not require all parties to have a direct IP connection.
Encryption is available with most apps, but if you're setting up a remote meeting with more than one person, it's best to go for a more secure option. RTP TNC is the most secure way of doing things because each participant assigns a random IP address. It means that no IP address can be linked to any other.
To connect the business communications desktop app and software, you will need an internet connection and also a way to connect the two systems – in other words: an external webcam or any other device.
Features:
You can consider other features you might need when choosing the ideal video conferencing tool for your needs. Consider elements like your choices for security and privacy, cost, users, call quality, and integrations.
Key characteristics:
Screen sharing: This function, which enables participants to share their screens and particular apps during presentations, is essential for interactive meetings and webinars, especially for remote or hybrid teams. A presentation is simple to follow and can be used to teach staff members how to complete jobs, offer online training materials, and use new tools.
HD video: Due to its ability to produce finer details and high contrast ratios, cloud hd video meeting enhances the meeting experience. With the feature, meetings will happen without interruptions and with excellent video and audio quality. VoIP stands for voice over internet protocol, which is the term used to describe the transmission of voice and multimedia over the internet. It enables transferring between voice calls and video conferencing without establishing a new connection or stopping a conversation.
Chat features: This feature enables users to communicate by composing and exchanging text messages, emojis, links, and resources. When big crowds are present at a conference, live chat is useful to let participants speak freely.
Recording: You can utilize the recording tool to capture meetings and webinars, share them with other users if someone can't make them, and build your online training library. It may be more advantageous to have a function with unlimited storage.
User-friendly interface: Users can easily access and use these tools thanks to their user-friendly and intuitive features. Ensure the software has a simple user interface. With labels that are easy to see on any mobile device or browser.
Presentation tools: These tools help you keep people interested in rich material, such as PowerPoint presentations, MP4 films, and PDF files. Sharing notes during presentations can also enhance them.
Breakout sections: These options let users employ breakout areas for settings that are more private and isolated from the audience. A workshop allows for a private conversation about personal matters and a group activity.
Support: Support services offer technical assistance when problems emerge by offering direct support via live chat, phone, or email. As well as online training materials to assist with self-troubleshooting. You can use tools that provide support during business hours or, if necessary, use guides, videos, and archives.
It's Effective: One of cloud video conferencing solutions' most obvious but important advantages is reducing commute time. Teleconferencing is best for in-person meetings if sustainability is a mandate in your company.
Reports on meeting performance: Reports on meeting performance, such as attendance and chat reports. It helps you assess your meetings and identify areas for improvement. You learn how many people attend your presentations, which parts are the most interesting, and whether or not they are well received.
Conclusion: 
Stay in touch with remote co-workers using remote communication tools! It can make your video conference meetings a lot more efficient. You can communicate while saving money on travel expenses like plane tickets and hotel rooms. And this is not just for businesses; you can also talk to your family and friends.
Stay connected with your partners even abroad using video chat apps. Business communications desktop app is a great way to stay in touch with people who live far away from you. You can build your group through which everyone can communicate with everyone else.
Published: May 2nd, 2023