How Accounting Organizations Benefit from Business Phone Solutions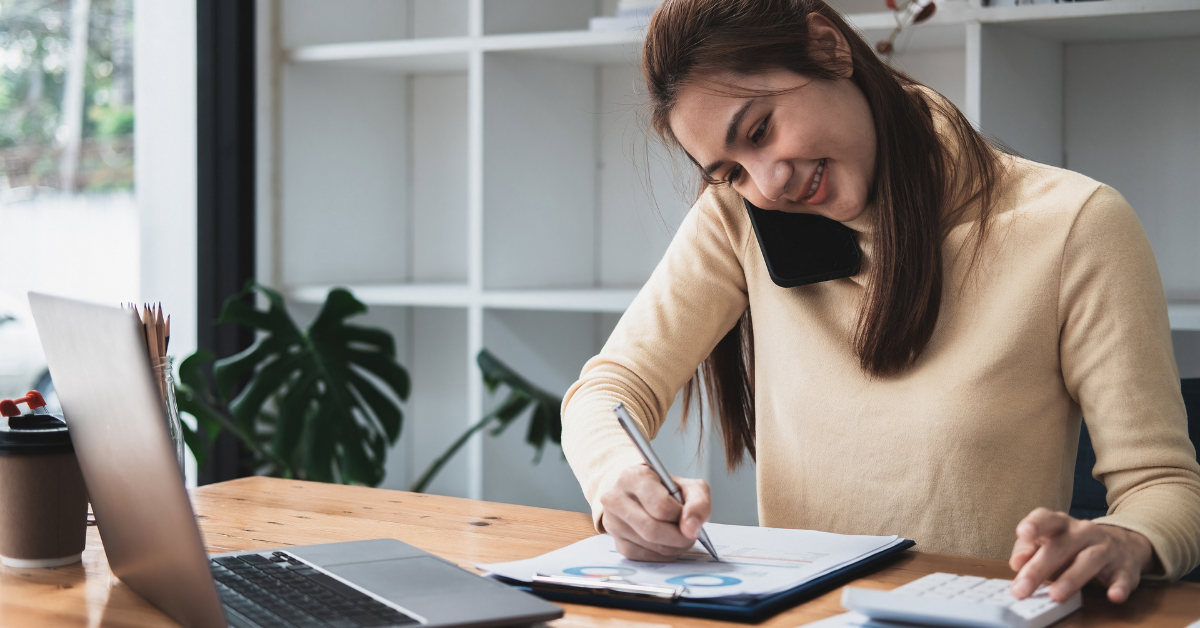 Reading Time:
4
minutes
WHAT ARE BUSINESS PHONE SOLUTIONS?
Business phone solutions are a system that provides multiple extra features than landlines and helps in developing organizations. Most organizations are now adapting to this technology as they can keep the organization connected and provide multiple features at an affordable rate.
Many global leaders have already switched to using enterprise VoIP solutions in their office spaces. But slowly, even small businesses are now adapting to business phone solutions considering them very beneficial. Although there are many business phone service providers in the market, it is crucial to decide which provider to choose.
WHAT ARE ACCOUNTING ORGANIZATIONS? 
Accounting organizations generally offer end-to-end financial services for other business owners. Accounting firms now act as active partners to companies as they do not focus on the bookkeeping of accounts or do mere tasks. These accounting firms add value to companies and look after their tax compliances.
Accounting firms add more value to the companies by suggesting the best financial plans and ways to minimize costs but maximize the outcomes. Many companies now are tying up with accounting firms for better outcomes and to see significant growth in their results. Accounting firms are now either medium or large-sized organizations with large staff sizes.
HOW BUSINESS PHONE SOLUTIONS HELP ACCOUNTING FIRMS?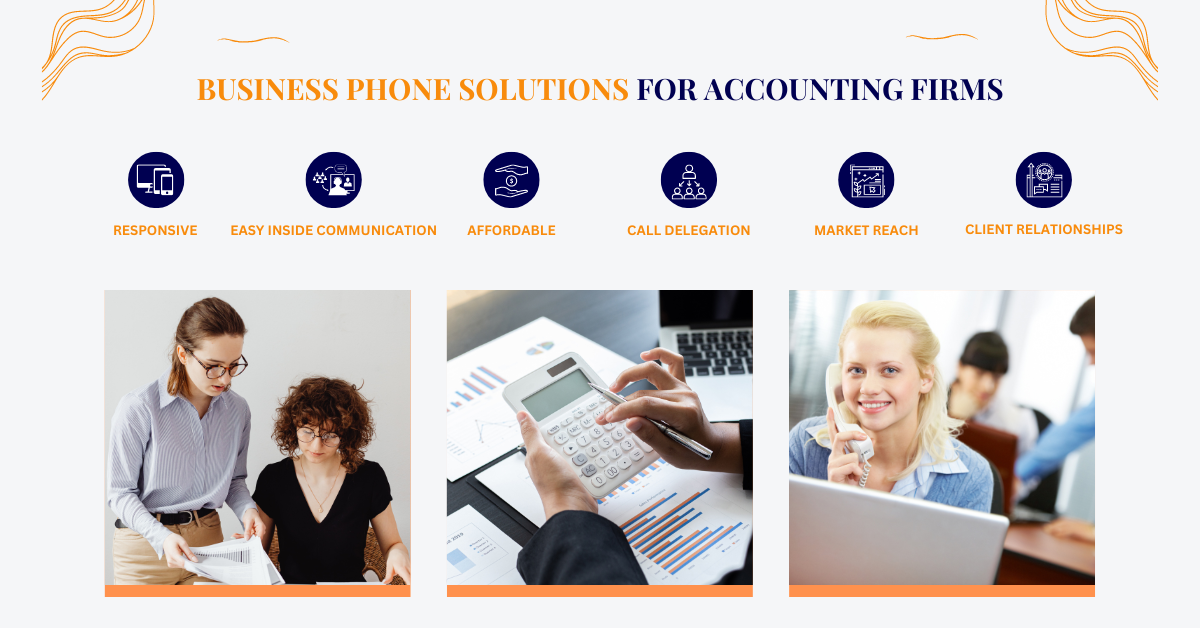 Business phone services help accounting firms in many ways. Usually, accounting firms have a lot of staff members and various client bases. They perform many operations within the firm too. To keep pace with today's world and maintain all operations smoothly, here are a few reasons why accounting firms should adapt to these services:
RESPONSIVE: Accounting firms generally deal with multiple activities from various companies at the same time. They are partnered with several firms and have a huge client base. They need to maintain successful client relationships to grow as a business. Keeping regular and frequent contact with clients is vital to improve client relationships.
Switching to business phone services solves communication issues within and outside the organization. The employees can stay in contact with the clients through these phone solutions and be available whenever needed.
EASY INSIDE COMMUNICATION: An organization might consist of any number of employees. Especially for accounting firms, there might be remote workers or hybrid workers too. To establish and maintain easy communication among all employees, business phone service providers are a great source. Access to these phones remains within the organization.
Through the help of an enterprise phone system, the collaboration between employees increases. Only when all the employees work collectively can they increase the company's output. For this to happen, choosing the right business phone service is crucial.
AFFORDABLE: Unified communications and VoIP provide more features than the regular telephones used in residential areas. VoIP generally focuses on voice calls, while unified communications focus on video calling or texting. These services all come at reasonable prices to organizations.
These business phone service providers are best suited for organizations rather than residential areas. Through UCaaS, they unite organizations and strengthen the relationship between firms and employees.
CALL DELEGATION: Hiring employees to handle calls and spending so much money on the workforce is different from what a company wants to do. The benefit of such unified communications services is that they have a voicemail option. This option substitutes humans and provides a recorded message for the most frequent questions.
Through this feature, many companies save time and money. They also save employees excess effort on answering some unnecessary calls. In accounting firms, employees must regularly answer many calls from clients, leads, and employees. Henceforth, Cloud Business Phones is the best solution.
FLEXIBLE: Business phone solutions can be flexible in nature. Every company primarily aims at growing and developing. As the company size increases, you can also modify phone solutions accordingly. Especially in accounting firms, there is no guarantee for stability. The firm might expand or even fire employees.
In such scenarios, adapting to the business phone solutions is a wise decision. Unified communications can cater to any number of employees and are extremely flexible to use. It can add much value to the organization.
IMPROVING THE MARKET REACH: For any firm, reaching the right audience at the right time is very important. Financial organizations also aim to reach more firms and partner with more firms to improve their business, So it is very important to reach the correct audience. Business phone services, Unified communications, or IP phone services can be very advantageous.
The main access lies within the management, and they can track every employee's performance and activities. In this way, the company can encourage its employees to try various marketing campaigns and can see the results of each of the campaigns. They can also see the returns on investments.
CLIENT RELATIONSHIPS: Accounting firms primarily aim to gain their existing customer's loyalty toward the organization. It is very important to have proper customer retention techniques planned as it helps both the revenue and reputation grow. Knowing how business phone solutions can improve client bonding will save a lot of time effort and costs for companies.
Whether UCaaS, business phone services, or IP phone solutions, they all have an excellent feature to send periodic customer messages. Employees can schedule future messages or send reminders to their clients, which helps in personal bonding with the organization.
KEEP THE BUSINESS ALIVE: Another important feature that makes accounting firms use business phone services is availability. It is a literal example of keeping the business awake even when we are asleep. Employees can schedule messages or posts for future purposes. Apart from that, such phones also provide recording features to companies.
Companies can record calls while not working and answer them when available at the workspace. They can constantly receive messages or calls, which will be recorded clearly. It helps the business expand its services widely without worrying about international barriers.
CONCLUSION 
Since Enterprise VoIP Solutions have entered the market, many businesses have shifted to this new advancement. Many companies consider this a valuable investment and believe that this will resolve communication problems. There are a lot of business phone service providers in the market which provide similar services. It is important to cross-check every feature before investing in it.
These phones improve communication between organizations and clients. They maximize the profit with the least expenditure. Especially in accounting firms, client relationships play a vital role. Switching to business phone services, IP Phone solutions, or UCaaS is always beneficial for any firm.
Book a Free Live Demo and see how Accounting firms benefit from our Business Phone Solutions!
Published: January 11th, 2023
Subscribe to Our Latest Updates
Get monthly product and feature updates, the latest industry news, and more!
By submitting this form, you agree we may contact you in the manner described in our Privacy Policy.