BUSINESS PHONE SERVICES IMPROVES CLIENT BONDING
INTRODUCTION
There are certain parameters every company considers to measure its success. For successful functioning of any company, maintaining healthy and helpful client relationships are very crucial. Be it a manufacturing or service industry, clients and customer's feedback always helps in the further growth of the company.
As we are all aware of the competitive business environment, maintaining healthy client relationships helps in many customer retention strategies. Customer retention techniques help in increasing the revenue and also goodwill of the company.
Over the past few years, it has also been statistically proven that maintaining healthy client relationships are one of the most effective methods to increase the company reputation. There are several ways to maintain proper association between clients and businesses but communication through business phones tops it all.
WHAT IS BUSINESS PHONE SERVICES
As the term indicates, Business phone services are a system of connected telephones that are used by organizations for internal and external purposes. They are quite different from the regular residential telephones. These phones come with some extra facilities that may not be useful for the households.
These phones are also used for various purposes in the organization. Most organizations that function on a large scale tend to use office phone services. Few of the major functions include conference calls, forwarding of calls and recording of calls.
These activities help the business to connect with multiple people at the same time or even record the important information for future references. It has also been evident that office phone services increase the productivity amongst employees compared to other forms of communication with clients.
Clients also appreciate this idea rather than using chat boxes or mails. It is because of the immediate responses that the issue and query is being able to get solved in no matter of time. Even small businesses are adapting to this technique these days in order to improve their client base.
HOW ARE BUSINESS PHONE SERVICES HELPFUL TO IMPROVE CLIENT RELATIONSHIPS?
There are so many other forms of communication for companies with clients including chat boxes, email marketing, messages marketing, WhatsApp and Facebook etc. But most customers prefer using business phone service because it has a lot of added advantages compared to the others.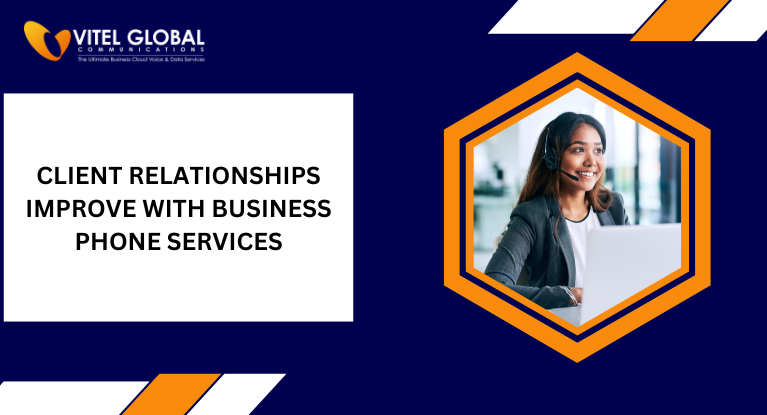 Here are a few points that help us understand the reasons behind it better:
CLEAR CONTEXT
An essential part of communication is to maintain clarity amongst the speech. The receiver should receive the same message the sender is intending to send. If it does not happen this way, it might end up causing a loss of client, misunderstanding or even worse, bad reputation.
Oftentimes, messages can be misinterpreted verbally. In such scenarios, its office phone service is a valuable asset. A client can expect immediate responses and can counter as many queries as required before making up a decision.
PERSONAL BONDING
Most companies make sure that their executives deal with their clients in a very polite and understanding manner. This is another major cause for business phones to become a huge success. It is important to make sure that the customer feels comfortable.
Personal bonding with the customers is examined to be a strong source of sales. When the customer receives favorable services immediately, they tend to repeat their orders and become loyal to the company.
SALES
For the development of any company, sales are the most critical driving factors. Business phone services are considered effective even in the process of driving sales. They help the companies reach out to those potential clients to clear their queries and convert them into customers.
In this process, they might encounter a lot of doubts and queries from the customers that need to be assisted. These kinds of issues cannot be usually addressed over mails or messages. Even if they are, they do not seem very reliable like they are over the calls.
RESPONSIVE
Unlike other forms of communication, office phone services are very immediate and quick. In case of any emergencies, firms can assist their clients through office phone services. This makes the customer experience very pleasant with the company.
It also helps the client build a strong and healthy relationship with the firm, wanting to repeat orders or services. It acts as a foundation for trust and reliability between the client and the firm.
FEEDBACK
Feedback acts as a worthy feature for any company. Truly understanding their customers' reviews and suggestions can contribute to further development. While benefiting the company, it also benefits the client by making them feel heard.
Feedback can be taken or given within minutes through business phone services. They can also take immediate actions for complaints. With this kind of response, clients' continuity with the organization also increases.
MULTIPLE FEATURES
There are so many features in office phone services that help the companies and also clients. As all the departments are connected to one single system, the executive can direct each customer to their necessary department.
This helps in solving the issue immediately without having to wait on for hours for a right response. Company executives can also have conference calls with the clients for any required discussions.
RECORDS
A business phone service particularly specializes in recording and reporting the information. After a call with the prospective client, the company's executive can collect the necessary data and store it properly.
The firm can further use this data to personally bond with the client. They can send messages and pass information about their latest updates. Also, it helps in recommending and suggesting things according to their personal preferences that help in business development.
FLEXIBILITY
A particular advantage of a business phone service is that it can help you connect with any part of your organization. When there is a client emergency that has to be conveyed immediately, the in-house executive can pass on the message to the one field.
If a client has a demand to speak to a particular executive, that is also possible. This keeps the client also happy and comfortable about the call.
CONCLUSION
Business phone service is an excellent communication tool being beneficial for both organization and client. This is a new technological advancement which is being adopted by almost all companies for their customer retention strategies. Over the past few years, it has evidently shown the effectiveness and efficiency this system possesses. Now switching to these systems might be a value adding decision any company may make. If you are interested in our business phone services then you would not regret if you set up a live demo with us right away!
Please follow and like us: