Enterprise VoIP Phone System: 7 Tips for Choosing the Right Solution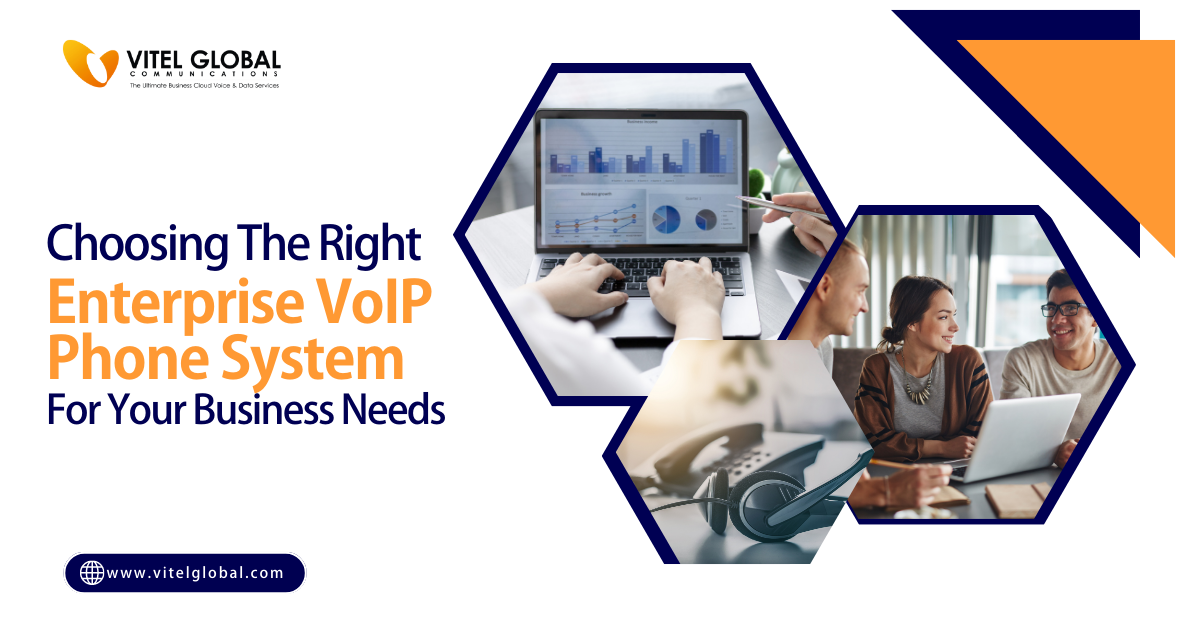 Reading Time: 3 minutes
Choosing the right enterprise VoIP phone solutions for your business can be challenging. With so many options available today, deciding which one to go with can take time. However, it would help if you always kept a few key things in mind when choosing an enterprise VoIP phone system.
In this post, we outline several key considerations when deciding on an enterprise phone system and provide tips on choosing the right one for your company.
First, what kind of voice service does your business need? Some enterprises may only need a private branch exchange (PBX) for their fixed-line telephone lines; other companies might find that they want an integrated suite of unified communications services, including hosted and on-premises solutions from professional providers. It will depend on several factors, including how many employees are in your business, your locations, and how many phone lines you need.
Next, make sure to look at the quality of service that the different providers offer. Quality of service is measured by availability and consistently high call quality. It is essential because lost calls waste money and can cause inconvenience for customers or clients. You should also look at value-added features that the system may offer if they're essential to your enterprise's needs.
Choose the Right PBX Phone Service for Your Business:
There are different businesses and specific needs, so choosing the right VoIP phone system for your business can be challenging. There are a lot of various factors, such as industry, size, budget, and needs that you should consider before choosing your phone system.
Your Business Needs a Robust Phone System:
Robust businesses are big businesses – As it turns out, plenty of small and mid-sized businesses have adopted the framework as well! They happen to differ from their competitors in more ways than one.
It's not worth investing in IT – it just adds a ton of upfront cost! Yes, effective IT systems can pay for themselves in time. Perhaps you should consider this ROI next time!
We may have trouble finding a competitive price for our vendors. – You may not be able to find yourself in the supply chain, but that's nothing out of the normal! Many robust businesses exhibit tight pricing controls and can achieve excellent performance at a meager cost.
Out of all those Robust Systems, VoIP is one:
When choosing a VoIP phone solution, there are several things to consider. Do you have a specific budget? What kind of features do you need? Should you go with an all-inclusive bulletproof solution, or would the flexibility of a DIY approach be better for your business needs?
The IT industry has always been reactive, often responding to issues and problems after they have become widespread.
Modern VoIP systems are excellent for facilitating a corporation's communication. They allow you to keep in touch with your team, on demand, from wherever you happen to be. And the best part is that they are so easy to set up and manage! But before you invest in any VoIP system, it's essential that you have a clear idea of what these systems can offer and how they will work for your business needs.
7 Tips for Choosing the Right Enterprise VoIP Phone:
We have gathered those questions and more into this list of enterprise VoIP phone system tips that can answer your questions and then put together the perfect solution for your needs.
Know what features you need from a VoIP system
Don't believe the hype; VoIP can be reliable
What is the difference between a PBX and an IP-PBX?
How can you keep your phone system secure?
What to look for in a cloud VoIP provider.
Check and know about the data backup and quality of service.
Learn about the factors that could make a DIY VoIP system worth or will not be worth for your business.
Don't underestimate the cost of deploying and managing an internal phone system.
Use the Business Phone system and look professional:
You might be tempted to make essential calls from your cell phone. But if you want to convey a professional appearance, keep the cell phone for personal calls and use your landline or computer for business calls. Keep a pen and paper handy – it's easy to forget details if you do all your work on the computer. And remember that a personal note can be more effective than an email.
Conclusion: 
Finally, it's always wise to shop around for a reputable provider that can meet all your needs for more significant savings.
Since business phones are so deeply ingrained into our lifestyles, business owners are turning to an increasing number of different platforms to accommodate their needs. VoIP phone systems are an excellent way for small businesses and startups to save money. 
Choose the right VoIP phone system for small to medium and custom businesses by following the simple tips above. And save money, time, and effort.
Published: March 13th, 2023