Business Unified Communications: Detailed Overview
Reading Time: 7 minutes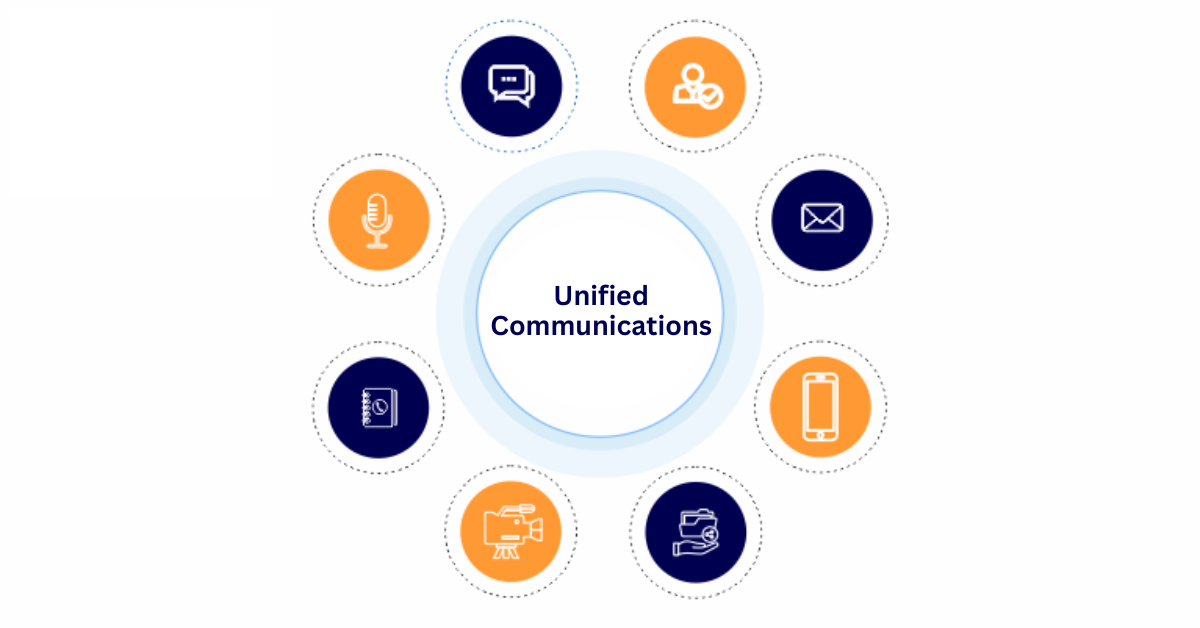 To enhance user experience (UX) and productivity, unified communications (UC) refer to the combination of several workplace communication tools, such as phone calls, video conferencing, instant messaging (IM), presence, content sharing, etc., into a single, streamlined interface. Whether using a desktop computer, laptop, tablet, or smartphone, unified communications technology makes it easy for users to switch from one way to communicate to another within the same session.
Many UC systems also connect to other business applications, like project management software, to help keep information and resources in one place and make workflows run more smoothly.
To give the end user quick and easy access to all the necessary tools in a consistent environment, from any physical location and digital device, UC technology makes it possible to integrate software that supports both real-time communications (RTC), such as voice over IP (VoIP), and asynchronous communication, such as persistent chat.
Many UC products include, and even rely on, team collaboration capabilities with messaging-focused workflows and useful features like real-time file sharing and annotating. These advanced UC systems (UCC) are unified communications and collaboration systems.
Unified communications are becoming more and more common as part of a bigger digital transformation and cloud migration happening in today's businesses. This change was made much worse by the COVID-19 epidemic since many organizations relied heavily on UCC technologies to help people work from far away.
What is the process of unified communications?
One or more back-end management systems, also known as UC platforms, that enable service integration and the front-end clients that offer access are commonly used to support a unified communications environment.
For example, a unified messaging client would support click-to-talk, click-to-chat, and click-to-video. At the same time, a web conferencing system would use an audio-conferencing system built on an Internet Protocol telephony platform.
UC systems and the parts that make them up can be set up on-site, in a public or private cloud, or as a hybrid.
Unified communications (UC) increase productivity, lower expenses, and foster closer ties with clients. It is cost-effective and easy to use because it is based on a per-user, per-month fee and may grow as your business grows.
What advantages make unified communications offer?
It supports greater communication and cooperation than the historical phone system. UC is frequently attributed to boosting employee productivity.
Specific technologies, like video conferencing, can be arranged easily.
Lower travel expenses.
Increased productivity.
More adaptability
Improved engagement
Employees can use various devices to work from the office, their homes, or on the road.
Businesses integrating UCaaS solutions with social media, customer-facing apps, or call centre platforms can directly contact customers, students, or patients. This gives customers real-time feedback and better service to increase customer satisfaction.
Which elements make up unified communications?
A UC platform may provide the following tools in its toolkit:
Email
Business SMS
Ongoing conversation
Mobility
Instantaneous presence
Telephony (fixed, mobile, and VoIP)
Voicemail
Sharing a screen.
Audio transcription
Telephone conferences
Telepresence, video conferencing in a room, and video conferencing are all options.
Online conferencing and interactive whiteboards.
Using calendars, schedules, and other personal assistant features
Tools for collaboration and social networking in the workplace.
A strong communication system may have the following components on the back end:
Unified communications platform or server from one or more vendors
Traditional private branch exchange that makes use of IP or the cloud.
Phones, headsets, cameras, and microphones are examples of user-facing gadgets.
Session border controllers are a type of corporate communication gateway.
It uses a video bridge or multipoint control unit to connect three or more video conferencing ends.
Communication and collaboration:
There are many similarities between UC and team collaboration technologies, and vendors, IT specialists, and end users are increasingly using the words interchangeably. Technically, there are distinctions between business communications and collaboration, but these rely on how users connect and for what objectives when utilizing a particular technology or feature. For instance, email allows for communication between two or more parties. Additionally, even if those parties may communicate cooperatively, their communication isn't always cooperative.
UC & C (Unified Communications and Collaboration):
To ensure that nearly all of an organization's technology works together seamlessly, securely, and in near real-time, UC & C is not a single tool or product but a collection of solutions. Communication features like voice, instant messaging, desktop sharing, presence, and web conferencing are smoothly integrated into UC & C.
There are numerous advantages to having a unified communication and collaboration platform.
Individuals working in organizations today have to deal with an ever-expanding array of platforms, software versions, and applications on a seemingly infinite number of devices. Some of the benefits of using Unified Communications and Collaboration to handle all of these complicated factors are as follows:
Productivity: All of the members of an organization can work together in a single unified environment regardless of where they are located or what device they use.
Increasing the Ability to Change and Respond: Staying in touch with people and talking to them from almost anywhere and on almost any device will help you be more responsive and get more done.
Affordability: Hosted or cloud-based services enable firms to migrate from capital-intensive to operational-based approaches. There may also be a reduction in the cost of travel and logistics.
Enhance the Client Experience: Providing customers with the appropriate information at the appropriate time is becoming increasingly crucial. Get clients what they need when they need it by making it easier and more seamless.
Collaborate More Efficiently: Your team can collaborate on papers, screen share, provide comments, and manage all activities, people, and programs necessary to complete a project effectively and efficiently.
What does UCaaS mean?
UCaaS is a great choice for businesses of all sizes because it can be changed easily and is based in the cloud. With UCaaS, you can avoid the initial costs often needed to set up a more advanced communication method. But you still get to use the latest technology shaking up the market. You might expect some of the following from UCaaS:
Phone and voice call: Get UCaaS systems with high-quality voice and call recording, AI for intelligent call routing, and even sentiment analysis. UCaaS solutions can also make it easy for a business to move quickly from a text message to a phone call to a video chat with a customer.
Solutions for Video and Meetings: Voice will always be an important part of UC for most companies, but there are other channels to consider. For example, since half of the UK's workers will be working from home by next year, there is a growing need for services that offer more personal ways to talk. With UCaaS, your business can get video and meeting tools that make it easier for employees to work together, no matter where they are.
Because of the cloud, your team members no longer have to be in the same room to work on projects together. With video and a tool for working together, you can share files, host conversations, and even start presentations from your computer, phone, or tablet.
Video is especially helpful when people can't talk to each other face-to-face because it makes sure that the subtleties of facial expressions and body language don't get lost.
Messaging: Messages are another form of communication that is becoming increasingly popular in the business world. In a UCaaS environment, messaging can mean anything from SMS and MMS texts to real-time conversations on collaboration apps.
Messaging allows employees to stay in touch and work together more effectively when used correctly. But it's also a great way to get in touch with customers. Many younger clients today would rather text or instant message than talk on the phone.
Businesses can use UCaaS solutions to manage and organize their messaging strategy to provide better service to customers across all channels. Any device you connect to your UCaaS technology can give you access to voicemail, transcriptions, instant messages, and social media chat. Remember that more than 80% of people currently use text messages for business.
Presence: As the need for better collaboration in the workplace grows, many UCaaS solutions are becoming increasingly intertwined. The right service will give you many ways to communicate with your teams and customers and tell you who is available to talk to. For example, your UCaaS solution can tell you who is online and who isn't.
The things that show a person's presence also show what that person is doing. You can see, for example, if your remote workers are on a call and can't chat with you or if they're out to lunch. This makes it much easier for employees to get the help they need when working on complicated projects or with difficult clients.
It also ensures that people who work from home, which is becoming more common, can balance work and life well. By using presence features, you can let the rest of your team know when you're done for the day.
Mobility and Apps: The need for mobility is on the rise. One reason is that more people work from home or on the go. Even if none of your employees works from home, you likely need field workers to support you with the same tools as your office-based employees.
With a good UCaaS solution, you can ensure mobility stays a part of your business plan. For example, the cloud will ensure that your teams can use apps on their tablets and phones to access the necessary tools.
Also, WebRTC makes it, so people don't always have to download new software to join a meeting. People can instead click on a link in their email account or a web browser to join a conference. UCaaS lets anyone do work outside of the office.
CPaaS and APIs: It seems like UCaaS is just one flavour of the bigger idea of CPaaS. Communication Platforms as a Service add more flexibility to UCaaS by letting companies add their favourite communication tools to the apps and processes they already use. For example, you could add video conferencing to your messaging tool or add information from your CRM to your chats with clients.
In a world where one size doesn't fit all, service providers and resellers can create more custom solutions for their customers based on the value they need. Through APIs and implementations, anyone can build a custom communication stack that works best for their employees and target audience.
Next-generation UCaaS providers even use CPaaS to connect the front-end and back-end business communications better. For example, while on a front-end call with a customer, you could use your apps to connect with your team and get important information. We can track the customer journey and get information that will help our business more easily when we correctly integrate everything through CPaaS.
How to Choose the Best UCaaS Company
Below are the things to have a look at:
Analytics
Read reviews
features
quality of the technology or services.
Full integration
Security
Unified communications (UCaaS) is the evolution of technology to compensate for the growing needs of current businesses. Vitel Global is one of the leading pioneers among Business VoIP Service Providers and is expanding globally with our dedicated techies.
Click for a demo of Vitel Global Communications to see how we can help to meet all your business communications & team collaboration needs.
Published: June 29th, 2022
Subscribe to Our Latest Updates
Get monthly product and feature updates, the latest industry news, and more!
By submitting this form, you agree we may contact you in the manner described in our Privacy Policy.