Adopting Cloud Communications: A Step-by-Step Guide for Educational Institutions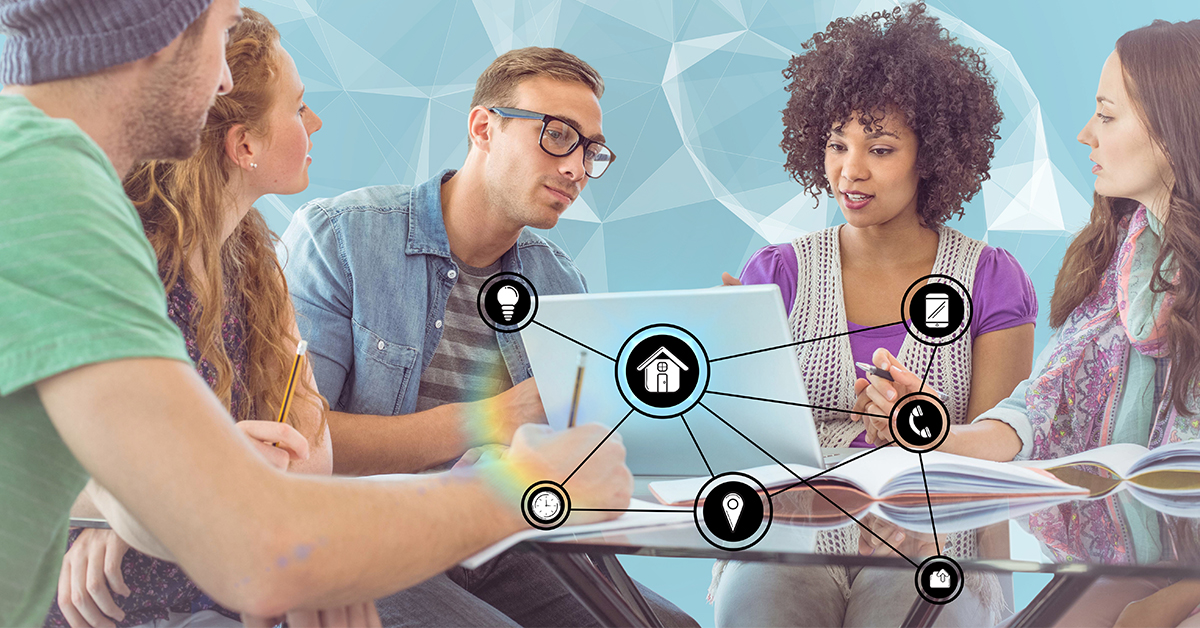 Reading Time:
4
minutes
Cloud communications is a term that refers to various communication channels operated by an organization that are available through the Internet. Top-notch Educational Institutions looking for business phone solutions for enhanced efficiency. Discover cost-effective options for seamless communication.
A cloud-based solution relies on shared resources. It does not require the use of any local computing equipment, storage space, or software. Small business phone solutions typically avoid certain technical issues that might arise if a company had its own proprietary network infrastructure."
Whether you're an educational institution looking to adopt multi-channel communications for your students and faculty. Or an enterprise business desiring to connect your current phone systems over the network. And save money in the long run, Cloud communication can be beneficial for any size of business. In case you're not already familiar with what it can do for your business. If you feel you can look at a few pointers on how to adopt this kind of technology. Read ahead for our blog on the topic.
What Is Cloud Communications?
Cloud communications is a term used to describe a broad range of services with the common thread of being delivered over the internet. With this model, all of your communications are performed using public networks and servers instead of those provided by your organization.
When you adopt cloud-based communications, you'll become more flexible and agile in how and where you communicate with your customers, partners, and employees. You may also be able to reduce the amount of devices that need to be purchased as well as the overall cost associated with managing those devices. As mobile technology continues to rise in popularity – especially among younger generations. It can also help when it comes to attracting new employees who expect traditional office tools like email access on their mobile devices.
One of the biggest hurdles in adopting cloud communications for educational organizations. In addition, some users still need access to Outlook offline, which breaks several assumptions made by Google Apps. This is especially true in the semi-public sector like schools and universities.
What Kinds Of Issues Can Cloud Communications Solve?
Cloud-based communications are different from traditional phone and internet services that rely on dedicated hardware and software solutions. Instead, they run on built-in servers over the Internet. What's more, they offer a number of benefits over traditional methods. Here are a few ones.
Scalability – One of the biggest advantages of cloud-based communications is that you can scale them up as your business grows and add more users anytime. You need not worry about investing in new hardware or software.
Reliability – It uses built-in servers and redundant systems, so they're highly reliable. Since these systems don't depend on any single machine, they have lower failure rates compared to traditional methods of operation.
Lower Costs – It has far fewer costs than other types of on-premise solutions because they run on shared computing power and storage space over the Internet. As a result, they're a more cost-effective way to communicate.
Streamlined Support – Hours of phone support and hundreds of additional operating system and platform configurations are just some of the things you can avoid when using it. Instead, you'll be able to focus on the needs of your business. Without having to worry about maintaining outdated software or hardware devices.
Independent Access – It allows customers to access their phone systems via different devices. So they can continue with their work even when their Internet connection isn't working. Additionally, outsourcing your phone and internet service to a professional company offers many other additional benefits. Switched service allows you to move conversations from one line to another, which can also help increase your sales and marketing efforts.
Cloud Communications for Educational Institutions: 
For educational institutions, deciding to adopt business communication services is a monumental move. It means change. And while sometimes the prospect of change can seem daunting, it's important to realize that the benefits of using it in an educational institution are plentiful and far outweigh those challenges.
From freeing up precious staff time to simplifying a multitude of processes for your organization as well as benefiting students by making available new helpful tools that enhance their ability to learn the importance of adopting cloud comms is clear.
The cost of ownership for infrastructure is not the only factor to consider when adopting cloud at your organization. You also need to think about things like staff training, security, and service level agreements.
The key to this document is to keep it as simple and straightforward as possible. It is not intended to be exhaustive in any way and it will update in the near future as we add more information.
Cloud Computing has been compared with the emergence of the industrial revolution when for years scale industries shared resources, ideas, marketing skills, and production systems became larger organizations. The same can be said for cloud adoption; a broad plateau of development where seemingly unrelated technologies are brought together.
Learn more about How Unified Communications Is Useful for Remote Learning
Business phone solutions for Educational Institutions:
It should address the unique challenges of the academic environment. They should improve communications across the campus, increase the productivity of call centers, and keep pace with mobile adoption trends.
Business phone solutions are some of the best ways to unblock your business calls. And can be able to connect with your business associates and clients.
In today's world, it is necessary for people to have a dedicated line so that they can connect through phones during emergency situations. And other time-sensitive events. When you're on a long-term business trip. It's important that you reach your team members in order for the company to continue operating smoothly. To avoid disrupting the daily operation of an organization, people nowadays need reliable phone system options outside their offices. This is why businesses need dedicated lines, or more specifically PBX phone systems.
Everyone knows that a company needs three main things in order to run a successful business. The staff, the customers, and the assets.
But what if you need to have access to your customers and your employees from wherever you are on the planet? Is there anything that can help you manage this? The answer is yes – phone systems. These are equipped with alternatives for calls, voicemail boxes, features for voice manipulation, and intercoms among many other features.
With this in mind, you can see why business phone systems provide so much value to business owners and operators.
Published: September 12th, 2023
Subscribe to Our Latest Updates
Get monthly product and feature updates, the latest industry news, and more!
By submitting this form, you agree we may contact you in the manner described in our Privacy Policy.