Five Advantages of Switching to the Cloud for Financial Services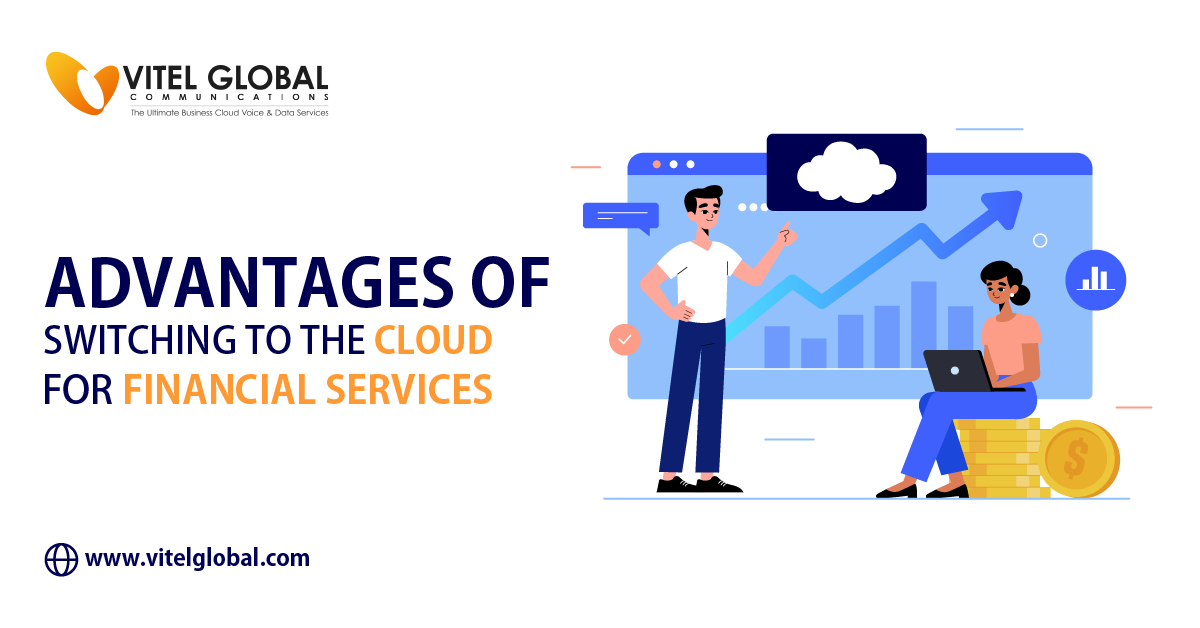 Reading Time:
4
minutes
Switching to the cloud can save you time, money, and worry. The cloud simplifies financial services with efficient processes and reduced paperwork, saving resources and money.
In addition to leveraging an already established network of data centers, a client could purchase hosting space on a private cloud customized specifically for their needs. Numerous providers offer competitive billing options that simplify the invoicing process for businesses large and small. This combination of reliability and cost savings has enabled businesses to switch without fear of being left in the dark or feeling vulnerable due to a lack of local support staff or hardware maintenance contracts.
A cloud-based financial reporting system eliminates paper and overhead while saving time and costs. A cloud-based platform can be accessed on any internet-capable device from anywhere in the world with an internet connection, making it ideal for global businesses that must maintain accurate and concise records.
There is no need to format printed reports because they can be printed directly from the application itself. There is also no need to physically mail the reports as a PDF or e-mail them in any format. It eliminates the hassle of storing all paper documents, finding a company to manage them, and releasing funds for postage. Cloud video conferencing solutions can be accessed from anywhere worldwide with an internet connection.
Advantages of Cloud Services for the Financial Sector:
1. Lower Costs:
Cloud-based financial services provide greater flexibility for pricing, meaning that you can pay for only the features and functions you want on an ad hoc basis instead of a predetermined monthly fee package. It means that there will always be a cost-effective option for you!
The storage services are cheaper than traditional data centers; they also let you avoid the costs of building and maintaining your infrastructure.
You no longer need to invest in expensive servers and data centers. Savings in the cloud for financial services can be significant.
2. Improved Security:
Cloud-based financial services use multiple layers of security software to protect customers' accounts from outside attacks.
Due to cloud architecture, data is stored across thousands of computers instead of in one central location; this makes it much more difficult for hackers to get into servers or steal data.
Providing a secure environment for your data is paramount. The cloud offers a physically segregated network with access limited to authorized personnel only and redundant storage that minimizes the risk of downtime.
3. Increased Productivity:
The services are accessible from anywhere. You never have to be in the office or on a computer to access you're banking information and manage your finances.
The storage providers will spend more time and money making their systems highly available, lowering the chances that you will lose out on business due to a major disaster.
Cloud-based financial services mean your team can access data and critical financial tools from any device, anytime, without downloading software.
Moving your financial services cloud-based means that you will only need one capital investment, reducing the pressure on your budget. It provides more options, faster time to market, and better performance.
4. Enhanced Customer Service: 
It provides 24/7 support through a system called virtual banking. Virtual banking allows you to access your account online 24 hours a day, seven days a week. You can even care for your business from the comfort of your home or office.
Fast Access to Resources: When critical servers are down, it can cause many employees in a company to spend hours waiting for their computers to work again. Cloud architecture ensures that everyone has instant access, eliminating downtime.
It is easier for you to respond when you have employees in different locations worldwide due to eliminating cross-border transaction times from banks and other institutions that provide your financial service locally.
The capacities of these systems can increase in a way that is impossible with on-premise systems, which have significant advantages for financial services companies.
5. Accessibility:
Cloud-based financial services are accessible from anywhere, with internet use prevalent in nearly every country. Customers don't have to live in an urban area or even have an address where they can receive mail and packages to get their information in the mail, just like they are doing now with banking.
Your company can gain access to all kinds of information without any server installation locally, even if something goes wrong with them.
Conclusion:
Cloud-based financial services are more eco-friendly than traditional options because your business does not need a physical presence on-site to use these apps, which can reduce the carbon footprint significantly.
It is easier for clients to improve their business, even if they need direct access to computer skills or technical know-how. The services are intuitive and user-friendly, meaning clients can develop better cash management methods without a computer science degree.
Spending weeks or months installing hardware and software updates can be difficult when you have hundreds of computers on your network. With the cloud, all you need to do is ensure you're running your software's latest version.
In the end, cloud-based service has become a common practice for many companies. It is also a cost-effective way to improve services for existing customers and get new company clients on board. Moving your financial services cloud-based means that you will only need one capital investment, reducing the pressure on your budget.
You can shorten the time it takes to deploy new investments by streamlining the data-gathering process. Cloud-based video conferencing applications have a significantly smaller chance of technical failure or human error, leading to the accidental deletion of information and reduced risk of data loss.
Published: June 21st, 2023
Subscribe to Our Latest Updates
Get monthly product and feature updates, the latest industry news, and more!
By submitting this form, you agree we may contact you in the manner described in our Privacy Policy.