How Do You Justify a CPaaS Solution for Your Business?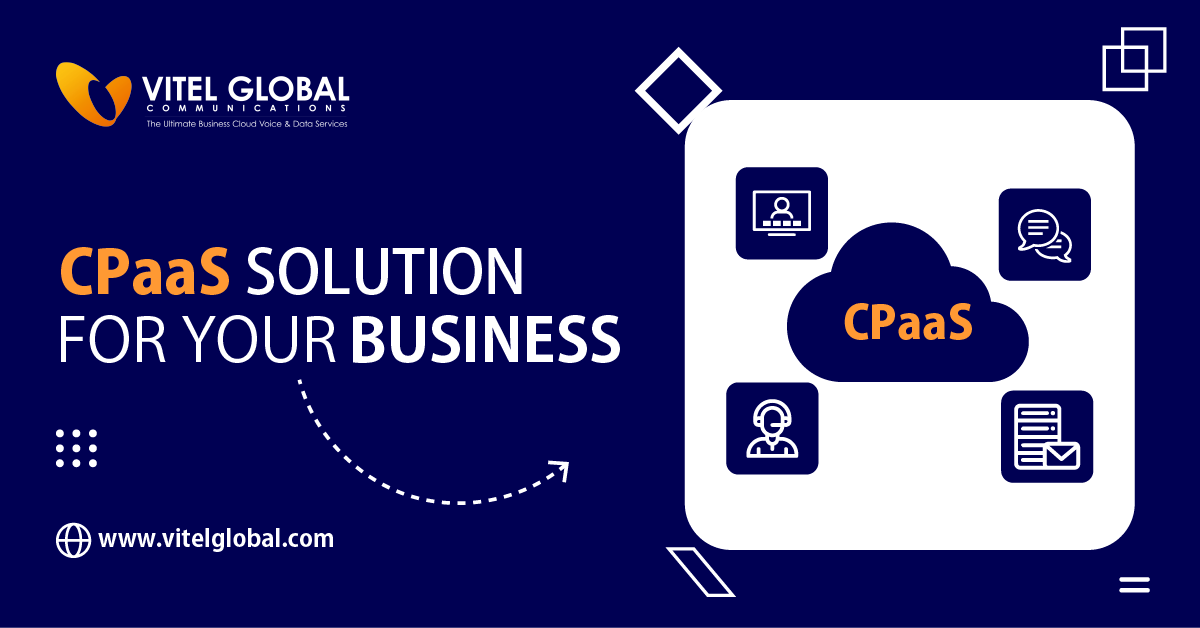 Reading Time:
5
minutes
If you're ready for your business communications to be more efficient without costing more money, read our blog article on how a CPaaS solution can help.
For many companies, the costs of using a technology company to deliver their business communications services can be prohibitive. Depending on your needs, you may be required to pay a monthly infrastructure cost per user, support, and additional access charges.  
This post discusses why CPaaS solutions are advantageous for businesses, how to implement them seamlessly and securely, and which providers offer them.
Introduction:
The most efficient way to work with any business application is to have it in the cloud. Communication tools are hosted on the company's infrastructure or rented from a service provider. The latter option, outsourcing, can be very beneficial when reducing IT management costs.
Computer-aided business platforms allow you to manage communications easily and can be purchased from a cloud service provider or used as a hosted solution. The solutions are designed to have all the functionality you need out of the box. Plus, you'll receive updates on new features in automated form as and when required.
If you're thinking of investing in it, the first thing you need to do is to define what your organization needs. It may seem simple, but many companies must thoroughly evaluate and purchase the wrong service or product. There are many considerations when choosing the services for your company.
Here Are Some Things to Consider:
Who will be using your company's communication platform? Will it be salespeople who need to make hundreds of calls every day? Or engineers who need video conferencing? 

What kind of data plan will your employees be using? Will they be using Wi-Fi, mobile or a combination of both?

How much can you invest in implementation and upgrade services? Can you have 24/7 support?

Once you choose a provider, how will long-term maintenance, upgrades and customer service cost affect your bottom line?

What is the return on investment (ROI) for implementing the service? You may not see any direct returns with cloud-based communication. But what does it cost you if you don't implement one?

What are your security concerns? And how does the provideraddress them? Most providers offer a mix of public and private networks and a choice of data encryption levels.

Who will pay for the additional hardware your employees need (telephones or headsets) if you use VoIP?

What about telephone number portability? Do you have extra costs for this service?

What are the scalability limitations for your CPaaS solution? Will employees seamlessly transfer their communications from one platform to another?

Does your organization need to integrate with other systems (exchange, call centre management, CRM)?

How complex is the programming needed to implement the solution? Can your IT staff handle it?

What are your data privacy and security concerns regarding cloud-based communications services? Is a solution good for your organization regarding regulatory compliance issues (e.g., PCI, HIPAA)?
Communication Platforms as a Service

:
Communication platforms as a service are the digital equivalent of the physical phone company. It's a specialized provider that provides all the infrastructure your business needs to run a business. Think of it like an ISP (Internet Service Provider). The ISP offers landline phone service and everything you need to communicate securely, effectively and efficiently with your co-workers, customers or vendors.
The Right CPaaS Solution for Your Business Needs
:
The number one problem with digital marketing is that navigation can be complex and confusing. There's too much out there, and it's impossible to hear everything relevant to your business. How do you find the perfect provider for your specific needs? Here are a few questions to consider:
1) What Is Your Communication Strategy?
How does your business communicate within its walls and outside of them? Do you have a system in place, is it effective, and does it help your organization run smoothly? If not, now is the time to develop a new strategy.
2) How Can Technology Help Implement This Strategy?
Technology can take the burden off employees in any number of ways. It can save time, effort, money, and can automate calls. It can organize and streamline resources for the betterment of the organization.
3) What Are Your Communication Goals?
What do you want to achieve with your business communication strategy? Do you want to make sure everyone is accountable? Do you want to ensure your employees are productive? And do you need an easy way for clients to communicate with their service teams? Write down the specifics of what you're looking for in a CPaaS solution. Focus on how technology can act as a support system, not just as another app on their phones.
CPaaS Solution for Your Business:
The answer has two parts: cost and efficiency.
What would it take to engage, support, and train employees or contractors who are specialists in telephony software, voice recognition software, video conferencing hardware/software, and data storage systems? It can be a lot—not counting any other IT equipment or services you may have already purchased to support your employees. So, why would we hire an in-house team?
Cost is one answer. The other is efficiency. The service providers use their expertise to develop and maintain a communications solution tailored to your business. By leveraging that experience, providers can offer proofed systems and long-term availability of your communications solution—from new features to updates and upgrades. That means less personnel time spent on testing, troubleshooting, or maintaining the CPaaS solution. And that leads to more time spent on your core business operations. You can count on a better product that has been tested.
It's important to note that most providers offer more than just communications software. Your marketing, sales, office, or professional services departments may need specific tools to manage their conversations.
CPaaS Providers Supply These Tools as Well:
Hosted PBX

 systems or telephone answering services.

Advanced video conferencing

.

Voice translation

.

Traditional email and messaging systems

.
However, we will also mention other helpful communication solutions, such as social media platforms.
Benefits of CPaaS Providers:
Proven success across industries and verticals.

Secure, reliable, and scalable infrastructure for communications.

Reduced infrastructure costs using our multi-tenant capabilities.

Seamless integration with existing systems and architectures.

Support for new solutions coming in line with customer needs.

You always have access to your data, no matter where you need it.
The price range for the service provider is typically less based on your communications needs and your number of employees. However, the field will be dependent on your needs. For example, if you need a company-wide voice mail system in place already, it may be less expensive to pay for hardware and installation than it would be to pay for a software application.
Another benefit to using it is that you are not required to hire a full-time IT person or engineer; instead, you can call your customer service representative for assistance. Also, the service is hosted in a data centre. It means that you do not need to monitor or maintain the infrastructure, and you don't have to worry about your system being down (unless there is a physical Internet issue).
And finally, one of the most valuable benefits of using it is that you don't need to worry about the complexities of your communications system. Since your provider takes care of the complex parts—like providing redundancy and failover systems—you can focus on expanding your business instead. You will also be able to focus on improving your services and ensuring that all your users are satisfied with their experience when working with your company.
Conclusion:
How do you justify a CPaaS solution for your business? You provide the pros listed above. Your customers will be impressed by how you have integrated their needs into your products. 
The solutions can easily have CRM integration (customer relationship management). You must determine what challenges prevent your customers from reaching their full potential. Then, you will need to create a strategy to address those challenges.
Published: June 13th, 2023
Subscribe to Our Latest Updates
Get monthly product and feature updates, the latest industry news, and more!
By submitting this form, you agree we may contact you in the manner described in our Privacy Policy.