UCaaS Vs. CPaaS: Key Differences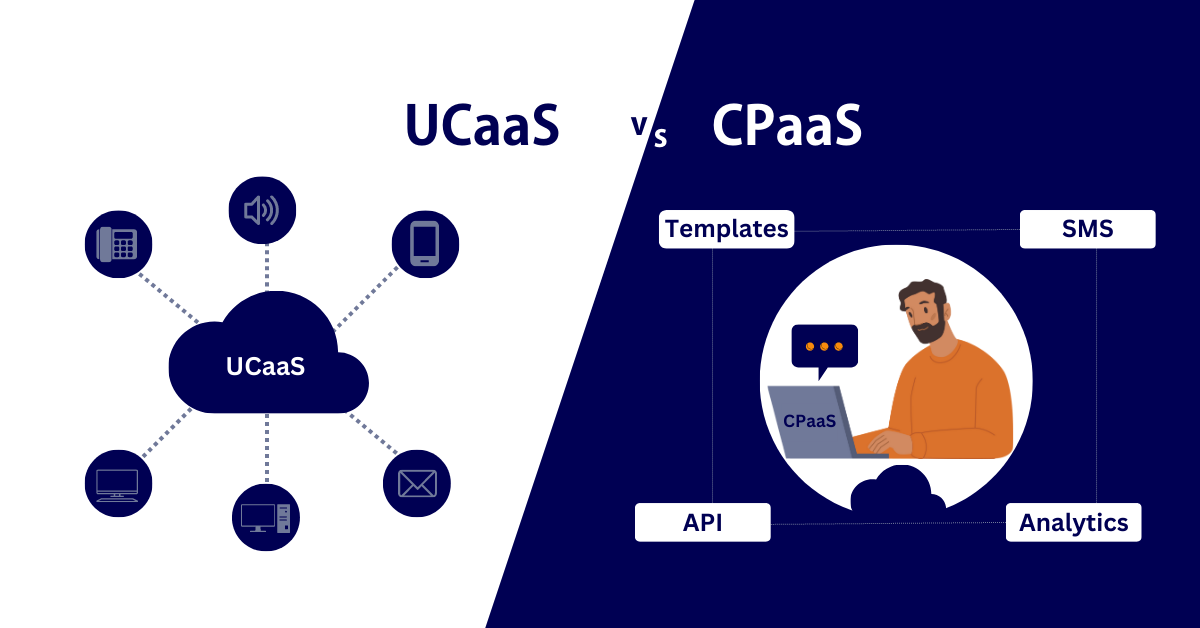 Reading Time: 4 minutes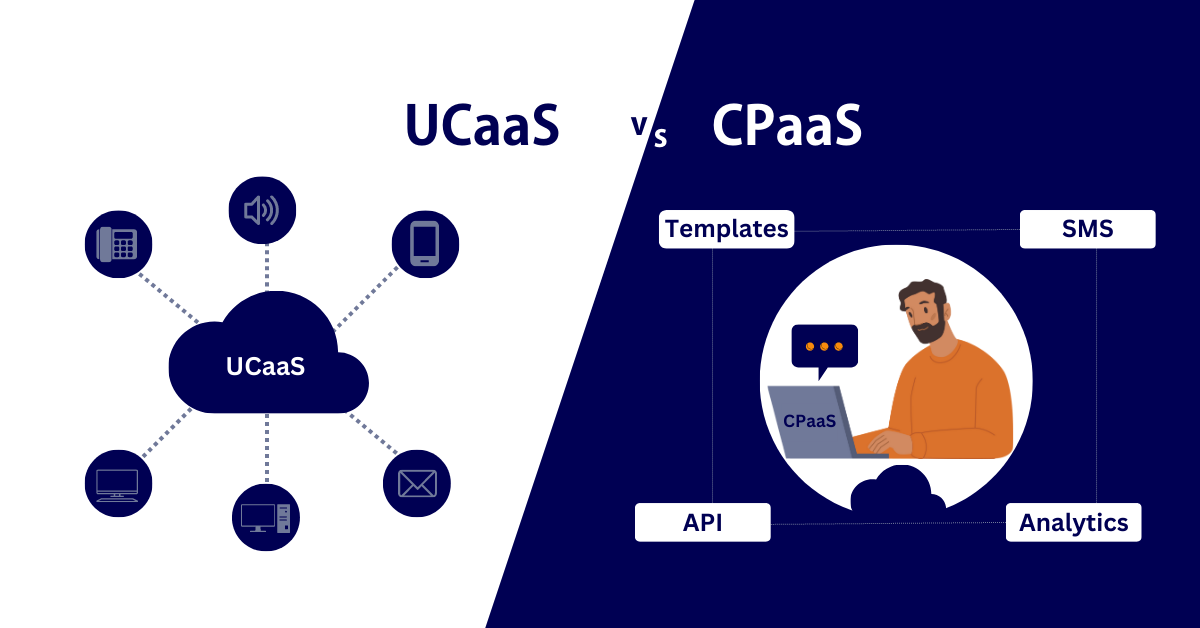 UCaaS combines hardware and software, allowing instant and easy collaboration. CPaaS allows the API customization and integration of voice messaging features within external software applications.
A cloud-based unified communications and collaboration (UC&C) platform is software that enables the seamless exchange of information with other technologies, such as video conferencing, voice over internet protocol (VoIP), email, and chat.
Cloud-based unified communications also share a similar goal: seamlessly integrating various applications so that users can access the information they need and enjoy interacting with others. However, CPaaS solutions are typically designed for enterprises so they can provide customized cloud solutions to their end users.
The enterprise applications include
Customer relationship management (CRM),
Supply chain management (SCM),
Human resources management(HRM),
Sales force automation (SFA), and
Enterprise resource planning(ERP) applications.
Such systems are designed to accelerate the operations of their end users by enabling them to access these applications from various devices, such as desktops, laptops, and mobile devices.
A UCaaS platform enhances usability by creating a cohesive, integrated experience for end users.
CPaaS solutions enable the seamless integration of UC&C applications into users' computing environments. CPaaS is often part of an IT strategy to help organizations handle their mobile workers and existing computing environments.
Sun Microsystems is an excellent example of such an initiative, which integrates Office, SharePoint, and Portal Server into a unified application that enables users to access these applications from any device.
Unified communication as a service will also offer a mobility solution, while a CPaaS solution is designed to support existing applications.
The following factors illustrate the apparent differences between UCaaS Platform Vs. CPaaS Platform:
Unified communications providers are tailored to meet specific needs. For example, mobile workers can use these migration or data security platforms.
The article will be about two important communications acronyms – UCaaS and CPaaS. It will help you understand the benefits of UCaaS over CPaaS and vice versa. It will also compare the two models' fundamental elements: cost, security, quality, and flexibility.
UCaaS is an acronym for Unified communication as a service. Cloud PBX services is a term suitable for this.
The CPaaS model was developed to eliminate the need for telecommunications providers and allow businesses to connect and communicate through their Cloud PBX system. CPaaS also connects different departments within a company instead of having individual systems, making communication between employees easier, even when on different platforms or in the office.
There are two main differences between UCaaS and CPaas: quality and cost.
Quality:
In UCaaS, the calls do not experience quality interruptions because the system is located in a colocation data centre. The colocation data centre has a large bandwidth capacity. It consists of highly efficient servers and other components that ensure high quality of service. UCaaS also usually offers voice recording and instant messaging, unlike CPaaS, which does not offer these features.
Cost:
UCaaS offers more advanced call monitoring and reporting capabilities than CPaaS. UCaaS delivers all the benefits of cloud PBX at a lower cost when compared to having an on-site system since it eliminates the need for telecommunications provider costs, lease fees, and IT support staffing fees, among others.
And the other some more differences between UCaaS and CPaaS:
Integration:
UCaaS makes your entire organization accessible.
CPaaS creates customized and unique solutions by integrating multiple tools from different providers.
Flexibility:
UCaaS provides flexibility for organizations which helps to add and remove users quickly, like seasonal employees, without any significant changes.
CPaaS offers the flexibility of setting up communication tools for the business based on the requirements of the organizations.
Security:
UCaaS providers offer built-in authentication measures, ensuring only authorized users can access sensitive data. Advanced access control features, which allow IT administrators to generate the roles for different users within their systems, are also provided by UCaaS so that the employees can only access the resources they need.
CPaaS: Prioritizing security and privacy protects user data and ensures integrity and availability.
A CPaaS has measures to encrypt the information, provide robust access controls, undergo regular security testing and audits, and protect data privacy.
Administrators can integrate multiple layers of security into their system, which includes setting user access levels, imposing password policies, and using two-factor authentication.
UCaaS can thus save up to 80 per cent of the monthly costs of communications systems. Software as a service(SaaS) can collaborate with UCaaS and add features like email or calendar synchronization.
Other uses for UCaaS are :
Most software solutions allow users to call control functions and attendant telephony applications on user devices. Whilst some others require dedicated software agents. Some solutions use rules engines that interpret pattern recognition algorithms to identify and filter network traffic based on traffic type.
Some of the advantages of using software over Voice over IP (VoIP) are :
Voice over IP delivers traditional telephone networks, a medium well-suiting data transmission with its typical bandwidth; however, voice requires high bandwidth relative to its low bit rate. Extra voice information with audio attachments and messages will be available. Some VoIP providers use packet-switched networks to deliver VoIP through internet telephony services, but it has been shown that this delivers less quality than SIP trunking.
Conclusion : 
UCaaS has eliminated the need for on-site servers and instead uses colocation data centre servers. It eliminates the need for on-site maintenance and IT staff traditionally required to support a system.
Businesses are collaborating to manage their workloads more effectively than ever before. As an IT company, working within a virtualized environment could be the solution if you want to apply your technical skills and expertise to other business units. First, you should view PBX's benefits and advantages of unified communications providers.
Consider all the benefits and differences associated with CPaaS that can transform your IT department into a critical component of your organization's success.
Published: February 27th, 2023