Have you Ever Tried PBX Phone System for your Business?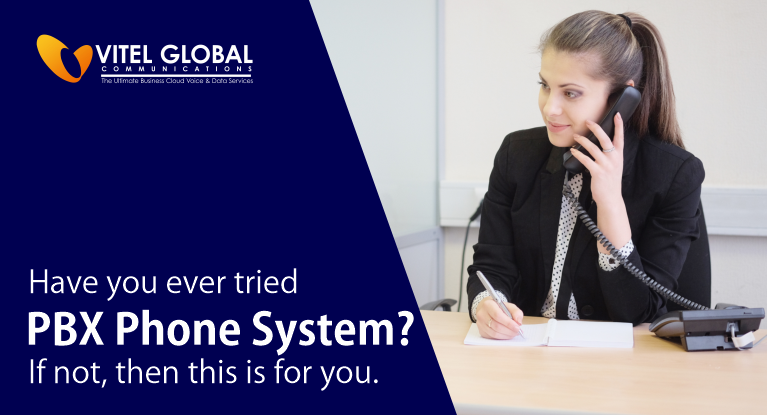 Reading Time: 4 minutes
Running a small business, indeed our blog helps in acquiring knowledge regarding VoIP PBX systems end-to-end:
What is VoIP PBX?
A Voice over Internet Protocol (VoIP) private branch exchange (PBX) is a business telephone system that provides similar services to a conventional PBX but does so over a company's LAN or WAN data network instead of the circuit-switched networks used by the traditional Public Switched Telephone Network (PSTN).
VoIP PBX systems, also known as Cloud PBX Phone System, may often switch calls between VoIP on local lines and VoIP and traditional telephone users in the same manner as a PBX. A PBX Phone System may be wholly hardware-based or entirely software-based.
VoIP PBX Can Help Your Business
The VoIP PBX provides several benefits for your business. With its channels of communication, you can improve your business's communications. How can this system benefit your company?
Work from anywhere and bring in huge profits: It provides remote extensions, allowing you to speak with anyone from home offices or even from other countries. This solution enables enterprise-wide communication, which can improve team collaboration and productivity. As a result, you can increase the profitability of your firm.
Incur only for required services: Using this virtual phone system, you will only incur ISP-imposed monthly expenses.
Improved bandwidth utilization: A Cloud PBX is advantageous for your business since it makes better use of your existing bandwidth. It also permits the deletion and reduction of redundant speech to increase productivity.
Excellent audio quality: Another advantage of this cloud based PBX system is that it can provide calls with clear voice quality. So you can quickly connect with people both inside and outside your organization.
Work securely: Enhanced Security VoIP PBX companies employ superior security measures to counteract security risks. It enables instant messaging while preserving the communications and data security of an enterprise.
Innovative features are highly beneficial for team collaboration: The system has innovative features that are suitable for both small and large teams. They offer phone forwarding and an automated attendant. You may make your business more approachable with VoIP. It includes effective conference calling capabilities that are accessible via mobile devices.
Integration with other business systems: With VoIP technology, calls between extensions are possible. In addition, you can combine it with other business systems to optimize your company's processes.
Unified Communications: Systems like VoIP PBX systems can offer Unified Communications services to businesses. Chatting via VoIP, analog phone conversations, web conferences, email, voicemail, faxes, and more are all possible. VoIP can help your business improve its communication management.
Multitasking: The phone system is also capable of multitasking. It enables the sending of photos, documents, and movies during a discussion. Additionally, you may hold global meetings with your staff, clients, or anyone else.
Available at affordable rates: If your business requires comprehensive call management, VoIP technology is the most cost-effective alternative. Despite having powerful features, the phone system is affordable. If your organization makes frequent long-distance calls, it can also be a cost-effective alternative.
This will allow you to save additional money, as you will not need to purchase infrastructure and phones for your corporate communications. Using VoIP PBX will liberate your organization from expensive phone system hardware. Therefore, the system employs softphones from leading IP phones.
Accessed from your favorite device: It is a service that can be used anywhere. In addition, you can use your mobile phone to access the VoIP phone system's functions. Installing the VoIP application on a PC or smartphone enables Internet-based voice communication.
Allows customizations: It offers more customization choices to accommodate your business's unique requirements.
Powerful features that are useful for remote work: Remote employment offers further cost reductions. The VoIP system enables your remote-working staff to remain linked to the business phone system.
It has cutting-edge features like quick video calling, auto-attendant, and conference calling that can help your team work better together. Free add-on functions are included with the VoIP PBX phone system, so there is no need for concern. It has features like group ringing, call transfer, and call queuing that make it easy to work from home.
Scalability: In the beginning, a small firm may not have a fixed location or they may wish to expand. Moving to a new site is relatively simple with Hosted PBX because there is no heavy equipment involved.
After you call your service provider, the phone system will be set up at the new location within a few hours, and your business will be back up and running.
Even if your business grows, upgrading your phone system is relatively simple. Just upgrade your package, and your new location will have its address and phone number.
Disaster recovery: If you store your data in the cloud, you will always have a second copy of your data in case of a natural disaster.
No matter the size of a company, data is vital. Multiple security layers protect cloud based phone systems, ensuring uptime even during natural disasters. This ensures that no one can access your data and that you always have access to it.
Multiple Extensions: If your organization has multiple divisions, locations, or both, a VoIP phone system is an ideal solution. It offers as many extensions as you like for your organization without the IT-related hassles required by conventional phone systems. And with an IVR system, it is relatively simple to route calls to these departments, which not only gives your consumers a self-service option but also routes them efficiently.
Productivity increases: Boosting the efficiency of a business by providing all of the necessary functionality without requiring the use of cumbersome and complicated hardware.
User-friendly: They provide an easy-to-use platform for your agents, a reliable way for management to monitor everything, and the best possible experience for your clients.
Features:
Follow me.
Branch office assistance
Remote extensions
A virtual receptionist
Call recording
Reporting
VoIP fax
Flash real-time operator panel
Conference call
Call transfer
Billing
Auto attendant
Conclusion:
A cloud-based phone system is a wise investment for your organization. Cloud communication is dominating all corporate sectors. They are far more dependable, secure, and affordable than traditional phone systems, and they give the organization an abundance of functions.
The aforementioned advantages demonstrate that business communications services are an excellent option for start-ups and small businesses and are delivered by our organization.
Published: July 6th, 2022
Subscribe to Our Latest Updates
Get monthly product and feature updates, the latest industry news, and more!
By submitting this form, you agree we may contact you in the manner described in our Privacy Policy.