Core Reasons to Recommend a Cloud Based PBX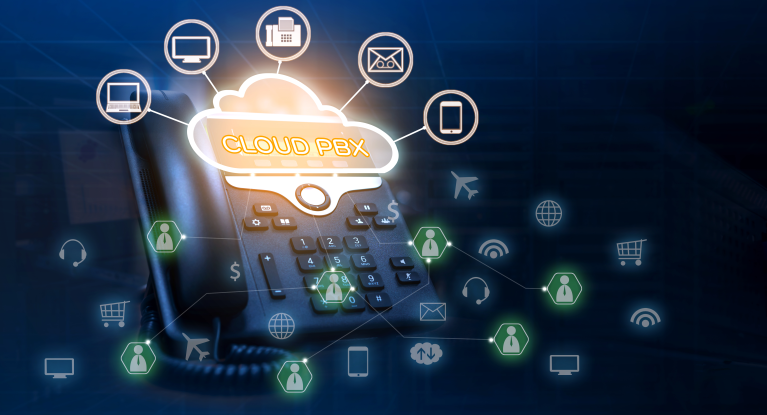 Reading Time: 3 minutes
If someone wants to recommend a cloud based PBX to others, it is crucial to know the features and services of the communication system as well as the service providers.
Let's start from the basic;
What does "Cloud based PBX" mean?
A private branch exchange (PBX) in the cloud is a remotely designed, hosted, and managed telephone network offered by an external organization that manages it online. The IP-based telephony system stores all software on a server. But, the cloud phone system stores all software and the entire database on the cloud. And, it provides secure and reliable business communications over the internet by adhering to IP protocols.
Cloud-based and on-site PBX systems are the two most prevalent varieties. Getting deeper into the subject, it is an internet-based service that does not require the usage of additional hardware, such as servers, for storage.
When referring to classic phone systems, "onsite" refers to systems that are hosted on the organization's own servers.
We talk about these services to get implemented or replaced with the old legacy systems for anyone's business because of the features and benefits integrated with the phone system.
Have a glance at some of the features of Cloud based PBX!
Features of the cloud based PBX:
Take a look at some of the advanced features essential for any business;
Call Routing
Call Recording
User Interface (UI)
Caller ID, details of incoming phone calls
Real-time recording and monitoring of phone calls
Voicemail transcription
Reporting and Analytics.
IVR
Contact Groups
Call barge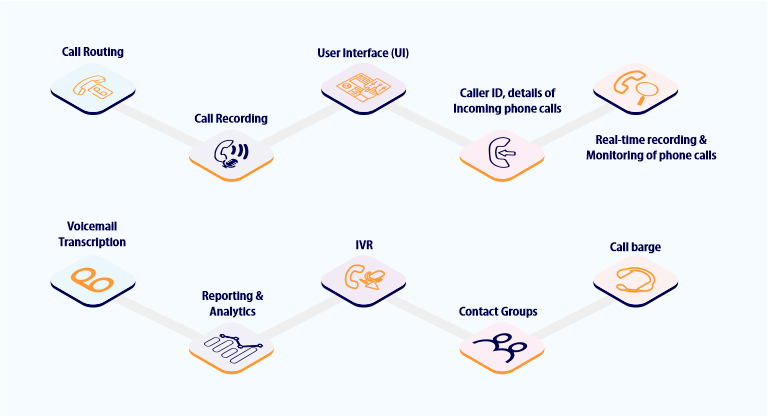 Advantages of the cloud based PBX:
Customers who utilize cloud-hosted PBX systems save a substantial amount of money because they only pay for the services they actually employ and not for the unused features. This phone system can be installed, evaluated, and provisioned in a fraction of the time required for a traditional system. This is how it can save a lot of your valuable time and money as well.
Server maintenance can be simplified, and software updates are straightforward. Since they can be easily linked with existing infrastructure or technology, older phone systems can be used in place of new ones.
Remote Working Culture:
Remote working is an amazing feature that became a curtain raiser for hybrid working culture. People can connect using their mobile phones, desktop computers, or laptops from anywhere in the world, allowing them to work from home.
Flexibility:
Call controls, voice menus, and time restrictions in addition to call records can be enabled at no extra cost or effort. Using a cloud-hosted PBX can provide higher compressed-streaming rates and increased internet speeds. It is feasible to conduct crystal-clear internet phone calls.
Apart from all the above, it is simple to scale to meet large consumption capacity based on the user's resource requirements.
Data Security:
Of course, if you think about the service quality, Cloud PBX systems from top PBX providers are renowned for their reliability and utilization of highly dedicated resources and servers.
The top PBX providers will ensure that your data is less likely to be lost in the case of an unforeseeable catastrophe, and even if it is, you can be confident that it can be recovered.
Automatic monitoring of the servers and the stored data reduces the number of manual errors and oversights.
Cloud-based phone systems are therefore more secure than on-premises solutions.
A System for Unified Communications on the Cloud:
Please note! The term "cloud" is only a method of expressing how a VoIP service's servers communicate with one another. But virtually, nothing separates a cloud VoIP service from a regular on-premises VoIP service. 
This means that the VoIP service provider is responsible for and owns the phone service's hardware, which is referred to as "hosted" or "cloud." The word "cloud" is just a metaphor for the technique in which these VoIP servers transmit data around.
Here's how Unified Communications work:
Auto attendants, ACD queues, and call monitoring are all common features in most cloud phone systems and additionally, they may have been sold as some type of phone system in the past as well.
Instead, laptops, tablets, and smartphones, as well as any other Internet-connected gadget, become source phones. 
The PSTN calling, dialing an extension, and controlling voicemail can all be done using web phones or softphones that link to the Public Switched Telephone Network (PSTN)
Collaboration capabilities such as real-time presence, instant messaging, call statistics, and click-to-call functionality are given by cloud systems.
Although some current cloud phone systems eliminate the traditional desk phone, the vast majority of cloud phone systems continue to provide PBX-like functions.
Final word:
Vitel Global communications is a well-known cloud PBX service provider in the industry in the present day. And, we are becoming increasingly popular in enterprises because we offer various advantages over traditional systems.
For more information, please visit our website to obtain high-quality services for the best cloud PBX system right now.
Published: September 21st, 2022
Subscribe to Our Latest Updates
Get monthly product and feature updates, the latest industry news, and more!
By submitting this form, you agree we may contact you in the manner described in our Privacy Policy.