Investing in Business Phone Services: Expense or Opportunity?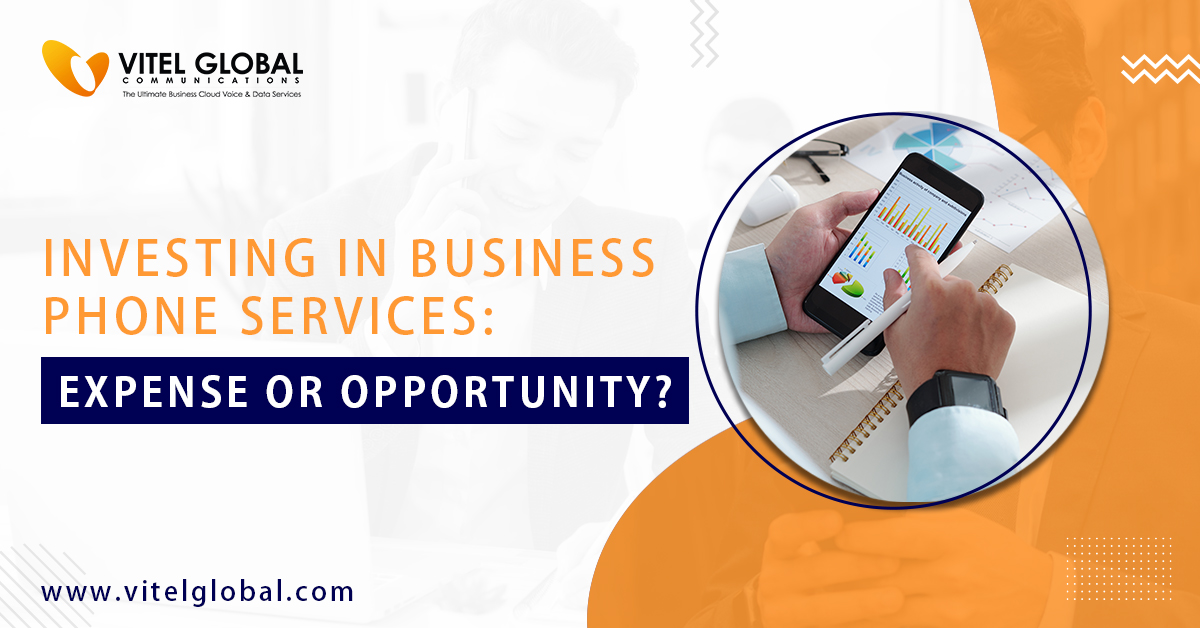 Reading Time:
5
minutes
As you might have guessed from the title, we will review a few important reasons why your firm should investing in business phone services. If you have the same queries, this is the place where we can clear all your doubts.
Business phone services is a way of communicating with customers and team members through phone, video, text, and other channels. Any business might need to use various technologies at some point. No matter what we are talking about-online advertising platforms—they are all essential to developing our company.
What Are Cloud Based Business Phones?
The simplest way to define a cloud based business phone, is a system in which some telephones are interconnected and used for businesses to offer features like call transferring, handling, metering, conference calling, etc.
The concept is straightforward. Of course, a business phone's functions can significantly improve a company's communication strategy. A cloud PBX system has numerous advantages for businesses.  Cloud phones can boost output, enhance customer service, and cut IT costs.
A business communication system can perform some tasks, whether you need it for the customer service department of your company or internal business operations. The benefits of having a business phone will be discussed in the section after this one.
What Makes It Good, and Why?
Well, the following advantages might persuade you to use a business telephony:
1. Improves Communication Efficiency:
VoIP completely changed how companies could communicate both domestically and internationally. With the help of contemporary technologies, such as unified communications as a service (UCaaS) providers, the same fundamental functionality is made more adaptable and viable across a wider range of business use cases. The majority of telephony systems employ VoIP. Every call is placed, answered, and carried forward online to guarantee quality. Additionally, the best feature of VoIP calls is that they are not device-specific.
For example, dial or join a VoIP call with your laptop or smartphone. As a result, you will not need to be attached to traditional receivers.
The best business phone system can be chosen from various options. Get VoIP to meet all your needs in a convenient service if you want leading brands and advanced features to help your business grow.
2. Improves Client Service:
To run a successful business, excellent customer service is essential. You must provide a way for your customers to contact you, whether you run a small business selling a product or a large corporation dealing directly with clients.
By using a phone services, you can make sure that your clients can reach you at any time and that you can provide excellent customer service over the phone.
In addition, you should include a "call us now" button on your website to make it simple for your visitors to get in touch.
3. Simplified Call Management:
It provides sophisticated call management features that enable a quick and easy display of all missed calls' details. As a result, businesses can contact potential clients and will not miss any crucial calls.
4. Best for Working from Home:
Sitting close to a wired receiver is unnecessary because all calls are made through VoIP. You can therefore take calls while on your way and using your tablet, laptop, or smartphone. It dramatically simplifies working remotely or in a coffee shop.
It is a good option because the COVID outbreak has already converted many of our homes into offices. Aside from these, most web-based and mobile applications use VoIP to let users make and receive calls.
5. Scaling Gets Easier:
Scalable tools and technologies are desirable when you want to grow your business.
When expanding, you should pick services that do not need a significant overhaul. You typically only need to upgrade your phones hardware and software to expand. This generation's business phone systems are generally scalable.
Businesses can expand quickly with VoIP phones because they do not have to worry about their telephonic communication infrastructure.
How Should You Select a Service?
Have you already decided to purchase a business phone system? The time has come to select a service. Let us look at some vital criteria when selecting a services.
What Your Business Needs?
Knowing your company's requirements and expectations for a phone system will help you choose the best service.
Let us look at it this way. Running a small business might require a business phone to communicate with your clients over various calling platforms. Or you may also require tools to monitor the use of the business phone. On the other hand, if you manage a large company, your requirements will change accordingly. A large company might require more sophisticated features like call parking, call queues, etc.
Budget:
Nobody desires to spend more money than is necessary. It is essential to budget your finances and save money. Set a budget for purchasing a business phone based on your company's requirements. The package of business phone service you select should be tailored to your company's requirements.
Customer Service:
Your communication team may need to contact the unified communications as a service (UCaaS) providers frequently. Your operations will only improve if there is a timely service.
Ensure the company's excellent customer service before purchasing phones. Here are some traits of excellent customer service:
Prompt reaction
Seamless assistance with problem-solving
Comprehensive product knowledge
Willing to assist
Wrapping Up:
Assessing whether your company requires a business telephony system can be challenging. First and foremost, there is financial risk; secondly, you might question whether the features will be beneficial.
Using a business phones has five main advantages, which we covered in this blog. Purchasing business phone services is both an opportunity and an expense. On the one hand, implementing and maintaining a dependable phone system requires businesses to set aside resources, so it is an expense. The price of buying or leasing the equipment, installation, monthly service charges, and ongoing maintenance and support are all included in this.
It is crucial to understand that spending money on business phones can also open many doors. Effective communication inside and outside the organization, depends on a reliable phone system. It enables organizations to maintain solid client relationships, improve teamwork, and streamline processes.
Additionally, advanced business Phone features like call forwarding, automated attendants, voicemail, and conference calls are frequently included with modern business phone services. The effectiveness of these features can be increased, as can productivity and customer service.
Investing in business phones can also give you a competitive edge. It conveys competence, dependability, and customer and client accessibility. A solid phone system can help businesses stand out from their rivals in today's fiercely competitive market.
Ultimately, even though phone services are expensive, their opportunities and potential advantages make them a worthwhile investment for companies looking to boost their success and communication capabilities.
Here's hoping it clears up a few things for you. Vitel Global Communication provides a best business phone service with all the necessary features for your organization. We offer excellent customer services for our clients. Contact our team for more updates.
Published: July 20th, 2023
Subscribe to Our Latest Updates
Get monthly product and feature updates, the latest industry news, and more!
By submitting this form, you agree we may contact you in the manner described in our Privacy Policy.