Why Your Business Needs VoIP Phone Service?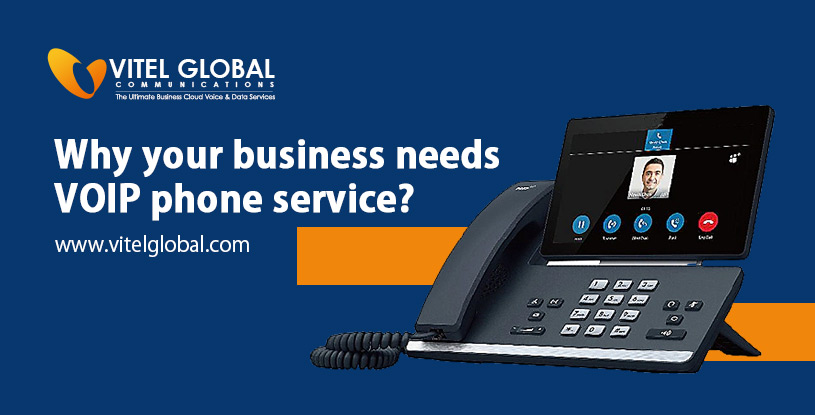 Reading Time: 5 minutes
Introduction of VoIP Phone
Are you browsing solutions for the queries like what is VoIP business phone? How is it useful for small businesses? Then you will find answers through this article.
The VoIP technology was introduced in the year 1990 that was significantly modernized leading businesses to a successful path, mainly small businesses good sense then obvious growth and profitability in their annual income by the implementation of VoIP business phone services replacing the traditional phone system.
Let Us Know What The VOIP Business Phone Is?
VoIP stands for Voice Over Internet Protocol is the technology that is used for making and receiving calls over a high-speed Internet connection. This is the successful replacement of the analog traditional phone system that has been implemented long since many decades in businesses right from small to big organizations to stay connected with their clients at the local or international level. These internet phones are used in different devices like desk phones. VoIP-enabled devices like cell phones, tablets, or laptops.
The voice signals are transmitted from one get converted in the form of data packets and travel over the network using the internet till they reach their destination where they get converted again in the form of digital signals or voice.
There are many ways to make internet calls with VoIP technology, including.
Using an old telephone: You can convert your old traditional phone to a VoIP phone by connecting ATA (analog telephone adapter) to the VoIP system to make internet calls.
Using softphones and apps: Download the Vitel Global app on your smartphone and start making calls right now.
From pc to pc: Create your online account by downloading a VoIP-enabled program, then start making internet calls. It requires high bandwidth for making and receiving a crystal-clear voice call.
It may be used to make an internet phone call in digital terms referred to as a VoIP phone call. It provides many benefits to the end user, for personal purposes or for business calls:
Reduced infrastructure, hardware, and software costs.
Easily accessed from any place, any device, and at any time
Portable
Highly scalable
Crystal clear voice
Multitasking is supported.
Advanced features integrated with the phone system.
Flexible with softphones.
How Do They Help The Small Businesses?
One can find several reasons why small businesses are successful after the implementation of VoIP services but the major benefits are:
No equipment issues:
Small businesses are benefited from these VoIP solutions as it doesn't require any wiring issues, or installation issues thereby getting rid of maintenance issues that arise from the hardware equipment in the standardized analog communication system.
Low cost:
Small businesses will have budget restrictions for implementing new technologies or software versions in their systems, but VoIP business phone solutions are available at a very reasonable price yet deliver excellent services.
Connect anywhere:
VOIP business phone services are highly scalable and flexible as it connects remote working employees working for your organization from any place on a single platform.
Features:
The main factor that drives any technology either into a successful path or to a failed one is its features. The more powerful features the more will be the success of any business implementing the technologies.
Special services:
The VOIP business phone service offers business tool integration like video integration, chat, email, and other features that can be easily accessed from any device and from any place by authorized users.
There are many VOIP business providers available in the USA markets but the importance of the internet phone system or VOIP business solutions introduced by Vitel Global is surging day by day in the market because of the benefits along with affordable plans and pricing making it comfortable even for small business needs.
The Best Features Integrated With Our VOIP Business Phone Are:
highly secured
flexible
easy texting
conference calls
24/7 technical support
affordable plans
auto attendant
mobile app integration
centralized device control
fast installation setup
cloud control
no hardware required
efficient client interaction
scalable
Vitel Global USA delivers high-speed internet services for small businesses that help to manage all your business communications integrated with advanced features to meet your organization's requirements.
Vitel Global delivers unified communications solutions that include multiple tools for handling multiple tasks in your organization.
We deliver services like VoIP calling, fax, team messaging, audio, and video conferencing to attain all your business needs. Advanced features integrated with the phone system like auto-attendant, call recording, and call forwarding capabilities that are useful for creating groups, and achieving goals in time.
High accessibility
Vitel Global phone system can be accessed by the users through intuitively developed apps that allow you to make and receive calls from any device irrespective of your location.
Download the app from the Vitel Global desktop app or mobile app for either android or iOS.
Security and reliability
Data transmissions are encrypted on both endpoints of the network so that the internet calls or data transmitted over the internet are safe in transmission. Data stored in the data centers avoid redundancy, thereby avoiding service disruptions.
APIs and integrations
We provide diversified Voip phone services through open APIs that help you to integrate team messaging, digital voice and other apps, business apps, and workflows easily for increased productivity.
Vitel Global delivers services mainly focusing on small businesses to increase their productivity and expand their business globally by getting connected with their clients through our internet phone calls or voip phone service.
Better late than never, upgrade your traditional phone system to VITEL GLOBAL's cloud phone system for achieving unique solutions in your business communications.
What Can You Get From The Upgraded Phone System?
Call recordings
Reporting and analytics
Easy integrations
Access from any device
Call forwarding
Complete portability
Higher scalability
Advanced features
Supports multitasking
Vitel Global acts as third-party service providers that replace your traditional phone system with a VOIP or cloud-based phone system, especially for small business that helps to increase the productivity of your business in effective ways:
We upgrade and customize your traditional phone system to a cloud-based phone system meeting your requirements.
No dependencies on your manual staff
We provide a hassle-free backup by storing data on servers.
No data redundancies
Get rid of costly telephone bills.
VITEL GLOBAL cloud phone system that mainly focuses on the crucial aspect and goals for your organization that drives your business on the success path. Mainly businesses require extremely powerful communication systems to reach their international clients in a cost-effective way, reducing delays in replies, and avoiding poor network issues that help to attain desired solutions and achieve your goals.
So, upgrade your traditional phone system to VITEL GLOBAL cloud phone system today integrated with the best features, flexible plans along with 24/7 customer support that shows a positive and increased impact of productivity in your business.

Book Live Demo Today: https://www.vitelglobal.com/voip-live-demo
Call: 855-558-4835
Published: October 20th, 2021