On-Premise Systems Vs. Cloud-Based Solutions Vs. Hybrid Models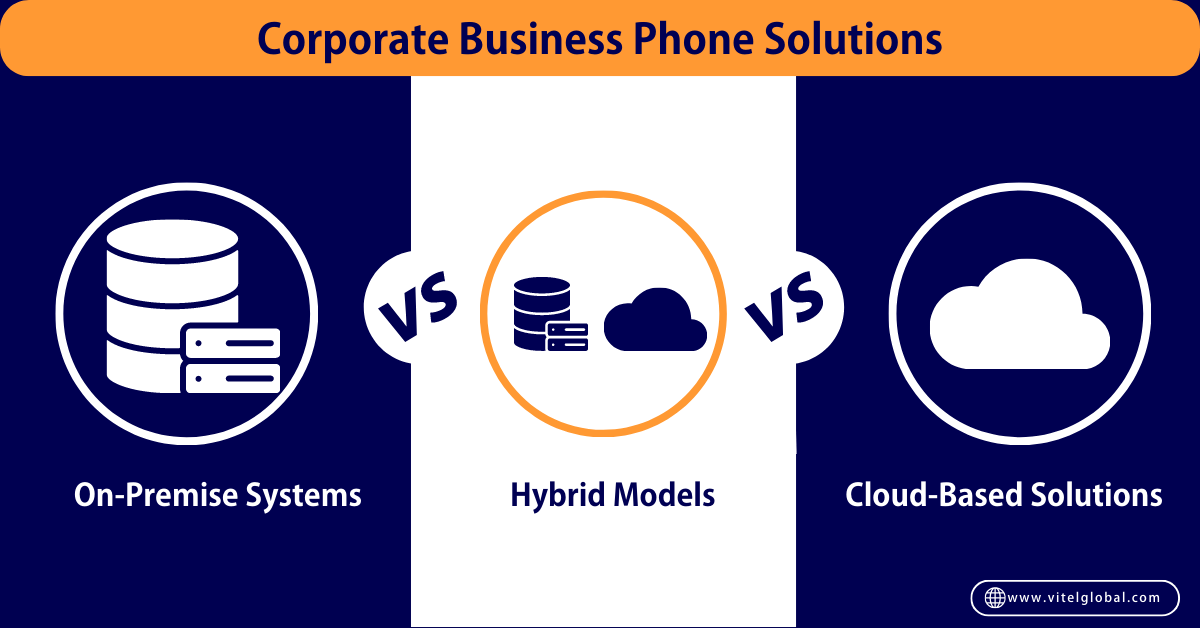 Reading Time: 6 minutes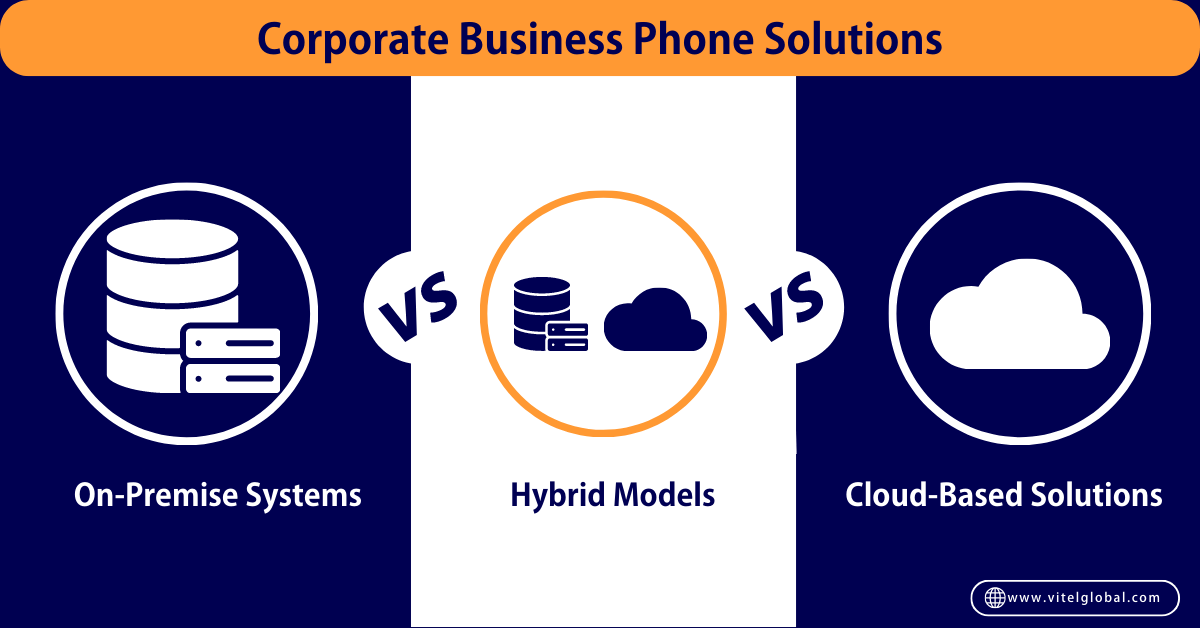 This article will compare On-Premise Systems vs. Cloud-Based solutions vs. Hybrid models for your business phone systems. We will discuss the benefits and disadvantages of the three, along with when you should choose one or the other.
If you're reading this, you have an excellent chance to decide. In today's world, every company tries to use up-to-date technology, so their employees are as efficient as possible. Systems, whether for voice or data, are seen as a way of improving employee performance and cutting costs. It's hard not to see the positives of modernizing your business phone systems.
On-Premise Solutions:
These are used when you have a physical access point or a PBX across your organization. You're paying for this today and will continue until a replacement is paid for or until the technology becomes obsolete.
An on-premise phone system is the most basic form of corporate PBX. It is usually deployed using one of the following setups:
With an in-house system, it's much easier to save money when upgrading your business phone system. The fact that hardware and software are purchased directly from manufacturers allows this to happen.
Cloud-Based Solutions:
These are used where you don't have a physical access point, and the PBX is accessible across different networks, so you can easily use the same sets of equipment across multiple locations. You don't pay for these services by the month but rather just a set cost per device. Usually, you would be paying a service provider less than what you would be paying to ensure your phone system is up and running, so this can be good news if you're looking to save money while cutting down on call costs.
The world of technology today is changing rapidly, so both on-premise and cloud-based business phone systems will constantly evolve. Cloud may mean you have to choose between your premises or a cloud-based system, which could mean you have to take on a new solution with a completely different set of features. The cloud can often lead to embarrassment if your current system is behind the times when it comes to the newest technology, so it's worth looking into which telephone system is right for you and deciding whether you should upgrade your existing phone system.
Cloud phone systems for business have been lauded by everyone, from business publications to technology experts to everyday business owners. Their cost savings are enormous, with no upfront costs and monthly billing based on the number of employees and calls made. The technology has advanced so much that voice quality is high, busy signals are a thing of the past, and call transfers can happen even when calls are transferred between multiple locations.
Hybrid Systems:
Hybrid systems also offer cost-saving benefits over legacy systems, but they do so differently. For example, hybrid systems can utilize cloud-based features while utilizing existing infrastructure for other valuable functions such as faxing and voicemail. Hybrid systems can save a company money when combined with a cloud system for an employee's voicemail and faxing. Also, should an employee move to another location not connected to the cloud-based system, the hybrid model would still allow that office to receive voicemails and faxes.
Let us take a closer look into these models to determine which might be perfect for your business! Which modular server is for you?
Convenience:
Businesses usually opt for on-premise systems due to their trendiness and popularity. However, you must plan since you must allocate a budget for servers and storage equipment. You must also hire experts who will design and configure everything most efficiently.
Cloud-based solutions are perfect for a startup or small business needing more funds to purchase their server. On top of that, they can scale quickly as your company grows! You also don't have to worry about the hardware, as an external provider manages it.
A cloud-based business phone system can be a great cost-saving solution over extended periods if it offers enough resources and capacity compared to your business's needs.
If you want to try both models at some point, then a hybrid model is the perfect solution. Some companies that are experiencing growth in their workloads end up committing to cloud-based solutions. Others prefer to buy on-premise systems for the long term. The great thing about hybrid models is that they allow you to switch between them!
Security:
Regarding security, on-premise systems are not secure, as malicious attacks or a natural disaster can breach your data and infrastructure.
Cloud-based solutions are secure because they are hosted in a public cloud. Cloud providers take care of security measures and guarantee specific protection.
Hybrid systems offer the best of both worlds-your data is safe, but you can access it on-demand without any problems.
The Future:
Cloud-based solutions continue to rise in popularity as more companies jump ship from on-premise systems! Cloud-based might be because on-premise solutions are expensive and take time to implement, making them inconvenient for companies trying to save costs and money.
On-premise solutions are great if you're looking for an efficient way to manage your infrastructure. They can also provide you with complete control over the security of your data and its protection in case of a natural disaster. However, they might cost a bit more to implement and run.
Hybrid systems offer the best world flexibility, cost-effectiveness, and simplicity!
As long as you plan, nothing is stopping you from deciding between one of these three models!
Cloud computing enables users to access their data from any place at any time by using the internet as a medium. It works through the cloud or a remote server communicating via the internet. 
This service is quite convenient for users and helps them access their data remotely.
A Business Phone Solution for the Modern Workplace:
Ultimately, it comes down to what business owners want from their phone solution. Cloud solutions offer enormous cost savings but require employees to learn new systems and put their trust in vendors. Hybrid solutions are more cost-efficient than traditional on-premises systems but require some small initial investment and ongoing upkeep. A hybrid solution can also serve as an excellent initial step toward cloud solutions if the organization would prefer to use more cloud-based options in the future. In most cases, a hybrid solution should support both on-premises and cloud solutions and improve productivity overall.
Giant corporations like Microsoft, Cisco, and Google have tried implementing the corporate hybrid model to increase productivity and cut costs. But what is a corporate hybrid model? A natural combination of business phone solutions like VoIP with mobile technologies. Here we will explore some exciting options available to businesses so you can decide which business phone service best fits your needs. Before deciding on a solution, here are some important considerations:
Cost:
Depending on your business type, the cost may be essential when deciding which solution is best for your company. The "hybrid" model may be the most cost-effective business phone solution for you; your business may only have to pay for some of the costs associated with operating a VoIP system and mobile technology, depending on your chosen solution. The hybrid model decreases phone costs if you already have the infrastructure, such as broadband connections and wireless technology.
Mobility:
Whether your employees are at the office or away from their desks, they must be contactable and reachable 24/7. With mobile technologies in action, your phone system must be able to access this information to provide mobility across the board.
Interoperability:
You want a solution that can work with other parts of your business infrastructure, allowing you to work more efficiently. A unified phone system is a solution that will enable you to integrate different types of communication by making it all accessible through your one phone system, thereby creating an integrated communications platform. This hybrid model makes it easier to quickly and easily integrate all devices into a seamless network, streamlining your business processes and data entry.
Automation:
To truly reap the benefits of a hybrid phone system, you must automate your business processes throughout the organization. The hybrid model allows for seamless integration of voice and information technology solutions, making creating a more efficient and secure communication platform easier. You can use automated dialing software or computer-automated menus to provide secure access to calls without keypads or passwords.
Corporate Business Phone Solutions:
Hybrid models are becoming increasingly popular as businesses realize how to use mobile and VoIP technologies to improve their communications systems.
The modern workplace is evolving, and how we communicate is growing.
Do Business Phone Solutions Need To Evolve As Well?
Yes. While there are several options, two models have risen to the top and seem most likely to succeed in taking over from an aging, inflexible system. Cloud-based solutions offer enormous cost savings in the form of no upfront investment for hardware or system installation, but hybrid systems combine on-premises components with cloud solutions.
Conclusion: 
The bottom line is that business phone system solutions must fit into the suitable model for today's modern workplace. Whether you want cost savings without any up-front investment or a tiered system with ever-improving technology, business owners need to look at what their needs are now and what those needs will be five years from now.
On-Premise Systems vs. Cloud-Based Solutions vs. Hybrid Models
You can use on-premise systems, cloud-based solutions, or even a hybrid model, depending on your business needs. Each model has pros and cons, so it is up to you to determine which is best for your business!
Published: March 14th, 2023