Remote Communication Tools: Ensuring Security for Hybrid Work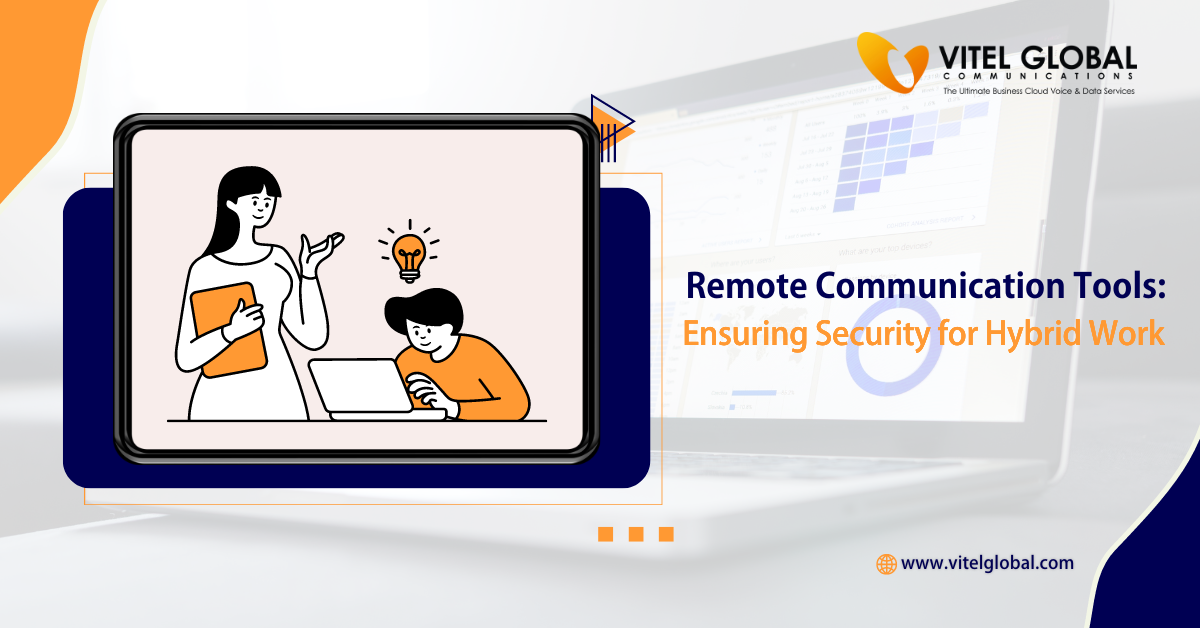 Reading Time: 5 minutes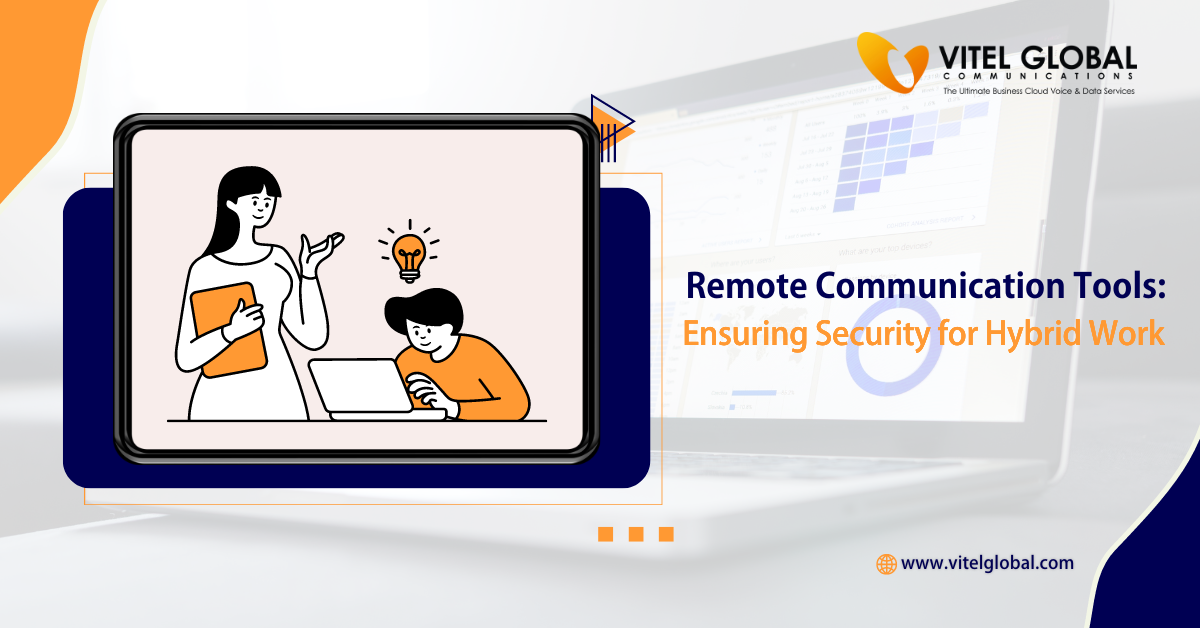 In this current market, remote work culture is being promoted very well. Post the pandemic, many companies have successfully opted for a hybrid or remote work culture. Although employee productivity remains untouched, promoting such work cultures has a few challenges. These work cultures may only be suitable for some types of organizations because of the challenges they pose to the employees.
One of the main concerning challenges in such a work culture is communication. Business communication is vital in engaging the employees and motivating them to work towards the goals. Post this, the employees can also collectively collaborate and work for mutual benefit and achieve the company goals.
In the case of a remote work environment, the location barrier between employees enters. Although this is all right, with certain roles requiring the least interactions, a few particular designations regularly require the highest possible communication with the internal team or the external audience. There are also positions that have to deal with several calls each day. For those positions, a remote working environment might be very challenging.
Business Communication for Remote Employees:
Unlike earlier days, there have been recent technological improvements that support business communication in the organization. These technical changes are most definitely suitable for the corporate industry and help in various departments. Most small businesses choose virtual communication tools as a medium of interaction to eliminate unnecessary costs and enhance communication processes in the organization.
What Are Remote Communication Tools?
Remote communication tools like business phone solutions, unified communications, IP phone services, and PBX solutions are gaining more popularity daily. These phone solutions offer several other features compared to the regular phones installed for residential purposes. Their features make the daily tasks of employees easier and assist in maintaining healthy relations with the customers or audience.
Many global leaders use these tools, and many small businesses are now switching to using them because of their value-adding benefits. Although they offer several features, they are sold at a very reasonable price, making them suitable for any organization. These tools are designed to be user-friendly and can be used by any company irrespective of their company profile or the size of the teams.
Henceforth, the demand for these tools is always rising, and according to a few forecasts, they will trend in the business world soon. Before a company opts for these tools, it is very necessary to understand its functioning in detail to have a better understanding.
As discussed, certain communication tools can help remote employees stay connected with the organization and maintain healthy relationships with their customer base. Here is how:
1. Business Phone Solutions:
Business phone solutions are one of the most popular communication tools used in organizations because of their various features. They offer services like call conferencing, call recording, call monitoring, call flip and many others, which can make employee tasks easier. Employees can use these services not only to make calls but also for a better interpretation of the information.
It helps the employees maintain professionalism in the organization and in employees who work remotely. They can separate their personal and professional calls despite location barriers. It can route calls according to employees and departments. Hence customer relations become much simpler.
2. UCaaS:
Unified communications are similar to business phone services but with a little twist. The primary motto of unified communications is improving employee productivity and collaboration. It is best suited for remote employees as its features include video conferencing, screen sharing, instant messaging and group messaging. These features can contribute to running successful meetings and keeping the employees connected.
Along with the features mentioned above, it also allows you to record and store calls in cloud storage which the management can easily access. Only people with the right credentials can open and access these files.
3. API Communications:
API communications are an important form of any marketing strategy. It is a form of communication where you can imbibe communication methods like texting, emails, social messaging, calling numbers and others to an existing app or website. It will increase your customer engagement rate as communicating with them is now more challenging.
Many companies already use API communications as a part of their mobile app or website to solve their customer's queries and concerns. Chatbots are a major example of such tools. Only the management can access the information.
4. PBX Solutions:
The private branch exchange systems are further divided into two major parts known as the hosted and cloud PBX solutions. They offer additional features like voicemail to email, auto attendant, call forwarding and conferencing, mobile applications and many more. The hosted PBX allows you to own the entire hardware, while the cloud PBX ensures to perform the same tasks online.
These PBX solutions are very affordable and scalable. They can grow and survive according to your organization's needs and requirements. Every company aims to grow over time, and these solutions can be long-lasting as they grow with you.
How Secure Are These Remote Communication Tools?
Before implementing any new technology tool in the organization, security and privacy are major concerns for any business owner. There are high chances of employees passing confidential information by using these tools as a medium. To ensure that this information is not stolen or leaked, here is what you can consider
Access:
Ensure the management has access to all the data collected and stored. The credentials should only be passed on to some in the organization except the people and employees responsible for that particular data. Ensure to keep changing the passwords regularly so that no outsider can intrude.
Tracking:
The management should be mindful of phone solutions and the employees using them. It should show data usage and tracking it. Analyzing and making month-on-month reports for the same will provide detailed insights into its optimum utilization. The top-level management can also use this system to track particular individual activities and conversations.
Service Provider:
Before choosing to install these services blindly, it is important to recognize that they will stay in the organization for a long time. Choosing a provider who is trustworthy and loyal is important in aspects of customer support and terms of security. You will receive high-quality products with no existing malware installed, only from top providers in the industry.
Considering the above facts will help you install better service in your organization. It can help you monitor your hybrid and remote workers' performance regularly. A few activities that you can do regularly to ensure hybrid work security are:
Regular Meetings:
Scheduling regular meetings with remote employees to make updates on their tasks is very important. You can use unified communications as a source of the meeting as it can assist you in creating effective and efficient meetings. It can help you share data through screen sharing.
Group Discussions:
Ensure the remote and hybrid employees feel that they are been including in any decision-making activity. Treating them equally like any other employee and considering them in meetings is important. So scheduling virtual meetings and considering their input is a must. They can further record and report the meetings to higher management.
Personal Space:
Although the employee works from home, including in their matters is not healthy for any team leader or manager. Employees should have their activities differ from the regular professional activities. The management should only track their professional tasks and report them.
Published: April 11th, 2023