SMS vs. Email Marketing: Which is the Better Option in 2023?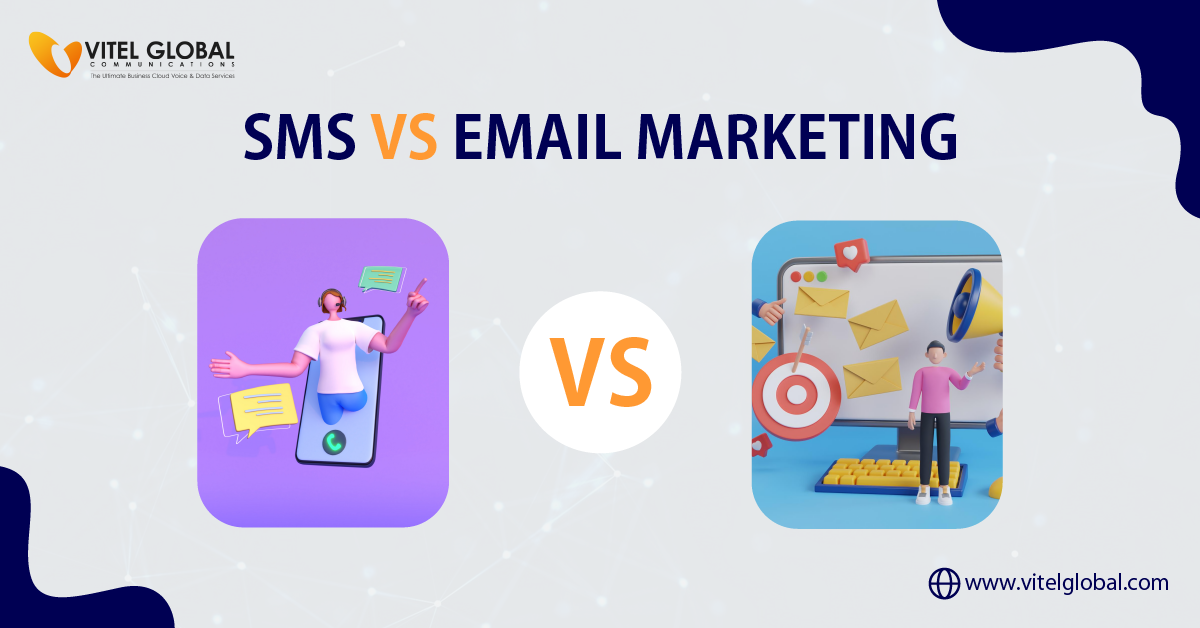 Reading Time:
4
minutes
SMS Vs Email marketing is the comsideration factor in today's digital age, but businesses can connect with their targeted customers through various marketing channels. Both channels have distinct advantages and disadvantages, so companies must carefully consider which to use to meet their marketing objectives.
Email has long been a reliable way for companies to communicate with large groups of people. But as the prevalence of smartphones grows, SMS messaging is quickly emerging as a significant new channel for reaching out to clients.
SMS, also called a text message, stands for short messaging service. Today, businesses SMS feature to reach customers directly on their mobile devices and inform them of new offers, special discounts, appointment reminders, and time-sensitive updates.
While SMS and email are proper channels for reaching out to your customers, some messages are more appropriate for each other. Email is a great way for longer, more explantory messages with images and attachments.
SMS is the ideal communication channel for brief, pertinent information or discounts. When used correctly, email and SMS are complementary channels that can be used to provide seamless customer communications.
What Method Is Preferable—Email Or Text?
Although there is no magic solution for fusing your digital and marketing campaigns, many communication strategies can be made even more successful when SMS is used in addition to email.
On the day of the appointment, you can send your customer an SMS reminder and an email confirmation of the appointment. Similarly, you can send a brief mass text message to your customer base, encouraging them to join your email list for special deals and promotions.
These innovative methods give your company more chances to start or continue worthwhile conversations with your customers.
These considerations should be made when deciding whether to send an email or text message:
Exactly how urgent is the communication?
Is two-way communication necessary to convey the message?
Does the message include rich media?
Should your clients have access to this message in the future?
Differences between SMS and Email Marketing?
Unlike emails, SMS is typically sent instantly and has a much higher open rate. Additionally, because they can be customized to the recipient's preferences and interests, they offer a more individualized experience. On the other hand, emails give marketers more latitude regarding the design, content, and tracking options, enabling them to monitor how well their campaigns are performing with customers. 
SMS Marketing:
SMS marketing, also referred to as text marketing or message marketing, is a type of marketing strategy in which alerts, offers, and promotional messages are sent to clients via text messages.
This advertising uses mobile technology and frequently targets particular customer segments based on their preferences or behavior. SMS marketing is frequently used to advertise goods or services, build brand recognition, and encourage client loyalty.
With a clear call-to-action intended to entice customers to participate in the promotion or offer, SMS marketing campaigns typically send brief and concise messages. Due to their high open rates, quick response rates, and low cost, these marketing campaigns can be very successful.
Email Marketing:
The practice of sending advertisements, newsletters, or promotional emails to a list of recipients via email is known as email marketing.
It is a familiar way for businesses to advertise products or services, share updates or news, and cultivate customer loyalty. It is a cheap way for businesses to reach their target market and increase brand recognition.
Typically, email marketing campaigns involve building a list of subscribers who have consented to receive emails from a business.
The emails sent as part of these campaigns are frequently personalized and segmented to target particular customer groups based on their preferences, behaviors, or demographics. The open, click-through, and conversion rates of the emails sent to customers determine whether email marketing is successful.
SMS vs Email Marketing:
When comparing Email and SMS, kindly consider the following points.
Open Rate: 
SMS has an open rate of 98%, as people are more likely to use their phones in their hands. It can be more successful than emails due to its high open rate. By doing so, we can get more customer responses and interaction between you and your clients.
Unlike emails, which may take up to 90 minutes to be opened, text messages are typically read 90 seconds after being sent. SMS marketing efforts benefit from their immediate nature by capturing customers' attention and establishing direct communication.
Click-Through Rate:
Generally speaking, SMS marketing has a higher click-through rate than email marketing. Unlike email marketing, which typically has a click-through rate of 3%, SMS marketing typically has a click-through rate of about 19%.
Customization:
Numerous customization options exist for SMS and email marketing. Marketers can tailor SMS messages based on the customer's location, preferences, past purchases, or other factors. It can ensure that the message is pertinent to the audience and interesting to them. Marketers can use specialized keywords, URLs, and tracking codes to determine the effectiveness of their campaigns. 
Marketing professionals can personalize emails by using personalization tags. As a result, they can personalize emails with the recipient's name, business name, or other details.
Additionally, marketers can create customized messages based on a customer's location, past purchases, or other factors.
Deliverability:
Since most text messages are opened shortly after delivery, SMS marketing typically has a higher deliverability rate than email marketing. Text messages have a lower chance of being classified as spam than emails.
However, because email marketing messages must pass through numerous spam filters before they reach their intended recipient, they have a much lower deliverability rate.
You can choose a delivery method based on the message and the purpose of the communication. SMS marketing will be more valuable if you want to alert your customers to a limited-time offer, but email marketing is more effective if you want to solicit feedback.
Which One Is Better?
Which channel would be most effective for your company: Email or Text? ? Can you use both at once?
As a new digital marketing channel, SMS marketing has experienced significant growth and success. It is easy to understand why this adaptable and real-time brand messaging solution proves to be a very successful way to interact with your e-commerce customer base.
Of course, this does not imply that email marketing is not beneficial. Many contemporary businesses have enjoyed great success with carefully thought-out email marketing campaigns. Many variables can affect how well your marketing strategy is carried out. As previously mentioned, there are no set rules or ways to achieve your business goals.
In the end, it depends on what your brand hopes to accomplish. You can use both channels and help your business succeed by finding the ideal combination for your marketing strategy. Having a capable communication module at your company will add more value to the strategies you develop and their implementation process. You can use our business phone services, customized per industry standards to meet your requirements.
Published: July 13th, 2023
Subscribe to Our Latest Updates
Get monthly product and feature updates, the latest industry news, and more!
By submitting this form, you agree we may contact you in the manner described in our Privacy Policy.