Tips for Text Messaging for Promotional Purposes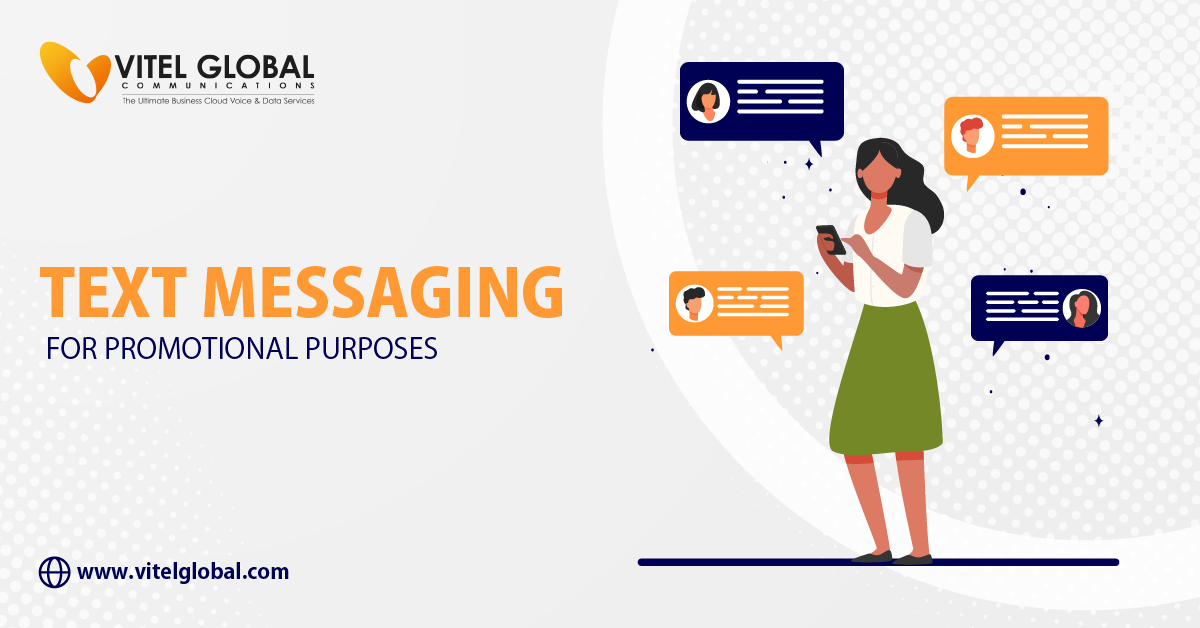 Reading Time:
5
minutes
One of the simplest ways to reach your target audience is through SMS marketing. According to many companies, Text Messaging is gradually replacing email marketing
With a 95% open rate, text-based marketing has huge potential—as long as the copy is written well! As a result, text message advertising is becoming increasingly significant.
If you want to secure or connect with a new customer for your improving business communication, you must understand how to use this straightforward yet complex kind of advertising.
Tips for Text Messaging:
Here are our top 10 writing suggestions for text messages that promote your business to help you expand and promote it more effectively:
Add Your Company Name
Keep the timing in mind
Stay Brief
Include the "Unsubscribe" Option
Double Check!
Be Clear
Don't Use Slang
Add links that are mobile-friendly
Add a Sense of Urgency
Don't be hesitant to customize
Let's explore each one in more detail to see how you can improve your Text Messaging to attract leads and close sales.
Don't Forget to Add Your Company Name:
To start, make sure to always include your company name in the message. For whatever reason, even if something appears clear, you might not pay enough attention to it and end up forgetting it.
Unknown phone numbers can be difficult to track down, and even if someone is interested in the deal you're providing, they might back out if they don't recognize the caller. Therefore, always remember to identify yourself, plus it's a free advertisement!
Timing:
It's not a good idea to send texts at any time of the day. How likely it is that someone will read a message at 5 or 6 am or during business hours? When making a schedule of your Text Messaging, you should consider what time of day when your potential clients are most likely to use their phones.
The optimum times to send a message are usually during lunch or after work, but there are many factors to take into account when choosing the time, including passive vs. active time.
Because most people don't check their phones while driving, at least we hope they don't, you shouldn't send an SMS during rush hour.
Be as Concise as Possible:
A good SMS copy should be no longer than 150 to 160 characters, or the length of a tweet. You have between 150 and 160 characters to convey your message.
Remember that nobody wants to read a lengthy message for hours on end. So avoid unnecessary topics and stick to the topic at hand, keeping it brief and concise.
You can prevent irritating your audience by keeping your sentences short (and saving you and their valuable time).
Include an Unsubscribe Option:
Always provide an option for your target audience. When sending out a promotional text message, take this in mind as well.
Nobody enjoys receiving texts from strangers regularly. Customers shouldn't be annoyed if they aren't interested in your company for whatever reason; otherwise, your brand reputation is at stake.
To allow users to stop receiving messages if they don't want, make sure you include an unsubscribe button. As fewer unread emails are sent out over time, you will also save money by doing this.
Double-check Your SMS Copy:
It's crucial to proofread. Remember that your brand is the source of the promotional text message that was sent out. Therefore, the success rates rapidly decrease if the text contains even minor grammatical errors since recipients do not trust SMS copies that are poorly written.
They might first assume that the business is a scam or at least a spam message. Verify the text message for any grammatical or spelling mistakes to preserve the reputation of your company.
Be Clear:
Make sure the recipients of the Business SMS take action after receiving it. Therefore, both your message and call to action need to be clear.
Your chances of getting individuals to respond to your promotional text messages will probably decline if you utilize phrases and sentences that are extremely complex or complicated.
When distributing the message, make sure it follows a clear narration and instructs the target audience on how to do certain actions to gain a specific advantage. Send your message to your friends or family members and ask them to read it before sending it to the client
Don't Use Slang:
No one is advising you to write in Shakespearean English, but you should also refrain from using slang. Slang-heavy messages can occasionally fall flat, much like the humor, and you risk upsetting or alienating your audience.
People typically appreciate communications that are formal but not overly formal, so be careful when choosing your phrases to stay away from either extreme.
Include Mobile-Friendly Links:
Don't judge a book by its cover may not seem as crucial as the other things on the list, but it is nonetheless true. People receive marketing texts on their mobile devices, and if the link you provide is not mobile-friendly, some of them will quit halfway through and are likely to unsubscribe.
Check any links or URLs before sending out bulk emails as this is a component of making your business easily accessible to your customers.
Add a Sense of Urgency:
The offer you make in the text message should be urgent-looking or at least convey urgency. If not, the intended audience can read the message, put it aside for later, and then finally forget about it.
Offer-based messages should include a deadline or expiration date but don't push your audience. Make the procedure appear natural in its place.
Personalize Your Messages:
This is possibly one of the most crucial things to remember. Your target audience should be well-known to you by the time you are sending out your bulk mail. The message must therefore include something personal for the recipient.
You must now demonstrate that you are aware of their needs to win their confidence in your brand.
Your demographic information should be considered, including your age, gender, occupation, marital status, and other factors. The next step is to get creative and focus on the understated cultural nuances of your niche.
Promotional Text Messaging is useful for generating leads as well so that you can include more details in your message to understand your customers better.
Conclusion:
There you have it! These 10 easy steps will help you write a successful SMS marketing campaign. Use them as a guide and test different strategies to determine what works best for you and your brand.
The key ideas from this article are summed up as follows:
Businesses use promotional Text Messaging to send marketing and advertising content to customers who have subscribed, such as news about new products or coupon codes.
Promotional messages need to be issued with a documented authorization that demonstrates the customer opted in.
Promotional communications cannot be sent by businesses before 8 am or after 9 pm local time.
One of the best marketing tools for boosting interaction and expanding the audience for your company is promotional SMS.
The more you learn about SMS and gather information about what your subscribers respond to, the more you'll comprehend how to text your customers effectively.
Your marketing efforts will work better if you choose the correct SMS platform.
Published: June 27th, 2023
Subscribe to Our Latest Updates
Get monthly product and feature updates, the latest industry news, and more!
By submitting this form, you agree we may contact you in the manner described in our Privacy Policy.