Which One is Suitable for Your Business: UCaaS or VoIP?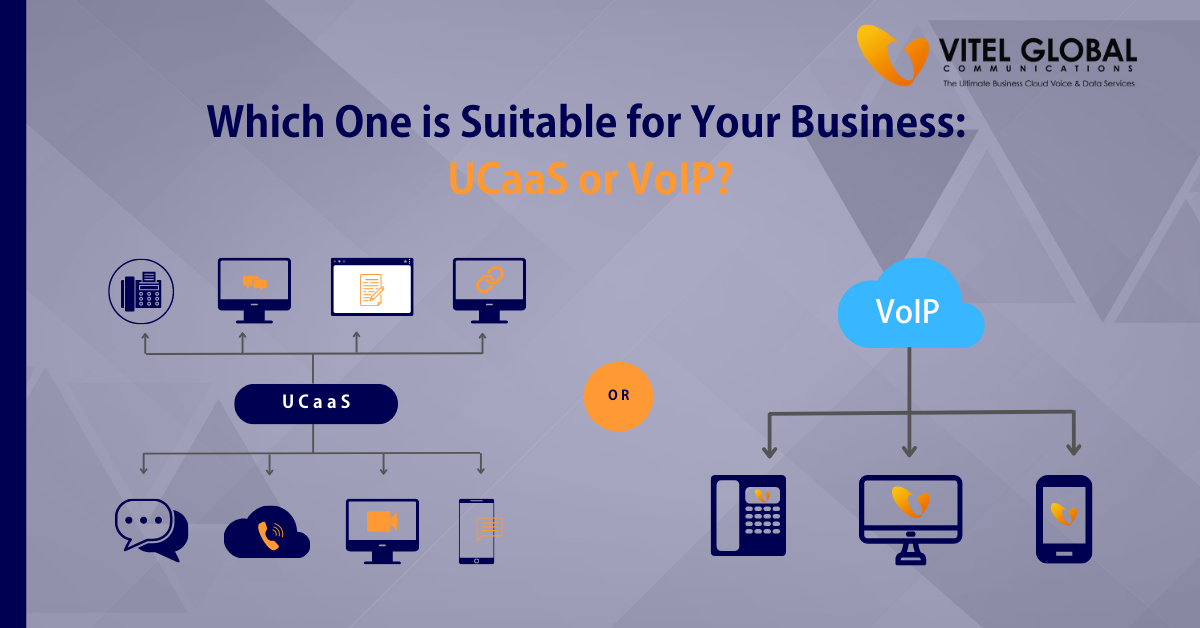 Reading Time: 4 minutes
Are you looking for the best business communication solution? With so many options available, choosing between UCaaS and VoIP can be overwhelming. While both technologies offer similar benefits, key differences could impact your decision. In this blog post, we'll explore the pros and cons of each technology to help you determine which one suits your specific business needs. Let's dive into it!
Introduction:
VoIP enables you to place voice calls utilizing a high-speed broadband Internet connection, rather than a traditional telephone line. The technology converts voice into a digital signal and travels over the Internet. It can allow you to make calls directly from your computer or use special phones.
Unified Communications as a Service is a cloud-based solution integrating different communication tools into one platform. It can include VoIP, instant messaging, video conferencing, and more. It is usually subscription-based, with different features depending on your chosen plan.
Businesses considering utilizing Voice over IP systems might need to consider which type is best for them. 
Unified Communications as a Service is the most popular form in today's market because it combines voice, video communications, and business communications desktop apps into one service that businesses can pay monthly.
The costs associated with UCaaS are still relatively low compared to the fees charged by traditional phone providers.
It's easy to see it quickly becoming so popular among many businesses. 
However, some drawbacks must be addressed before jumping into this type of system. 
It isn't necessarily the right decision for every business, but a few pros and cons must be considered before making a final decision.
Here's a quick look at some of the advantages and disadvantages of UCaaS systems.
VoIP providers will charge businesses for these "per minute" costs based on their contracts. 
Due to the popularity of UCaaS, many service providers have started offering unlimited calling plans to attract more customers. In addition to unlimited calling, businesses can enjoy other features, such as conference calls.
It is a great way to cut the costs associated with traditional service providers and get additional features like call forwarding, forwarded voicemail, and more. 
Not all services include unlimited international calling, so it's generally not a good choice for businesses with eight or more employees regularly talking to each other.
This type of plan is ideal for businesses that don't expect to have more than five regular employees.
In choosing an IP solution that fits your needs, you must also understand the difference between Unified Communications as a Service and IP Telephony as an Add-On (ITaaS).
The VoIP service provider's package includes UCaaS.
ITaaS is not part of your package and requires purchasing separate equipment. 
The providers require everyone using their services to have a compatible computer, tablet, or smartphone to use their services. 
Businesses can opt for UCaaS without including ITaaS in their contracts but choose ITaaS if they know they will need additional hardware like a private branch exchange (PBX). 
Many business IP providers offer the option to purchase additional services such as call recording, call forwarding, remote management, and other features while offering free cloud-based call recording and remote management software.
Benefits

:
Voice over Internet Protocol and Unified Communications as a Service have several benefits. The most notable ones are:
Cost Efficiency:

Both can help reduce your monthly phone bill by using the Internet to make calls.

Flexibility: 

Both can make and receive calls anywhere with an internet connection. It is ideal for businesses with remote employees or those with multiple locations.

Scalability: 

Both can be easily scaled up or down to accommodate your business's changing needs.

Enhanced features: 

Both will offer features that traditional phone systems cannot match, such as call forwarding, caller ID, voicemail, and 60+ Business Phone Features.
What Are the Differences Between them?
Several key differences exist between both Services. For businesses, the biggest difference is likely cost. VoIP is typically less expensive, although the price difference will vary depending on the features and services included.
Another major difference is scalability. Voice-over protocol can easily scale up or down to accommodate changes in business size or call volume. In contrast, UCaaS may be more difficult to scale due to its reliance on cloud-based infrastructure.
Both differ in their approach to voice communication. At the same time, UCaaS uses a cloud-based platform to manage all types of communication (including voice, video, chat, and email) in one central place.
Advantages:
There are several advantages of VoIP over UCaaS. For one, it is generally less expensive. Additionally, it offers more features and flexibility. For example, you can route your phone calls through your computer or a traditional phone line. You can also use it to make calls from anywhere worldwide, as long as you have an internet connection. It is often more reliable since it uses your existing internet connection instead of relying on a third-party service.
Disadvantages:
There are some disadvantages of VoIP, such as:
It is less reliable than a traditional phone line

It can require more bandwidth than a traditional phone line

More expensive than a traditional phone line
Unified communications can also have some disadvantages, such as: 
It can be complex to manage and setup

It can be more expensive
How to Choose Between Them?
Both cloud-based solutions are very popular among businesses of all sizes. 
Cost: 

Both solutions can be very cost-effective, but VoIP may be the more affordable option for small businesses.

Features:

 Unified Communications as a Service offers a more comprehensive suite of features. It is better if you need advanced features like video conferencing or integration with CRM systems.

Scalability:

 Both can be easily scaled up or down to meet changing business needs.

Reliability:

 Unified communications are generally more reliable since it uses dedicated servers and networks. However, both technologies are quite reliable these days.
Ultimately, the best way to decide between them is to try them out and see which works better for your business.
Conclusion:
In summary, there is no one-size-fits-all solution when deciding between both for your business. You need to consider the needs of your particular business, such as budget and current infrastructure, to determine which type of service will best meet those requirements. Both offer advantages that can provide great value for businesses looking to stay connected and productive. With an understanding of what each offers and how it fits into your organization's goals, you should be able to decide which is right for you.
Published: May 11th, 2023