How to Choose the Right Business Phone System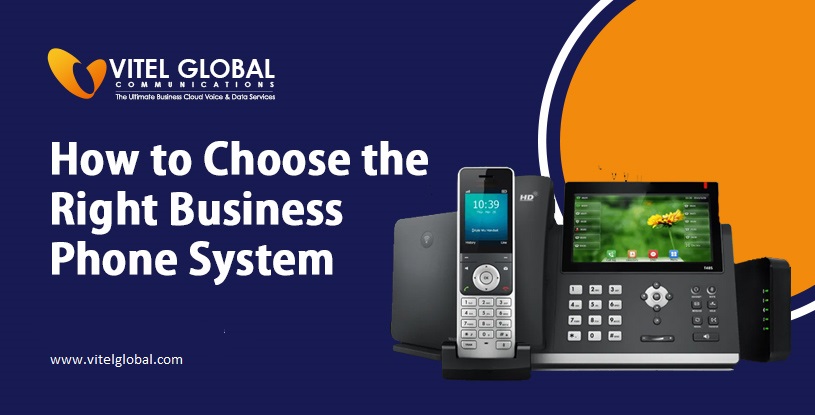 Reading Time: 4 minutes
In this blog you will learn about how to choose the right business phone system for your organization. And also you will learn about VoIP features.
One of the dominant, successful technology implemented in the communication world replacing the traditional phone systems is VoIP. Voice over Internet protocol (VoIP) is a new way of communication technology implemented in businesses or in residential areas. It is a technology that allows users to make telephone calls over an IP network or the internet by sending sound packets between the receiver and the caller. The communication process in the VoIP technology follows the process of sending data packets over the best path avoiding jitters and latencies.
Businesses small to big have changed the style of communicating with their clients mainly residing out of the boundaries. There are many benefits provided by the organizations bringing huge profits compared to the implementation of traditional phone system bills.
Before learning the benefits obtained through the implementation of the VoIP system in your business, let us see what VoIP in technical terms is? working of VoIP, and other details.
What is VoIP?
VoIP stands for voice over internet protocol, also called IP telephony. It is a process of delivering voice communications over the internet. VoIP converts analog voice signals to digital signals using the internet. This technology is becoming popular day by day because of the many benefits and advantages delivered by the VoIP phone system. The VoIP phone system has become a remarkably successful communication tool in diversified business areas.
Types of VoIP Phones
There are two types of VOIP phones which can be setup for your business communications requirements
Hard phones
Hard phones are like traditional phone systems which can be set up on your desk that can be used for

Access voicemail
Forward calls
Uses handsets, Bluetooth, headsets, and speakerphones
Arrange conference calls
Call blocking

Soft Phones
Softphones mean making calls through apps installed on your computer, device, tablet, or mobile phone.
VoIP Working Process
The VoIP phone system implements packet switching technology that converts analog voice signals into digital signals or voice over the internet.
When a VoIP phone receives the digital signal from another VoIP phone, it classifies the digital data into information packets by putting the destination address on each data packet.
After the router receives data, it reaches the destination using the shortest path.
The data packets are converted again into voice or sound at the receiving side by putting the data packets in the correct order.
Features of VoIP phone
The features of the business VoIP phone system delivered by the VITEL GLOBAL phone are
Call Barge
Automated Call Distribution
Call Recording
Online User-Interface
Call The queue
Live Call Monitoring
Call Whisper
Voicemail Transcription
Reporting and Analytics
Virtual Attendant (IVR)
Call Groups
Benefits of VoIP Phone System
To choose the right VoIP phone system, one must lookout for the best features integrated that make it a powerful communication tool to meet your business needs.
No need of changing the existing number you are using in the present.
Allows parallel calls to interact with multiple users at a time.
Provides access to many features of the VOIP phone system.
Delivers higher audio quality.
Crystal clear voice.
cost savings
Cloud-hosted PBX solutions are high-cost savings as clients invest money only in the services that are required to be handled in the cloud.
Time Savings
The setup time for installation, analysis, and provision is very less compared to the traditional phone system. Time can be saved in server maintenance; up-gradation of software is easy.
New Hardware
No need for buying additional hardware as a phoning system, such as an old phone system. Can be used as it can be interfaced easily with the existing infrastructure or hardware.
Flexibility
It is very flexible as the cloud PBX system provided by top PBX providers allows anyone to connect from anywhere across the globe using a smartphone, desktop, or PC, which allows employees to work from their homes.
Advanced features
Many additional features like calling control, voice menu, time conditions, call recordings are upgraded continuously with no additional cost and effort.
High-Quality
High-quality voice calls are delivered through cloud-hosted PBX over the internet with better compression rates and high internet speeds which are upgraded accordingly.
Scalability
It provides high scalability as it can easily scale to meet high usage capacity depending upon the user requirement related to resources.
Real-time monitoring
Security
VITEL GLOBAL promises every business area for delivering the modernized communication platform to reach out to your clients or customers henceforth becoming successful in the market with cost-effective technology.
Every business irrespective of its size are trying to modernize their communication system by learning the commercial benefits obtained through the VoIP which is very inexpensive, easy to install and manage as they can be used from remote offices or homes and save your money.
Multiple Tasks, Single Platform
Employees can work on multiple projects linked to multiple clients into a single system that delivers a single bill thereby avoiding a monthly billing system.
Free Calls
Make free calls or internet calls on VoIP irrespective of geographic location which is the biggest saving for your organization as no need to pay additional bills for making international calls as in traditional phone systems that incur separate tariffs for international billings.
The main benefit of the VoIP phone system compared to the traditional analog phone system is its features. Which are not include in the analog phone like call recording, call forwarding, IVR as mentioned before that doesn't incur any additional charges to the organizations.
Tie-Up with The Best VoIP Provider
Vitel global provides the best and affordable business phone system to make and receive local to international calls at standard rates thereby reducing huge telephone bills.
No Additional Lines
If you are planning to expand your business then there is a high increase in demand for communication with the clients who reside over the boundaries.
Unified Communication
No need to have a separate communication platform for clients and businesses working from office or from other remote locations as the teams working on a single project can communicate easily utilizing the advanced features of the VoIP business phone.
Handle Multiple Projects
Organizations can achieve high productivity by handling multiple projects. They can meet the deadlines on or before time as you need not handle separate networks for voice and data.
Invest in VoIP Of Your Choice
Organizations can implement hosted VoIP or premise VoIP systems. Where you require an in-house expert to maintain the premise VoIP phone system. Hosted VoIP service provider takes the complete responsibility of managing the VoIP calls on a monthly or annual basis.
We suggest the organizations go for hosted VoIP provider as it is reliable, cost-effective, and easy to set up and manage.
Published: November 3rd, 2021