What are The Benefits of VoIP CRM Integration?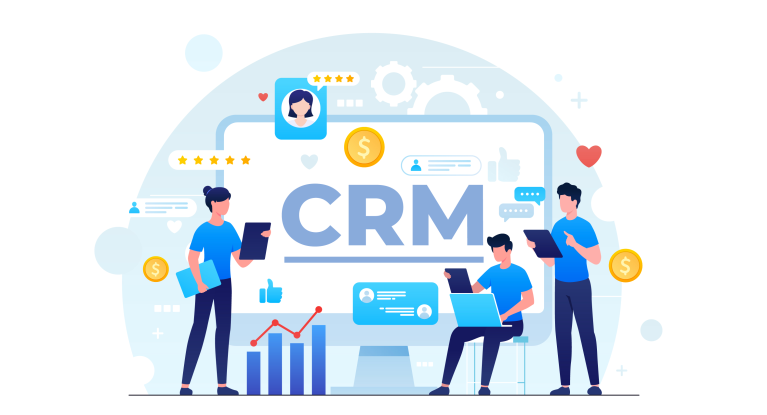 Reading Time: 4 minutes
Businesses can benefit from VoIP CRM integration by focusing on the overall customer experience. One of the biggest advantages of using VoIP services in firms is maintaining and achieving good customer relations through excellent customer service. Certainly, our readers get uncertain about the statement that VoIP increases companies' productivity through integrations.
The answer is straightforward, a company's performance increases directly to how well its customers are treated. Therefore, improving customer service must be the one goal of all activities.
CRM stands for Customer Relationship Management, whereas VoIP refers to Voice over Internet Protocol. 
Integration is the process through which two systems come together to function as a single system. It allows the team to transfer data among themselves without needing user input or interaction. This can give operations more time and creates a smooth workflow, which boosts productivity.
What Does VoIP CRM Integration Offer?
Through VoIP CRM integration, customer relationship management software and the VoIP service you use for calls can be linked in order to better track and manage sales leads, prospects, and clients. 
Reducing the effort spent manually inputting data into various systems can improve productivity. In addition, it makes it simpler to organize each client's information so that it is always accessible wherever you need it. 
Integrating VoIP with your CRM system will assist keep everything in one place whether you use it for all or some of your business communications.
A VoIP Phone System: What Is It?
Voice over Internet Protocol, known as VoIP, enables one to place calls without a regular phone line by using an Internet connection. It is different from conventional phone networks. Using VoIP, calls transmit as data packets rather than analog electrical impulses. 
As a result, VoIP phone systems can be utilized on any gadget, such as a tablet, laptop, PC, or phone. Numerous advantages come with the cloud phone system, such as cost savings, increased freedom, scalability, and many more.
What is CRM?
Customer relationship management (CRM) is software that has been developed to manage your company's relationships with present and potential clients. It gives the organization an advantage in terms of business intelligence.
There are multiple advantages of connecting CRM with cloud phone systems:
1. Detailed Analytics Can Help in Increasing Sales:
With the help of CRM, firms can stop guessing at the results of efforts and see their true impact on the sales department. 
Business intelligence can perform a thorough examination of the operations to gauge the effectiveness and real Return on Investment (ROI). You can also examine the contact center agents gain access to examine the records of their call activities from which they can gather crucial data for the sales process.
2. Set up Calls and Process Reminders:
Integrating CRM increases efficiency and reduces supervision when it comes to the follow-up of your present and potential customers. 
You can create sales processes that are unique to the business, plan the various parts of call activities, and set automated reminders. Such steps can significantly increase the agent's productivity while assuring your team's compliance at each stage.
3. Detailed Information About Your Clients:
Once the integrations are completed, a window that displays all pertinent information about the customer on the other end of the line immediately appears when calls are placed or received. 
Access to the customer's profile, analyzing the history of transactions, requests, emails, and other important information can be easily gathered to get to know the business counterpart and prepare for encounters.
4. Lead Handling:
Keep track of all team activities! Because the complete information is gathered in one location by proper monitoring. The business agents can track the development of the attempts made to connect with prospects. Agents can enter the description of the calls that are in progress and identify the stage of the process at which they are.
5. Customer Support:
Customer service improves when the cloud phone system is integrated with the CRM system in two ways: 
· It's simpler to access customer data; agents spend less time looking for information and more time speaking with customers on the phone.
· They have features like interactive voice response (IVR), which can route calls to the appropriate agent and give customer's options like menu-based choices and on-hold music.
6. Helps to Create Queues:
The team can create queues using cloud phone systems. It enables better management of customer support and guarantees that each client receives the time and attention they require and no call goes unanswered.
7. Greater Transparency, Greater Flexibility, and Increased Sales:
Many more companies are migrating their phone systems to the cloud in today's quick-paced, digitally driven environment. This choice is because they are available at cheaper costs, have more flexibility, and have more straightforward scalability. Cloud calling system also keeps changing and incorporates brand-new, cutting-edge phone features to fulfill the demands of your clients. 
At the same time, businesses of all sizes always look for innovative methods to enhance communication and expedite sales. For this purpose, CRM software integration is the right move in that direction. 
It enables improved tracking of all communications with clients, prospects, and business partners. Additionally, it encourages a customer-centric approach and gives you complete access to all client-related information in one location.
8. Increases The Outbound Calling:
Can improve outbound calls to prevent manually dialing customer phone numbers when technology and software are integrated. Agents can avail click-to-dial features directly within your CRM interface. This will help in contacting clients or prospects more quickly with its assistance. And since it is automated, there is less chance of a misdial.
9. Multi-Tasking:
The efficiency of the entire company increases as the staff members can focus on other duties that demand their attention. Cloud PBX systems have features that enable the automation of chores like dialing and call routing, saving their time to invest in more customer calls or invest their time in other activities of the businesses.
10. More time to generate, seize, and facilitate the management of leadership opportunities:
All data is accessible in one location when a cloud phone system and CRM interface are used. By this, calls placed and received on the cloud phone system can help to view all previous transactions and customer interactions in CRM. It gives a complete picture of each customer's interactions with the company.
Summary:
Integrate a cloud phone system with the CRM program to start working smarter. They can simplify for sales teams to get the crucial data they need to deliver outstanding customer service. It can also help in closing more transactions. The products and services that sales team may pitch are up to them. Also, they can estimate the right time when and how to contact them and how to effectively serve them if they have corrected customer data at their fingertips.
For more information about CRM or if you are looking for the same, please log on to www.vitelglobal.com
Published: October 12th, 2022