6 Must-Know Factors about Cloud PBX for Businesses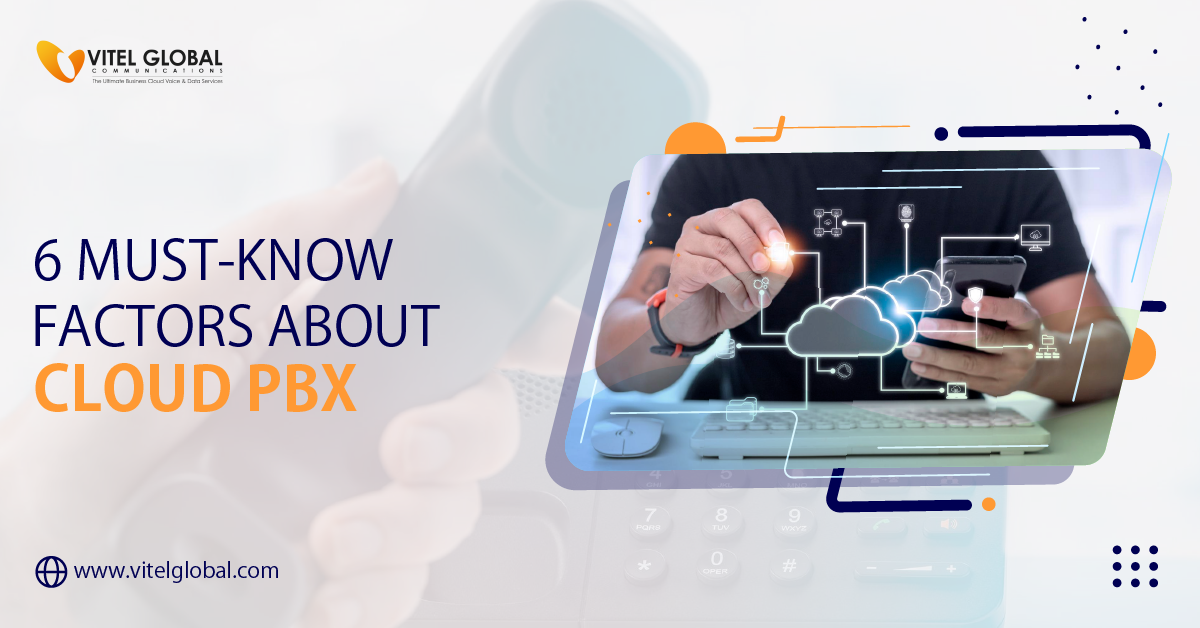 Reading Time:
4
minutes
The Cloud PBX for Businesses has gained popularity as more small businesses opt for it over traditional phone lines. They usually offer benefits such as lower monthly fees, ease of use, and a global market reach. These factors can benefit business owners who need more time or expertise to set up a more complicated system. But you should know certain vital factors that businesses should consider when purchasing this type of service for their companies.
A one-stop solution for addressing all your business communication challenges – Business Phone Service.
A cloud is a recently popularized tool with increased use for business and home users. One of the growing technologies being implemented is it. Before diving into this new technology, this article will cover what it is, how it would work for your office needs and other factors.
What Is Cloud PBX?
It is a new technological innovation to provide phone service for businesses. Essentially, the more advanced version of VoIP services has been available for some time. Technically, VoIP and cloud private branch exchange are very similar.
With it, you'll never have to worry about losing your numbers or repurchasing new equipment – the provider automates everything. More importantly, it comes with many features not provided by other systems. Every virtual PBX phone system includes features that help your business increase productivity.
It utilizes Voice over Internet Protocol to allow a company or individual to have their phone system without requiring hardware purchase. It means that reliable service can be offered remotely using only an internet connection instead of relying on costly hardware as traditional models do.
How It Is Beneficial For Business?
It has been a significant factor in the recent developments in office telecommunication. It made the idea of technological advancements appealing and easy to implement for business owners. 
Today, businesses can boost productivity and reduce costs through it.
In most cases, private branch exchange allows employees to work anywhere and from any device. It also means businesses can reach out to customers anytime, anywhere, at any time! As a bonus, you won't experience any downtime or errors like other traditional call systems do.
It is also the perfect choice for businesses that cater to the mobile workforce. That's because it allows employees to access all their calls from any device anytime, anywhere.
All in all, cloud PBX can be a cost-efficient solution for many businesses. It has several great features to help your team increase productivity and improve efficiency. As a result, your business will flourish and find new customers and clients worldwide.
One of the most significant benefits is its flexibility and practicality. Since it's based on technology, you can access all your calls from any device anytime! That means you'll never miss a call, no matter where or what device you use.
1) Security and Setup:
An important consideration when choosing a system for your business is the security of your data. If you have sensitive information stored on a device or file accessible through the internet, these will likely be at risk of being hacked if not properly secured. One way is to secure users' data by using firewalls. By doing this, the user is protected from any outside threats. However, it is still vital to ensure that you will get service from Hosted PBX providers with a high level of expertise in protecting your information to avoid any issues.
Switching from a standard phone system to a cloud PBX is like connecting your phone to the internet. Your new system will require setup, and it's not like your current phone line. It will require you to set up more than one device, and in some cases, it may also take months for the company's technicians to finish setting everything up. Before you commit to switching over, you have everything in order because if something doesn't work out as planned or challenges arise once you start using the system, parts of the company may have wasted money.
2) Scalability:
Consider how much you want to grow the number of users and phone lines over time. If you have a tiny business now and only have a handful of employees working for you, paying more for an expensive system now might not be worth it since there may be fewer employees in the future than there are right now. However, if you have a growing business with the potential for much future growth, you will want to buy a system now that can accommodate that. To ensure you get the best value for your money, consider these factors related to your company's needs.
3) Features:
Do some research on the services and pay attention to what features each one has. Some will have more offerings than others, and some may have features you need while others do not. It would be best to look at your current setup and the services you offer customers and determine what new capabilities could improve your business moving forward.
We Provide 60+ Business Phone Features that bridges gap between your customers and your brand.
4) Comparison:
If you look at various cloud PBX companies and compare their services, consider other companies with similar setups. Several brands are out there, and some companies offer similar solutions. It is good because they are likely offering good value for your money. If there is another company with a similar product, compare the total package and features instead of comparing the price to find out which one seems more appealing to your needs. Also, research the company's reputation, as it will help you determine if there is enough risk in trying out their services.
5) Popularity:
An excellent way to gauge how popular a cloud phone system is would be to look at which ones are more likely to have long waiting lists for customers and how often they receive reviews from non-customers. If it has received numerous positive reviews from existing customers, this should be a sign that they are reliable and can provide excellent service. The higher the number of positive testimonials, the better.
6) Compatibility and Cost:
Different hardware devices require different software. If you mainly use standard phone services, saving on extra costs and purchasing a standard phone system is okay. However, if you require specific features like HD quality for your calls or software applications that allow you to customize your system more, then some options will cost more.
Therefore, it's essential for businesses who wish to take a leap of faith into cloud PBX phone systems they understand what functions they want their system to do and where the extra costs will come from when purchasing new equipment later on. The costs will differ depending on what services you require from them. You should also remember how much your current phone system costs and compare it with the cost of a new solution. Familiarizing yourself with the service fees you will be charged regularly is also essential.
Conclusion:
Following these steps, you can select the best cloud PBX for small businesses Or a large organization. Based on your company's needs, know you are getting great value for your money while investing in a reliable service.
Published: July 10th, 2023
Subscribe to Our Latest Updates
Get monthly product and feature updates, the latest industry news, and more!
By submitting this form, you agree we may contact you in the manner described in our Privacy Policy.