7 Cloud VOIP Trends To Look For In 2021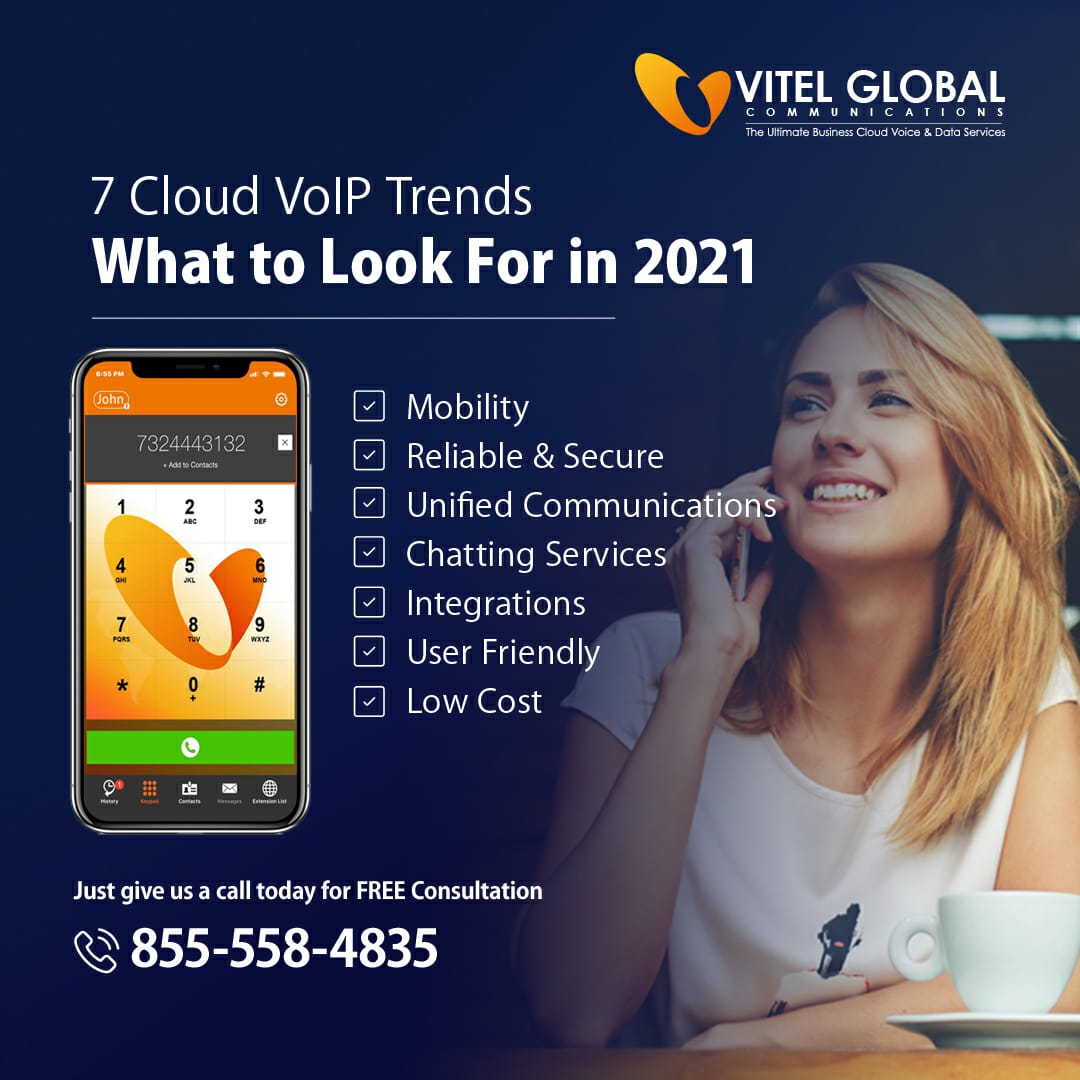 Reading Time: 2 minutes
Most of the businesses have faced a huge loss in their productivity in the year 2020. So you would want to start this year with an increase in productivity to reimburse the loss you have faced in the past year due to the COVID-19 pandemic. Research has proved that a Cloud VoIP solution is the best way for business communication and collaboration as it empowers your business to fight against any disaster including COVID-19 and with this you will not have to worry about the continuity of your business communication in any circumstance.
Undoubtedly, Cloud VoIP solutions get your business ready for future conditions and give you the versatility to communicate effectively and collaborate remotely. Here are 7 Cloud VoIP trends you need to be aware of:
The First One is the mobility and flexibility that your business communication needs the most during such a crisis like COVID-19 where you have to engage your employees from various locations. So mobile communication is the best thing for your business so that your employees can be available on their work all the time.
The second thing is reliability and security which can be made sure only with the Cloud VoIP in this crisis time as when you are communicating with the Cloud VoIP, you are using the internet network which ensures continuity for your business communication.
The Third one is unified communication. Cloud VoIP avails you the unified communication services at a single platform where you can use the most advanced business communication tools in the palm of your hand.
The Fourth quality, which gives your customers another option to reach out to your representatives and your employees to collaborate seamlessly, is chatting services.
Integration is the Fifth quality of Cloud VoIP Communication. Integration services enhance your employee's performance & efficiency and your customers' experience as well.
The next quality of Cloud VoIP Communication is being a user-friendly business communication solution. With this, you can use your different devices including mobile phones, desktops, and laptops for your business communication which makes it a user-friendly communication solution.
The last point is what every business organization or enterprise would be looking for in a business communication system during the current situations i.e. the business communication system which helps them to cut down their business expenses and a Cloud VoIP Communication really a low-cost business communication solution with the numerous of business communication tools to fulfill all the requirements of any business organization during this crisis so it is the best communication solution which every business organization or enterprise should adapt.
Published: January 27th, 2021
Tags:
Subscribe to Our Latest Updates
Get monthly product and feature updates, the latest industry news, and more!
By submitting this form, you agree we may contact you in the manner described in our Privacy Policy.