The Role Played By the Business Phone Services in the Retail Industry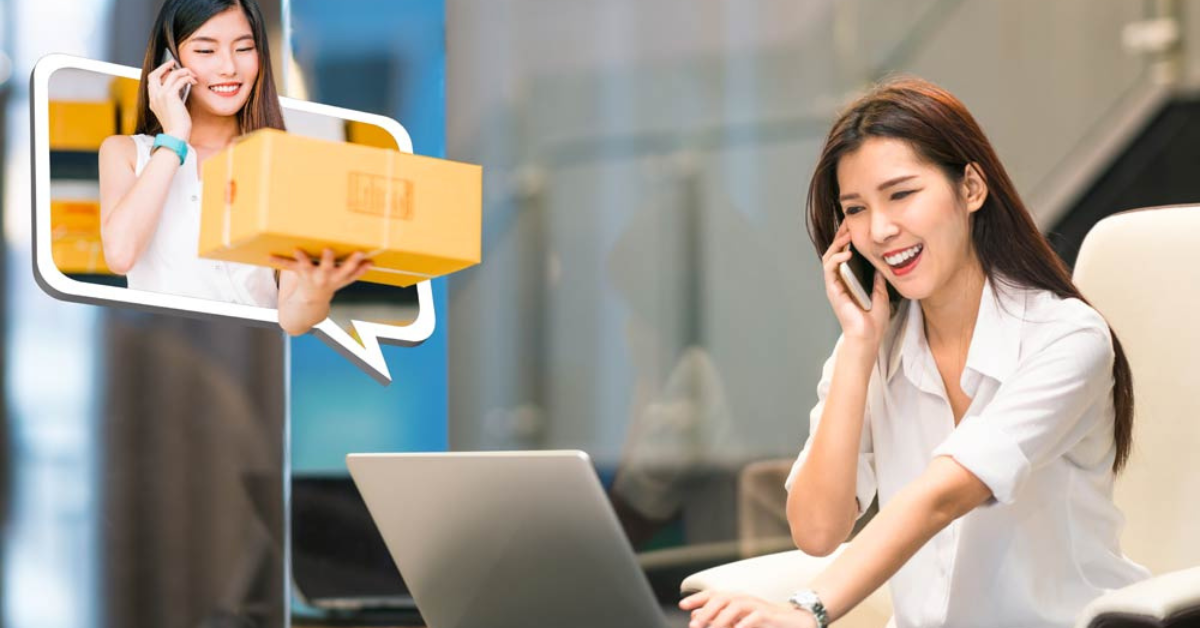 Reading Time: 4 minutes
Many industries are now switching towards business phone services; it has been a global revolution lately. Enterprise VoIP Solutions provide multiple features that other phones do not, which will help organizations simplify their communication processes. These features are very suited to businesses as they can improve the quality of operations of businesses.
Multiple business phone service providers provide their devices with multiple features. Choosing the right fit for your company from all the providers is important. Every industry has certain requirements; it is important to understand those requirements and choose the business phone solution provider accordingly.
What Are the Benefits of Business Phone Services?
Budget-Friendly:
Cloud-based business phones are very affordable. Most companies or businesses are looking for very cost-cutting solutions that can keep the enterprise's efficiency rising. These devices provide multiple features compared to other telephones used in businesses. They improve the communication and professionalism of the employees. Henceforth, many companies like to invest in these phones.
Additional Characteristics:
There are a lot of additional features like call forwarding, call transfer, call conferencing, call monitoring, call flips, call parking, and much more in business phone services. These features are generally not available in other telephones used for residential purposes. These characteristics help businesses simplify their communication-related problems and facilitate easy communication with everyone.
Client Relationship:
Businesses primarily aim to establish a successful client relationship. It is crucial to ensure that our customers are always satisfied and that there is a healthy relationship between customers and the firm. It is a major part of customer retention techniques. Through business phones, customers can always stay connected with the business, and there will be no gap in communication.
Internal Communications:
Internal communication among employees is essential to achieve organizational objectives. All the employees should work collaboratively and communicate within themselves to ensure that their assigned tasks are completed on time. In such cases, business phones can be a huge advantage in connecting pupils around the enterprise.
Integrating CRM with Business Phone Services:
Most companies prefer to integrate CRM with business phone services as CRM can help simplify their internal management. This feature will help enterprises create user dashboards, and it can help store information in the CRM. The customer relationship management software can generally analyze the business's performance and show past analytics.
How Business Phone Services Help Retail Industries?
Retail industries usually deal with customers directly where they do not have any further middlemen and are the customers' actual point of contact. They only sometimes particularly sell a single commodity and sell multiple items from various sellers at the same time. Supermarkets, general stores, medical stores, cosmetic stores, and many more are a few well-known examples of retail outlets. Many big companies have multiple retail outlets around the city or country.
Here are the various uses of business phone services to retail enterprises specifically: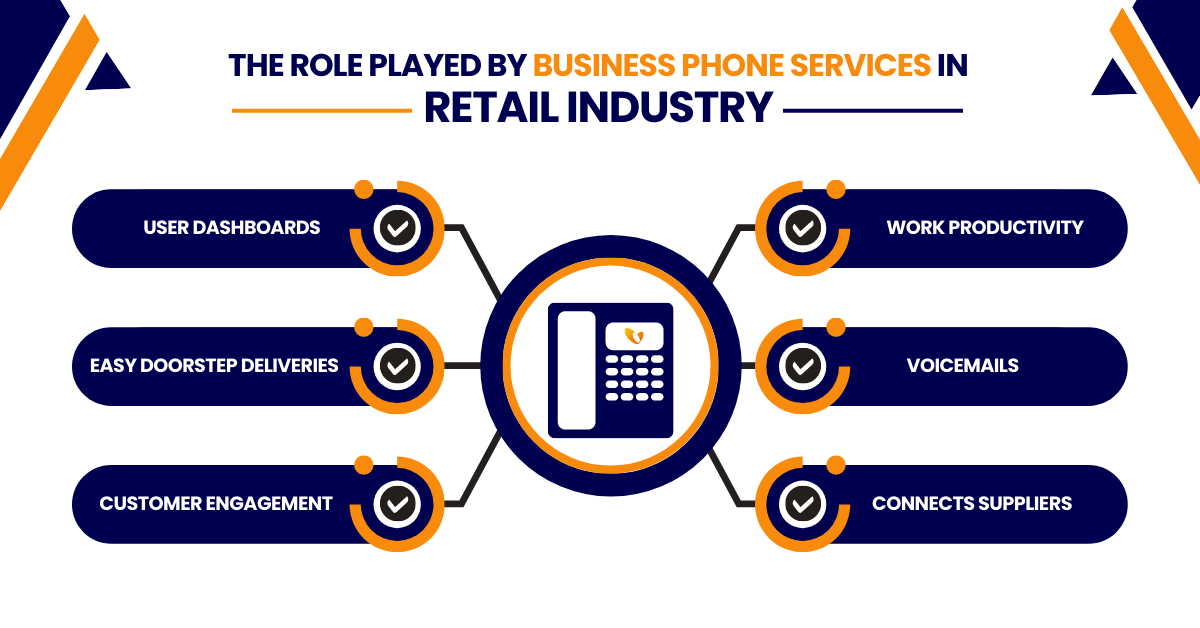 User Dashboards:
Business phone services are generally helpful to retail industries in establishing a successful customer relationships. Contact with customers is always very high in the retail industry; hence they choose business phone service providers to create separate dashboards with user interfaces. It makes it easier to note regular orders or updates or collect other details of the customers.
Work Productivity:
Many retail stores, like supermarkets, will have multiple executives. There might be multiple floors in one building, or there might be multiple outlets of one particular organization. A lack of internal communication will negatively affect work productivity in such cases. Using an enterprise voip phone system can be a huge asset by connecting multiple people simultaneously and enhancing their collaboration, leading to better results.
Availability of Services:
Every retail store would like to ensure its services are always available to its customers. It will also increase customer engagement towards the store. Through business phone service providers, retail outlets can stay online and receive calls from their customers anytime, even when they are not active. They can also record and store the calls when the executives are unavailable so the staff can get back when they are back.
Easy Doorstep Deliveries:
Most retail stores provide door-to-door deliveries of goods and commodities. They get several orders from customers daily. Using Enterprise VoIP solutions, they can receive and make calls easily. They can make a list of orders according to their convenient daily schedules. Delivering goods becomes very easy as they can plan the deliveries daily on a geographical basis.
Notifications and Reminders:
The competition in the market is very high. Especially in the retail sector, multiple stores are selling similar products from similar manufacturers. To stand amongst the competition and maintain healthy customer engagement, people can use enterprise VoIP phone systems to send notifications or alerts regularly. It can help customers be updated about discounts, sales, or new launches in the store.
Voicemails:
Enterprise VoIP phone systems provide another additional feature called adding voicemails. Usually, supermarkets or general stores contain multiple items and commodities. Most of the time, these stores receive calls from customers inquiring about a particular product. In such cases, they can set up an AI voicemail in their business phone service provider, giving the customers the menu option.
Customer Engagement:
Retail stores should gain customer loyalty to run in the long term success. They can engage with their customers using enterprise VoIP Phone Systems to do the same. Through these phone solutions, they can implement multiple marketing strategies and can also check the working status and performance. It will help them maintain a strong relationship between the firm and customers.
Connects Suppliers:
It is very necessary to keep personal and professional calls separate. Retail stores often have multiple suppliers and vendors with whom they contract. In such cases, it is easy to maintain calls with enterprise VoIP Solutions. Enterprises can frequently get in touch with their necessary vendors. It can also store data like the number of Goods bought, used, and remaining.
Conclusion:
There are multiple benefits of using business phone services in organizations. Even in the retail industry, people are now adapting to enterprise VoIP solutions as they can increase their customer engagement and make tasks in the organization simple. There are a lot of business phone service providers in the market. Hence, it is necessary to understand our requirements before investing in a solution.
Book a Free Live Demo now to learn how Business Phone Solutions are useful for Retail Industry.
Published: January 18th, 2023
Subscribe to Our Latest Updates
Get monthly product and feature updates, the latest industry news, and more!
By submitting this form, you agree we may contact you in the manner described in our Privacy Policy.