Revolutionizing Business Communications: Cloud Video Conferencing Solutions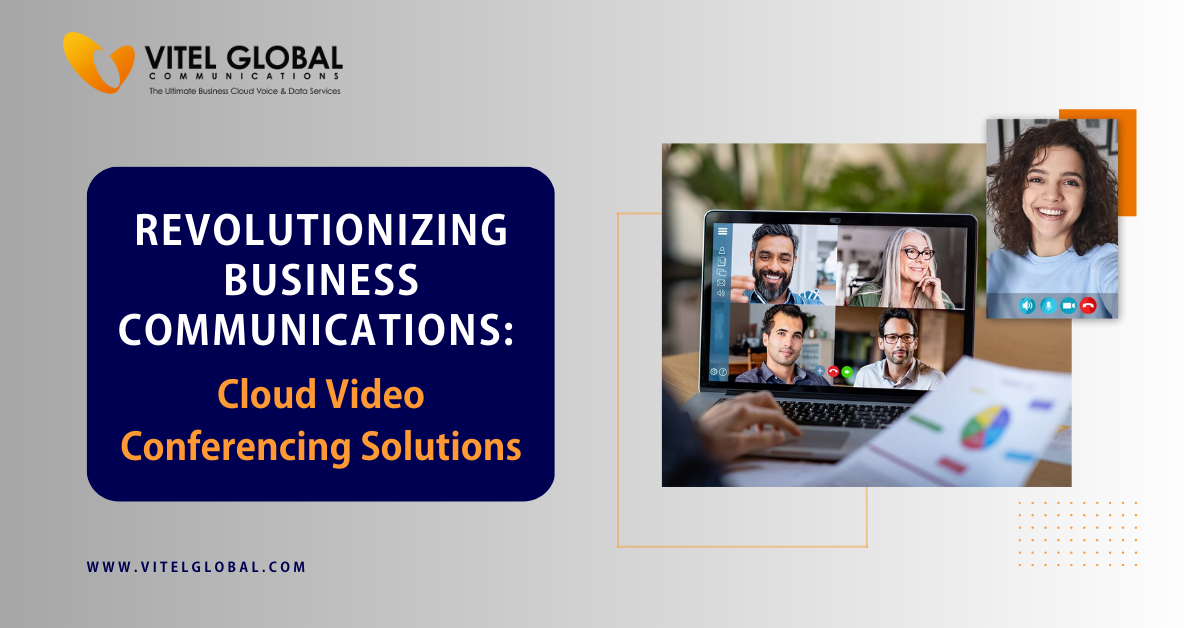 Reading Time: 3 minutes
There was once a time when we communicated largely by scrappy notes and memos. However, now more than ever, it is crucial for companies of all sizes to keep up with the times. And optimize their business communications for speed and efficiency.
There are more and more ways to communicate.
If you're like much other management, your teams are dispersed worldwide. You might have employees in Seattle and San Francisco, for example. With cloud video conferencing solutions, you can collaborate with them as though they were in the same office simultaneously. Not only does it make traveling to a different continent more cost-effective by using a video call instead of involving everyone, but it also helps boosts productivity to work when it is best suited for you and your team – avoiding any distractions that come from working standard hours in a physical office space.
Revolutionizing business communications:
By choosing a borderless communications solution for your organization, you're making it easier for your company to stay connected with each other and be more productive. No matter how far apart geographically, there's no denying that the technology involved with cloud HD video meetings helps to revolutionize operations.
These are just a few tools that are revolutionizing the workforce today. Regardless of your chosen tools, one thing is certain: being more connected internally only makes good marketing sense.
Start by researching conferencing solutions that can help your profession become more efficient and work better together.
Here are some reasons why you should consider using these kinds of applications for your organizations:
Collaboration – If you want people in different locations to communicate with each other as though they are in the same office simultaneously, video conferencing can make it happen.
Cost-effective – You can easily host video conferencing calls in the cloud, making the technology of these services cost-effective and easy to use.
Tiny Footprint – video conferencing solutions require very little infrastructure; they have a much smaller footprint than traditional conferencing systems.
Flexible Infrastructure – Cloud video conferencing solutions are built on a flexible infrastructure that individuals and businesses can use.
Impactful Advantages – Video conferencing allows you to show your team members what you're working on in real-time, which impacts your productivity and strengthens bonds with your employees by giving them a direct connection to you.
Impact on the Team – It creates a sense of belonging and closeness between employees by making them feel like they are working together in the same space.
Transformational – Employees of an organization can be spread out geographically. Using video conferencing makes it easier for them to work together while staying connected and productive.
Even if your company isn't located where it's possible to host video conferencing calls, you can still use these types of applications to make it easier for your team members to communicate with each other. All you need is an internet connection and some basic tools.
Cloud Video Conferencing Solutions: 
These solutions are revolutionary in the way of the communications sector. They effectively transcend the term and are now collaboration technologies.
Our Video Conferencing Solutions make it easy for people worldwide to meet halfway and work together. They work on shared projects or ideas without distractions or potential conflicts.
It is clear how much these tools have grown in popularity among companies worldwide as a way for employees to collaborate remotely with increased productivity and efficiency of both time and resources compared to an office-based meeting setting.
With a focus on the future of business communications and technology, video conferencing solutions are changing is done every day. In today's always-connected world, marketing people need to know how to use these technologies effectively to stay competitive and grow in their industry. Companies need not hold back poor communications or a lack of resources when these effective tools are available. It's important to look at both sides of the equation and see how organizations can benefit from these conferencing solutions and what they can do to help improve their already powerful tools to achieve even better results.
Communications and collaboration technology have been around for quite a while now. It has evolved to meet the needs that have grown larger and more complex. Gone are the days of simple telephone calls to relay important information across long distances. Instead, conferencing solutions allow people to work with their colleagues on projects or ideas effectively and efficiently, regardless of location.
These software solutions' sharing and broadcasting capabilities mean that any organization owner or employee can broadcast a meeting. They can screen or share documents, charts, presentations, and other materials in real time.
There are sharing and broadcasting capabilities. Records Non-verbal communication such as body language, facial expressions, and gestures. Translates easily into a visual translation and is useful for graphics or video files. With these solutions, marketing people can host meetings virtually with people from all over the world. They are only an email or phone call away.
Conclusion:
Cloud-based Video Conferencing is how to move your business forward. Service delivery most effectively streamlines the transition from traditional to modern business communications.
Published: March 22nd, 2023
Subscribe to Our Latest Updates
Get monthly product and feature updates, the latest industry news, and more!
By submitting this form, you agree we may contact you in the manner described in our Privacy Policy.