SIP Vs VoIP Functions in Business Phone Systems: Differences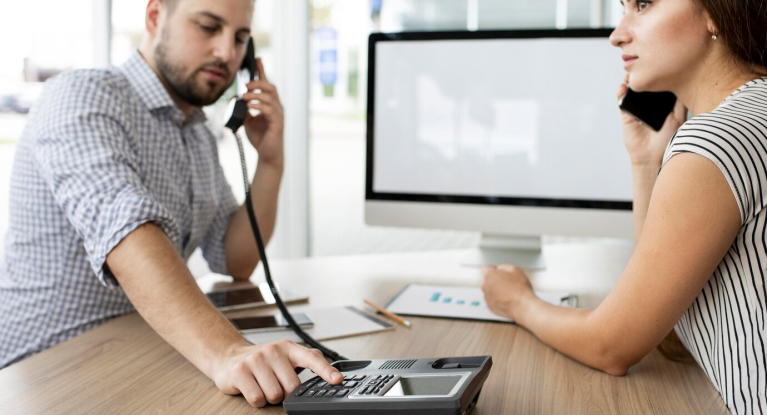 Reading Time: 4 minutes
Modern business phone systems go far beyond conventional voice calls in order to accommodate new levels of communication technology. Let us get straight to the point; VoIP (Voice over Internet Protocol) is the internet calling technology.
Whereas SIP (Sessions Initiation Protocol) is the protocol that facilitates the service.
Professionals communicate using various technology, while phones are still an essential tool. The typical employee frequently uses their phones, email, mobile apps, chat, texting, and video conferencing on any given day.
Introduction to the Business Phone System:
Technological improvements have increased the alternatives businesses have for business phone systems. To cut expenses, businesses increasingly convert from antiquated solutions! like Primary Rate Interface (PRI) lines to more sophisticated solutions like Voice over Internet Protocol (VoIP).
For some firms, switching to internet-based phones is the best option. Unfortunately, VoIP alone isn't a reliable enough solution for most companies. A Unified Communications strategy, which supports voice, text, conferencing, mobility, and other types of communication, can be more advantageous for many firms, tiny scale ones.
Session Initiation Protocol (SIP) and VoIP are two options for new corporate phone systems. Which is better, the two?
You will discover the benefits and drawbacks of each of these strategies in this blog, as well as a suggestion to choose the most excellent fit for you.
What Is the Difference Between SIP and VoIP?
VoIP and SIP are only sometimes directly comparable. SIP is a communications protocol that is utilized for the majority of VoIP deployments. Yet, VoIP is a phrase that can refer to any internet-based phone service. Although VoIP technology has been in use for the last 40 years, it has gained substantial prominence over the past ten years as a corporate tool.
More workers are switching to remote or hybrid work environments after the COVID-19 outbreak. Therefore, your business communications solution is more crucial than ever and requires excellent sturdiness and adaptability.
Let's first establish each solution before evaluating whether VoIP or SIP is better for your business in the current corporate situation.
SIP: What is it?
In VoIP applications, the SIP is used to start, keep, and end multimedia communication sessions. Using SIP, voice, video, and messaging applications can be controlled and signalled. A hosted unified communications provider, which may also offer VoIP and Unified Communications as a Service (UCaaS), typically provides the hosted SIP trunking service.
While all SIP is utilized to support and scale VoIP, only some VoIP is backed by SIP technology.
SIP is just one of the protocols used in business phone systems VoIP to support video conferencing, instant messaging, texting, and other multimedia communications. Even though it is the most widely used protocol, SIP is interpreted differently by different vendors.
However, this is changing because flexibility in operating information is essential to a company's long-term success.
Each of the benefits and drawbacks of VoIP can also be affected by the type of service because of the wide range of features and quality.
Relationship Between VoIP and SIP:
Additionally, comparing VoIP to SIP's advantages and disadvantages doesn't lead you to a proper terminal. Consider the advantages and disadvantages of business phone systems that only includes voice communications (VoIP-only) as opposed to multimedia features (VoIP with SIP) to determine how VoIP compares to VoIP with SIP.
Advantages of VoIP only (without SIP):
You can bring down your initial investment. This can save a lot of capital on an ongoing basis thanks to predictable, flat-rate monthly billing. VoIP systems do not require installation on-site and are incredibly portable.
Caller ID, call waiting, and call forwarding are just a few of the limited features included in many basic VoIP service plans. Once people connecting with VoIP services then they will know the difference and also advantages between VoIP and normal solutions
Cons of VoIP only (without SIP):
Service availability and adequate call quality of service (QoS) necessitate bandwidth.
Mobile apps and integration may not be available from some essential VoIP services.
Voice-only services do not support multimedia messaging.
It might need help to integrate with specific software applications.
Session Initiation Protocol (SIP), unlike traditional PRIs to SIP, can allow businesses to scale. You can unlock new features and productivity tools and save money right away. It is best to examine how SIP can transform VoIP into a multimedia communications experience compared to voice-only internet phone service to compare SIP to VoIP effectively.
Advantages of VoIP with SIP:
By allowing businesses to consolidate technologies into Unified Communications, VoIP with SIP can save costs on business applications.
In case of a loss of data connectivity, this service provides data recovery for employee mobile devices. VoIP with SIP can allow businesses to purchase add-on features and lines according to their requirements, allowing for extreme pricing flexibility.
In simple terms, VoIP with SIP permits customization of the plans because it includes administrative tools for adding lines and features that are easy to use.
The team can seamlessly integrate with cloud applications to implement Unified Communications. VoIP with SIP trunking can integrate standard business software and applications for increased productivity. This is how VoIP and trunks could be used to create a hybrid phone system by integrating with existing PRI lines.
Communications-related Collaboration Apps or Technologies:
By enabling businesses to exchange messages, videos, files, and other forms of data over an internet connection, SIP enhances basic VoIP capabilities beyond just voice calls. For many businesses, switching to SIP and unified communications can result in savings and increases in productivity.
Disadvantages of VoIP with SIP:
Cons of VoIP with SIP include the need for a lot of bandwidth from the internet to provide optimal quality service.
SIP trunk service provider quality of service can vary concerning some factors. The service providers offer a variety of features, some of which may include incomplete Unified Communications offerings. SIP over a public internet service may pose quality and security risks compared to a dedicated fibre-optic internet service provided by the same vendor as your SIP carrier.
Conclusion:
Finding the Best Technology for Your Business is always a debate. It is required to choose among the services as per your company needs. However, there is no clear comparison between SIP and VoIP. The best question to ask is whether your company would benefit more from a SIP implementation with Unified Communications tools or a voice-only VoIP phone service. 
For more information regarding the above services, we are just call away – Request for a free live demo.
Published: October 25th, 2022