Why Do Most of The Customers Prefer VoIP Calling For Technical Assistance?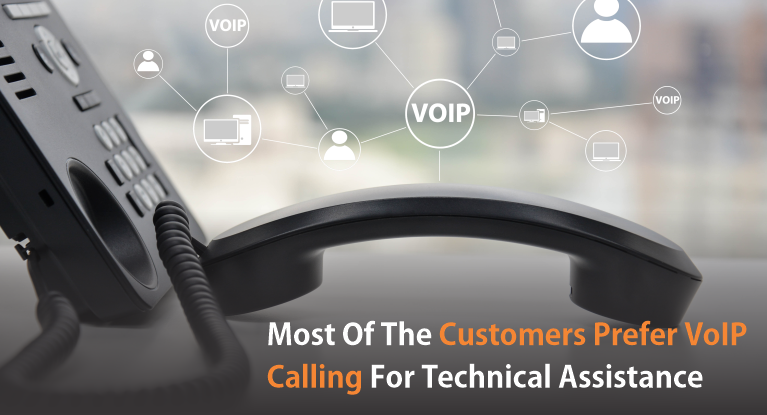 Reading Time:
5
minutes
Although it may sound a bit business oriented, your company's top concern is its customers. In such regard, how can a company promise their customers that they get the greatest care?
Best VoIP Calling Solutions
There are many reasons for the public to choose VoIP calling mostly for technical support. With all the premium features that VoIP offers, let us examine why customers choose VoIP services in the business sector.
If you are communicating with old-fashioned phones even today, this blog is for you to understand how VoIP calling improves a company and client relationship.
Business Organization and Customer Service:
For your information, any customer's experience throughout the journey of sales and service (sometimes exchange) processes can be referred to as customer service. In simple terms, the way consumers were treated before, during, and after a sale for service or support. Customers can reach out to the company to communicate in many ways like video calls, audio calls, emails, social media posts and advertisement media.
Prominent Role of Customer Service:
Note: A good customer support clearly promotes reputation, income, and corporate collaborations on a broad scale.
Every time a customer calls the company, you can turn a prospect into a lead or even better, a sale. When a consumer calls, address their problem immediately to win their trust.
You need an advanced phone system because more than half of the customers prefer phone calls. Also, required call quality is not found in a conventional phone system. Simultaneously, long wait times, broken calls or an outdated on-site PBX can create an issue.
In addition, traditional phone systems cannot handle a lot of calls. An integration of IVRs with VoIP systems is the best tool for self-service or it can direct calls to the appropriate terminal. More transfers can annoy the customers.
Poor Customer Service can Create Mess:
Yes! This is something that cannot be ignored. Because, negative customer experience can have serious repercussions for a company's ability to succeed. Check out the list below for reasons that result in a firm's poor client experience.
Long Waiting Periods
Incompetent Staff
Uninformed Employees (with no product knowledge)
Several Call Transfers
Inadequate self-service options (technical issue)
One bad situation can result in the loss of a sale for your company. On the other hand, losing clients can cost more than that. Subtly, you will witness a decrease in revenue results.
If your staff lack the ability of customer retention, poor company reputation may result. Even worse, it may lead to unwanted public assessments.
VoIP Calling Boosts The Quality of Customer Service:
Value of first-rate customer service is the first step. Then, the next step is to learn how to deliver it. Keep in mind that the only communication channel between you and your customers is your phone system. Here, VoIP can offer the premium call quality your company requires for best customer service.
In general, customers anticipate receiving prompt answers while they inquire. For this reason employing 24-hour employees is not necessary. You can make sure that every call is answered by deploying IVR.
If a caller leaves voicemail, he might not call you back again. So, it's important to understand what they're saying. With the help of VoIP features, your team receives consumer messages quickly. Also, you can leave the workplace without missing a call from a client using the call forwarding feature. You can also work while traveling. Calls are forwarded to your mobile or sometimes to your co-worker.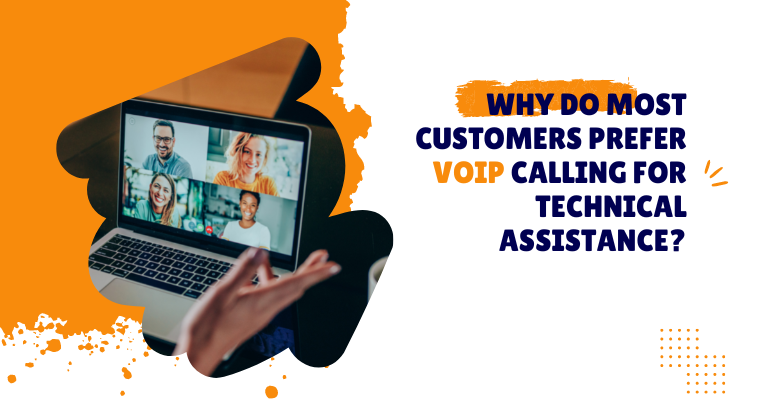 Calls at Low Cost with Better Call Quality:
It is worse if you ever ended a support call because the audio quality was bad. According to a recent survey, a majority of respondents stated this caused them to hang up.
But VoIP provides HD voice call quality. Here, you call using an internet connection, as was previously described. Therefore, the bandwidth used for VoIP calling becomes crucial while choosing the service. To get the best out of VoIP, you must have a reliable wired or Wi-Fi network connection. Your calls will be incredibly clear.
Toll-Free and Local Numbers:
Remember! Never underestimate your company's number. It is known that senior employees often receive a lot of marketing calls from foreign numbers. As a result, trust in phone calls has deteriorated.
Likewise, virtual VoIP phone numbers do not have geographic restrictions. So, you can select the quantity that best suits your company's requirements. Business managers should be aware of the fact that customers are four times more likely to answer a local number. Therefore, localized numbers give a global presence to the firm. Besides, you can reach a local number even if you are out of the office.
Now, deploying toll-free numbers is a sure-fire strategy to boost customer calls. Because, it gives your customer an option to call for free via toll-free lines. Consequently, it makes your company appear more significant and competent.
Minimal Waiting Times:
It is sure that long phone wait times will have a negative influence. Because, customers anticipate quick responses.
But, VoIP technology can solve this issue.
The incoming calls from one phone number are distributed to a team or group of numbers. Call groups can be customized to distribute call volumes. This can effectively decrease phone handling and transfers as well.
Sometimes, customers may occasionally be placed on hold while listening to music. Agents will make this time valuable.. Promotional Music on Hold provides the possibility of marketing. Or, play recorded advertisements or company updates. Also, music can also be used to fill pauses to ensure customer retention.
VoIP Technology can Assist Remote Workers:
With the advent of VoIP, excellent customer service is now available outside of the office. Support teams now accept calls from any place even if they are remote working staff. Well, all you need is appropriate equipment.
Here, it is essential to discuss the benefits of VoIP softphone/desktop apps. Expert customer assistance has never been simpler before. Agents can make and receive calls on the laptop and desktop.
Softphone App: Think of the Softphone App as a mobile office landline. Using this, you can make calls on your mobile device from your office landline irrespective of the location.
Interactive Voice Response (IVR):
Interactive Voice Response is one of the well-known features of  VoIP. It is automated and self-service technology. The system provides the callers with a selection of options that have already been recorded and the caller can assist himself. Customers can select their following actions using the dial pad. For minor inquiries, customers need not contact a customer support representative.
Integration of The Microsoft Teams Phone: 
Want to enable MS Teams calls but don't want complicated billing? The solution is MS Teams Phone System Integration. You can dial landlines and mobiles from your Microsoft Teams desktop or mobile app. Reduce clutter and increase cost clarity with a single-pane solution.
For more information about VoIP with Microsoft Teams Integration, contact Vitel Global.
Bottom Line:
VoIP technology is preferred by the customers for the same reason why it is preferred by Customer Service Teams. As VoIP service costs less and enables teams of all sizes to deliver the best possible customer service. It can help the teams to assist clients in receiving faster responses. Hence, businesses can benefit from this advanced technology and premium VoIP voice quality.
If you are a business leader and looking for an affordable Business VoIP Solution with premium quality, contact us for Live Demo.
Published: December 2nd, 2022
Subscribe to Our Latest Updates
Get monthly product and feature updates, the latest industry news, and more!
By submitting this form, you agree we may contact you in the manner described in our Privacy Policy.