Guide to Avail a Business Phone Number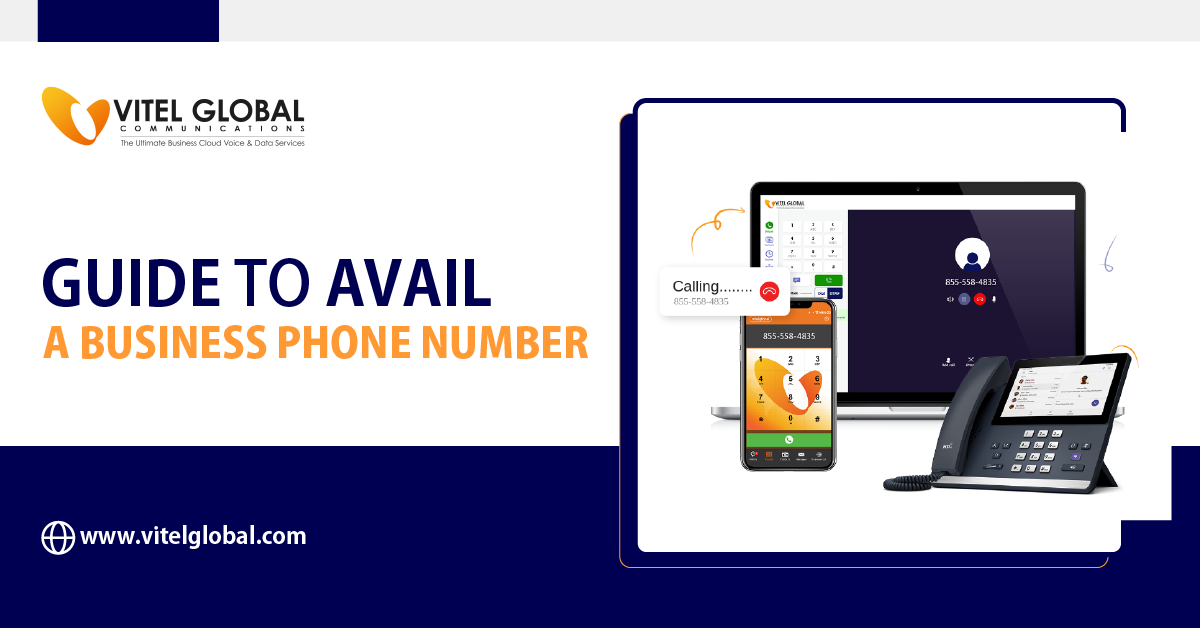 Reading Time:
4
minutes
To start a new business or have a thought of expansion, the best way to proceed is to get a business phone number/virtual phone number.
These virtual phone numbers can support you to talk with customers, get leads and connect with your team members.
In this blog, you will learn how to get it and why we need it for your successful business
Advantages for Small Business Owners:
Create an expert image: Uphold your market value and professional image. You can maintain a high-level look at your business without any difficulty.
Increase confidentiality: you can separate a personal phone number from a business phone number and privately maintain your business's data.
Answer ahead:  Craft a professional way to answer your callers instead of sending callers to your voicemail for incoming business calls.
Improve work-life stability: Separate your communications for work and personal use. As a result, you can avoid burnout in your personal and professional lives.
Brand recall is improved: Some phone numbers are just simpler to remember. Observe any repeated digits or integers. If you advertise on television, radio, or in the outdoors, a specific number is better.
Personalize your caller ID: When you make calls, convey a unified brand. You can choose to have your company name show in place of only your name (or Unknown Caller).
Business Phone Number Types:
There are a few different company phone numbers for various purposes. Local, toll-free, vanity and international numbers are the most widely used.
1. Local numbers as per Area:
Customers in the Area may easily recognize and trust local phone numbers because they are specific to a particular geographic location. These figures support local presence development and could be more cost-effective than alternative solutions.
The disadvantage is that enterprises aiming for a national clientele can find local numbers unsuitable. Additionally, consumers ignore calls from strange locales. Therefore, it is best to locate your business in well-known urban areas.
2. Calls to Toll-Free Numbers:
Customers can contact your company for free using toll-free phone lines. These numbers are great for businesses looking to establish a reputable national brand.
On the downside, they could be more difficult due to their popularity and might cost more than local numbers. You are charged a reverse toll each minute even though the number can be free.
3. Vanity Phone Number:
If you want to leave a lasting impression on your customers, vanity phone numbers are ideal. Businesses may stand out and establish their brand identification by using these individualized and simple-to-remember numerals.
4. Virtual Phone Numbers:
Virtual phone lines are a flexible and affordable alternative for companies of all sizes because they function online. They can be configured to redirect calls to any device, enhancing employees' accessibility and mobility.
However, if you don't pay for virtual numbers, they'll be given to someone else (like from a VoIP provider).
International Phones:
International phone numbers give your company a presence in international marketplaces by giving clients a local number to call. Customers from outside gain reputation and trust while paying less for international long-distance calls. We also offer unlimited international calling plans.
The biggest negative is that using more resources to handle international calls may result in greater costs.
Key Considerations for Choosing a Business Phone Number:
Do you need a business line? Here are nine indicators that you're ready for your small business to have a dedicated phone number:
Calls from your mobile phone can be forwarded to voicemail.
Ponder the significance of a call that just arrived.
Missed calls after you changed the number on your free business phone.
Take unexpected incoming calls from customers.
More integrations are required than those provided by Google Voice.
One can't send or receive text messages through a work landline.
No longer a sole proprietor and now running a small business?
Want to forward calls to your business line to additional team members?
Want to prevent consumers from learning where their cell phone is?
The good news is that you can keep your current phone number. The information in our guide on porting your business number to a new provider covers all you need to know.
Here are the three easy steps to getting a phone number for your company:
Select a Business Phone Service Provider
Decide on a Phone Number
Delegate Phone Extensions
1. Select a Business Phone Service Provider:
Finding a phone service provider that understands small businesses' special requirements is essential. There is no need to look further than Vitel Global, the leading provider of business VoIP services and a name trusted by businesses.
Vitel Global provides dedicated business phone numbers and dependable Voice-Over-Internet Protocol service.
Advice: Vitel Global will give you a free local phone number when you sign up for a line of service. Additionally, a free toll-free phone line is included with each account.
2. Decide on a Phone Number:
You can pick a vanity phone number, a toll-free number, or a local area code for your company after deciding on a provider.
Get a local phone number for the Area where your business works. If you currently have business phone numbers, you can transfer them seamlessly to the new provider. Buying many phone numbers with the same prefix can be useful if your small business expands.
3. Delegate Phone Extensions:
Using phone extension numbers, you can control where incoming calls are routed. Extension numbers typically belong to other people, such as employees. However, this is only occasionally true.
You can add or modify extensions for various teams or departments as your firm grows. It guarantees incoming calls are routed effectively, and clients may immediately reach the appropriate individual or division.
Purchase a phone system that is just as diligent as you are. A business phone number is vital, but so is picking the correct phone provider. A dependable and feature-rich phone system may greatly improve efficiency and satisfy your customers and staff.
We advise obtaining both a local and a toll-free business number. Why? Use your neighborhood one for regular customer and sales calls. Your website and business cards should also have a toll-free phone number. Additionally, when scaling, include phone extensions with the same prefix.
Conclusion:
There are numerous advantages to having a business phone number, and these help both the company and its clients. It helps an organization increase its reputation, efficiency, and productivity, reach a bigger target market, and deliver better customer service.
The ease of contacting a company from anywhere at any time, better customer service, and faster problem resolutions, on the other hand, are all advantages for customers.
Even though you must carefully consider your company's current and future demands, setting up a business phone number is straightforward. The best option is Vitel Global to set up a business phone line.
Published: June 20th, 2023
Subscribe to Our Latest Updates
Get monthly product and feature updates, the latest industry news, and more!
By submitting this form, you agree we may contact you in the manner described in our Privacy Policy.