Choose A Cloud PBX Provider That's Right For Your Business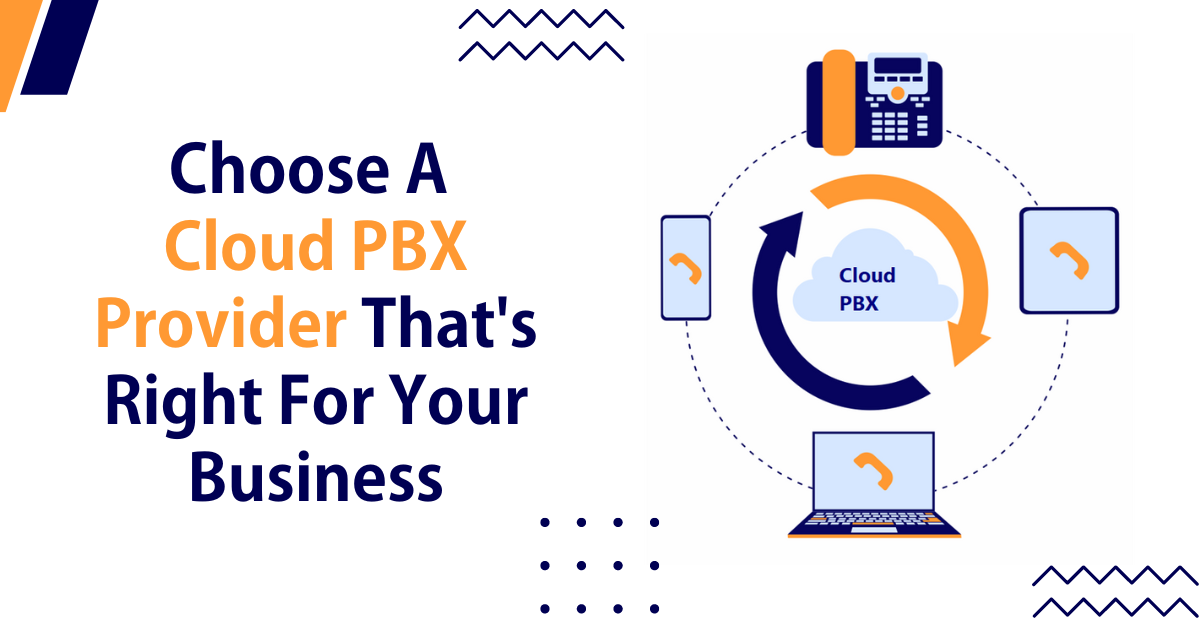 Reading Time: 3 minutes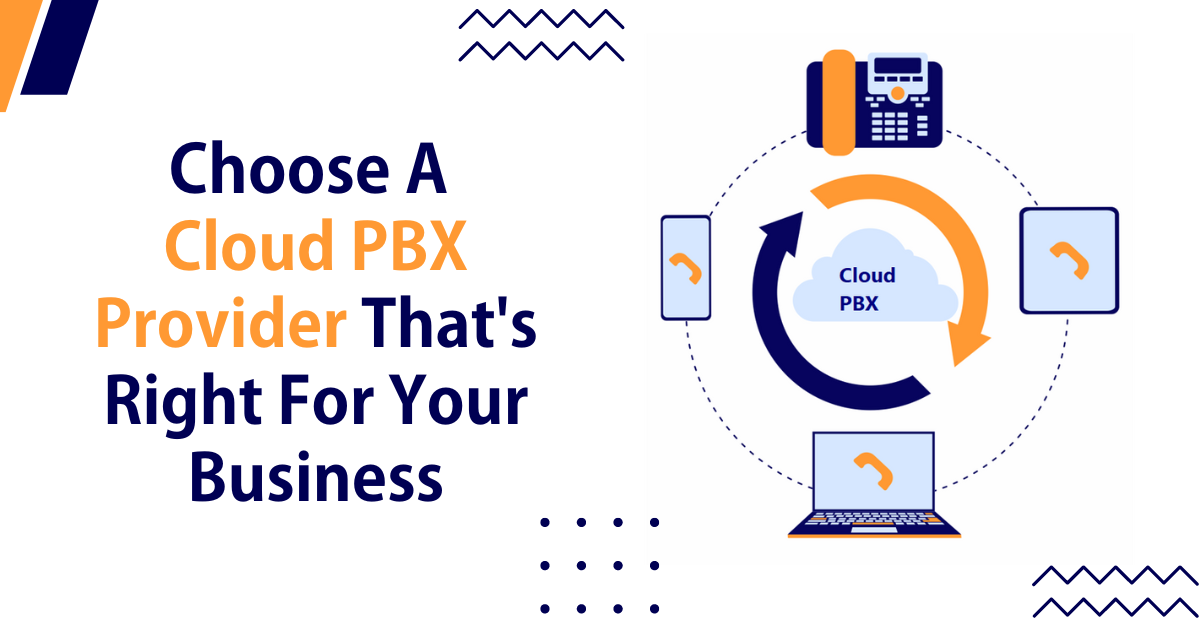 Introduction:
As the world is moving forward with several new business solutions being implemented in the Business, Cloud PBX solutions are one of the new advancements in the communication field. These services offer numerous benefits to companies by simplifying the organization's interaction process. Communication is vital in any organization to ensure that all the tasks and activities are happening accordingly.
Many companies prioritize business communication and business solutions that resolve the issues. Communication is significant in every department, like finance, marketing, human resources, research and development, and many more. In facilitating healthy communication in organizations, professionalism plays a vital role.
To improve employee professionalism, many companies now prefer virtual communication such as business phone services, unified communications, IP phone services, or cloud PBX services. Although the services remain very similar to each other, there are notable changes in these services. Companies need to understand their requirements and choose what is best for them at that particular point in time.
What Is A Cloud PBX Provider?
PBX is a short acronym for Private Branch Exchange. As the name suggests, Cloud Pbx is a method of unified communications that supports calls online using the internet. A third-party company generally hosts these services. These services can be available through desktop, mobile apps, or general online websites.
Many companies prefer this as a mode of communication as it benefits them in several ways. Although there are a lot of cloud PBX providers, companies must choose the right provider for their Business. There are certain factors they can consider before making a decision about which provider to choose. It is also very significant to carefully analyze the benefits and features of every provider to make a worthy decision.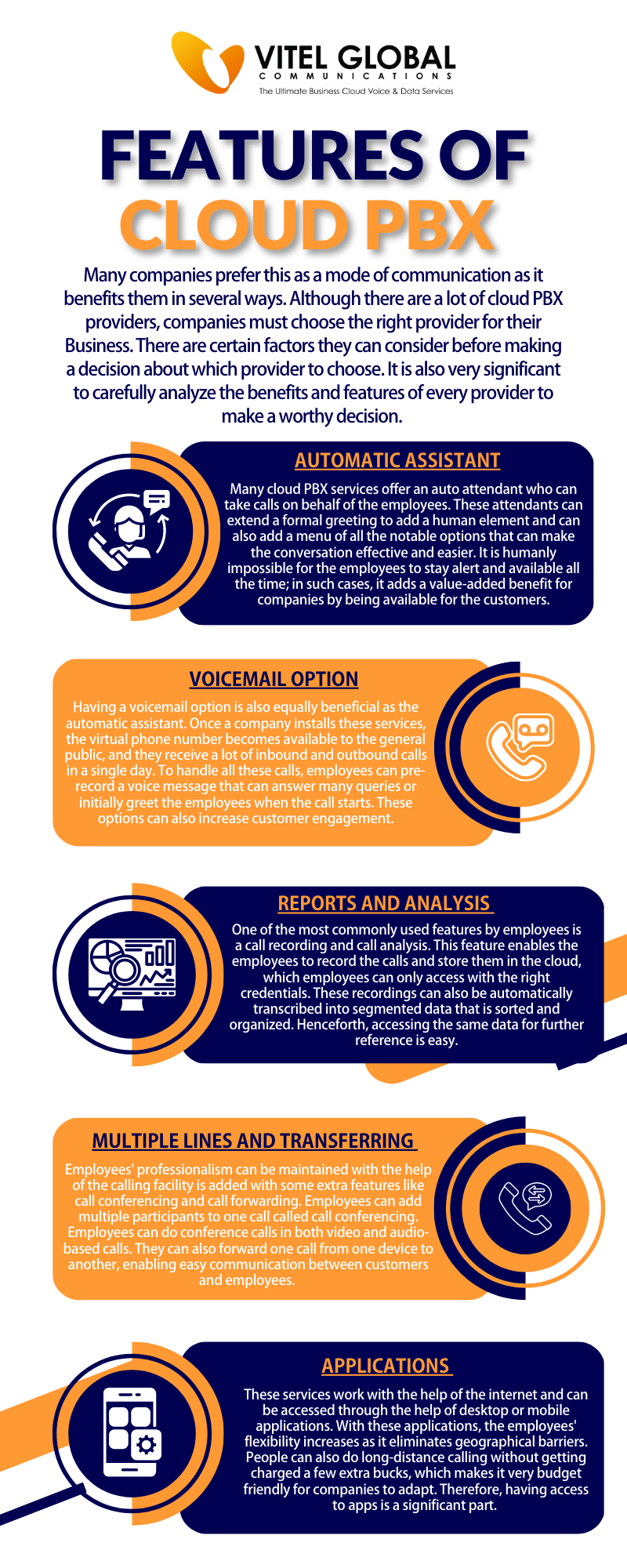 Benefits of Cloud PBX:
Affordable:
Cloud PBX providers are usually very affordable and budget-friendly. There are many features and benefits it offers at a very reasonable price. These features are best suited for business environments and are not developed for household purposes. There are no additional charges for installing these services as well. Henceforth, many businesses prefer to invest in these.
Reliable:
These calling services are very reliable. As the name mentions, cloud PBX services are usually run with the help of the internet. They do not require any specific hardware except the existing business phone services that the organization uses. In this digital era, finding internet with high bandwidth is not difficult, which makes the services available in the long run.
No Location Limit:
These services can assist organizations in making an international presence without having to set up office space in other locations. Companies can use these services to expand their market reach and audience across the globe. They can handle all sorts of operations from one place and validate their presence.
How to Choose the Right Cloud PBX Provider?
Among the market competition, several PBX providers offer very similar services yet in a distinguished way. Identifying the right service provider can be done with certain steps followed by other companies that can guide you efficiently. Although the final decision remains in the hands of the business owner, these steps can only enhance your knowledge.
Self-Analysis:
Perform a self-analysis to understand what features your company needs. Get a clear understanding of what features suit your company and how well they can positively impact your company.
Consider The Factors:
Select a couple of cloud PBX providers and check what features they provide. Consider their advantages to your company and check if they have all the features you need.
Request Quote:
Since there are multiple service providers, request the quote from all the providers you find promising. Compare the pricing and features they offer, which can help for further shortlisting.
Narrow down Your Choices:
Eliminate companies that do not seem promising or do not provide the features you are looking for. Eliminate any company that does not fall into your category of consideration.
Research Well:
Once you shortlist a couple of companies that suit and match your profile. Furthermore, find out more reviews and seek testimonials from other companies that have partnered with that firm earlier.
Following the steps mentioned above will enlighten much new information in your company, making it easier to choose the kind of Cloud PBX service provider you need. These steps can increase your approach to selecting the right service provider.
Published: February 10th, 2023
Subscribe to Our Latest Updates
Get monthly product and feature updates, the latest industry news, and more!
By submitting this form, you agree we may contact you in the manner described in our Privacy Policy.