What are the differences between UCaaS and VoIP?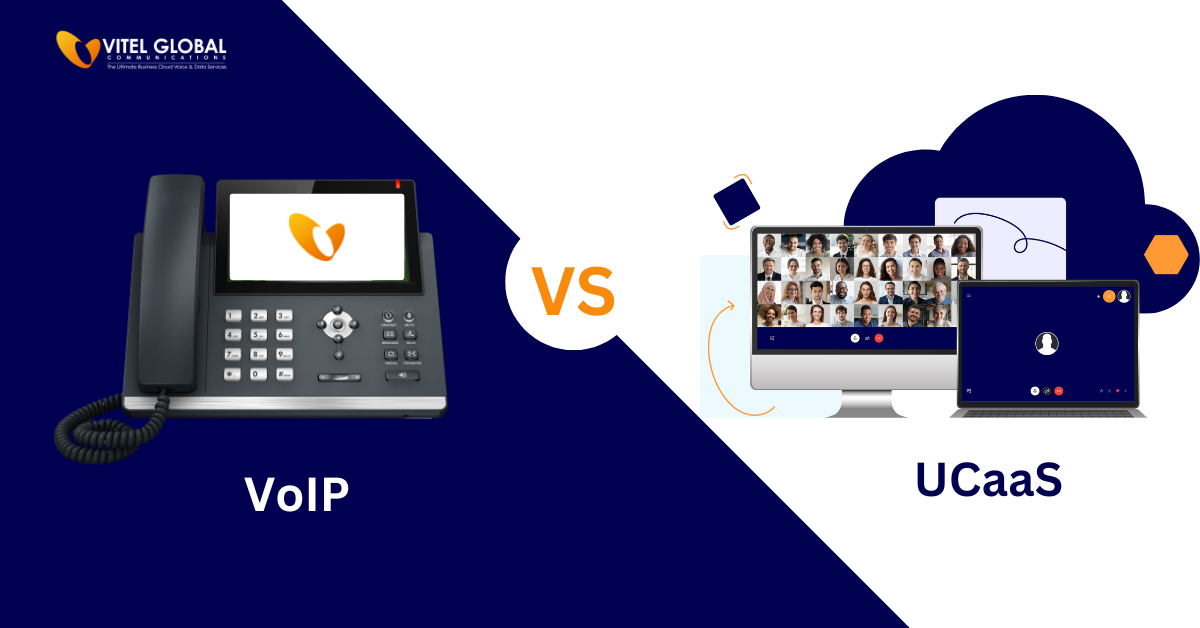 Reading Time: 5 minutes

"UCaaS vs. VoIP"
In this blog you will learn the difference between UCaaS and VoIP. Before implementing any latest technology in your organization, one must understand the concepts related to the technology like its definition, how it works?
What is VoIP?
VoIP, which stands for voice over internet protocol, is basically a telephone connection used by organizations for communication purpose. This proven technology is successful thus accomplishing high demand in the present days because of its flexible and powerful features additional to its advantages over traditional phone system.
A VoIP phone system is the latest technology that converts analogue voice signals into digital signals over the internet. A VoIP server can connect calls to other telephone networks after it converts analogue to digital signals.
Before making a phone call using VoIP, you must have a business phone number app or VoIP adapter which receives the analogue audio signal in the form of input, thus by converting it into a digital signal as output. With the use of internet, Business phone service receives a digital signal and routes it to your phone.
To make unlimited calls through VoIP phone system, you just need a high-speed internet connection which includes a router and a modem and stay connected.
What is UCaaS?
UCaaS means Unified Communications as A Service is a collaborative technology bringing all the communication platforms on a single platform delivering services like VoIP calling, fax, team messaging, audio, and video conferencing to attain all your business needs.
Advanced features integrated with the phone system like auto-attendant, call recording, call forwarding capabilities that are useful for creating groups, achieving goals in time.
Advantages Of UCaaS:
High accessibility
Vitel global phone system can be accessed by the users through intuitively developed apps which allows to make and receive calls from any device irrespective of your location. Download the app from vitel global desktop app or mobile app for either android or iOS.
Security and reliability
Data transmissions are encrypted on both endpoints of the network so that the internet calls or data transmitted over the internet are safe in transmission. Data stored in the data centers avoids redundancy, thereby avoiding service disruptions.
APIs and integration download the app from vitel global desktop app or mobile app for either android or iOS.
We provide diversified VoIP phone services through open APIs that helps you to integrate team messaging, digital voice and other apps, business apps and workflows easily for increased productivity.
The varied communications unified delivered as a service by the Vitel Global for small to big businesses are:
Voice communications
The basic functions that are delivered with the UCaaS:
Call recording
Call routing
Conference calling
IVR
Media streaming
Key Benefits Of Voice Communications
Easily configurable:
Voice communications help the organizations to build upon multiple solutions rather than locking them into a single solution to serve the needs of their customers. Businesses approach communication for upgrading the existing solutions integrated with the voice platform for making calls or messaging their target customers.
Cost effective:
Voice communications are a cost-effective way of reaching your target customers and improve the customer experience as you need to invest exceptionally low operational cost for the integration of voice to your application.
What is A Messaging Platform?
The service that enables developers to implement and integrate various messaging technologies in an application through a single programmable interface is referred to as "messaging platform".
The main implementation of messaging is done by a third party provider. Because, they can access global systems that allow SMS or MMS channels. This is how, the entire infrastructure is executed based on PaaS cloud model which doesn't require backend system unlike other messaging channels.
Use case of a messaging communication platform:
Sends bulk text messages for marketing purposes like promotional offers related to the products straight to the customer's mobiles.
Tracks updates related to courier or delivery services.
Sends SMS notifications related to your products and their delivery details to the end users.
Supports sim-enabled devices.
It includes IP or http-based capabilities in your message.
Consequently, this communication platform performs actions like sending messages, accessing messages and managing messages on a client device.
SMS communications:
The other communication platform that can be embedded in your marketing channel is the one which sends large volumes of text messages to unlimited users.
Because, the SMS platform helps to integrate short message service to your existing platforms to send or receive SMS quickly through an application or any website.
Key Benefits Of Implementing SMS:
Conduct campaigns for marketing purpose by connecting it with the big data and analytics applications stored.
Track campaigning results
Cutomers can recieve text messages in their preferred language
No missing of message delivery for the end users
Detailed insights and analytics
Verification of quality of messages that are yet to deliver
Advantages Of Two-Way SMS Platform:
Observce, the amazing benefits achieved through SMS communications strengthens the marketing ideas and strategies. In addition, it helps to access any service of the service providers from your personal dashboard or application.
No manual effort required:
For instance, if your business intends to send the same message repeatedly to the customers, then SMS platform helps to send messages without depending on manual labor anymore.
Scheduled messages:
Send messages scheduling them to deliver to the target customers over a stipulated time so those users can receive messages on-time, alerts, updates, and reminders with zero effort.
To impove productivity of organizations, employees need to concentrate more on critical tasks related to the business. Therefore, they reduce the manual tasks of the employees.
Tracking:
SMS can track the status of the messages. It can identify the delivery status of the message. On the other hand, it can also find out the reason behind it to rectify for further purposes. Tagging benefits organizations and businesses. Also, it enables customers respond with the exact message.
Flexibility:
SMS platform helps in developing and improving the marketing strategies by allowing the business to access the components of the respective service provider's gateway, thereby upgrading your applications in your own way. In this way, you can send and recieve bulk messages through the appliation and the SMS channel is very flexible.
Reliability:
SMS communications are highly compatible with all the platforms and real time applications existing in the system that help to send thousands of messages from any device like mobile, laptop and desktop to the targeted customers.
Vitel global's UCaaS will help your organizations to achieve goals by organizing the marketing campaigns in a systematic approach to reach the targeted customers at the right time. Therefore, these marketing strategies tracking also helps the organisations to support an interactive user interface by sending repetitive messages.
Thereby, it reches its targets for obtaining the best results.
What is An MMS Gateway?
So, the next level communication service which defines set of instructions. Because, it enables applications or files to send multimedia messages through the proper channel is refereed as mms gateway.
What is The Meaning Of MMS Communications?
The MMS communications integrates bulk multimedia messages to your existing software and applications stored in the system.
However, Vitel global delivers services mainly focusing on small businesses to increase their productivity and expand their business globally. They allow businesses to connect with their clients through our internet phone calls or VoIP phone system.
To Learn how unified communication as a service helps your businesss; Book a Free Live Demo.
Published: November 17th, 2021